I was driving down the road, coming home from school one day and passed by a little garage sale.  Just beyond the canopy attached to the garage, I saw it.
It caught my eye and drew me like a magnet.  I didn't have time to stop but that internal debate happened momentarily as I fought with my desire to turn around, walk up the drive and claim it as my own.
And that was when I realized I had a problem.
What was it?
A wooden chair.  A simple, little wood chair to add to my collection.
And just like baby dolls call my mom's name, chairs call mine.  Not necessarily the fabric kind, but rather the stained and painted wood ones.  I see them at garage sales, at flea markets, at resale shops and I want to buy them (for the right price, of course).  I think I can trace the origin back to this post and the thought of collecting as assortment of eclectic chairs.
Well, can't you picture it?  An array of wooden chairs in different shapes and sizes around a wood table in the forest.  Amazing.  Cute mismatched chair pillows along with a great spread of food ready and waiting to welcome guests to no ordinary feast.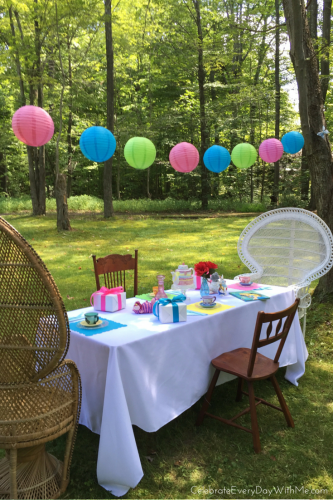 On one hand, this little obsession could work for me since we have moved into the new house, with this Restoration Hardware kitchen table and no chairs.  I simply can't find what I am looking for at a reasonable (gulp) price.  All the little wooden chairs I have collected will provide temporary seating.
How Much I Spend:  My general rule is to pay $5-8 per chair.  I have paid as little as $4 and as much as 3 for $25.  Most of them I keep as is.  But the set of three and an already-painted chair got a fresh coat of paint/stain and for one, a little distress.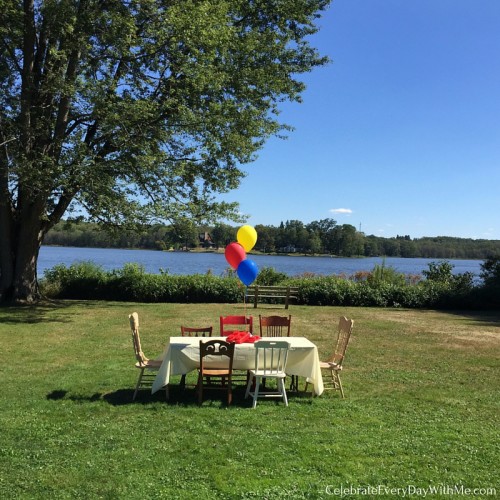 How I Convince Myself This Obsession is Practical:  It is always nice to have extra chairs when guests are coming over.  I'll use them forever in entertaining.  Whether it be strategically around the house to create conversation areas or as I mentioned previously, an eclectic assortment around a table like I did for the Alice in Wonderland Party in the yard or the Lego Movie Party by the lake.
And I suppose there could be worse things to be obsessed about!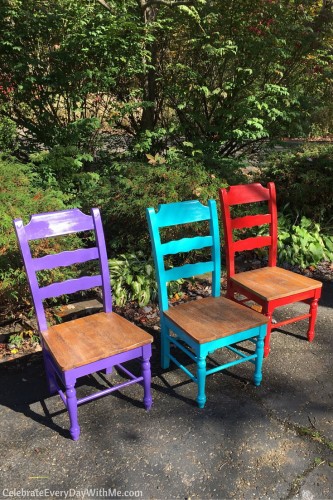 (I love love love how the painted chairs came out.  Fun, whimsical, cute.)
What do you think of my little obsession?  Come hang out with me and it may rub off.