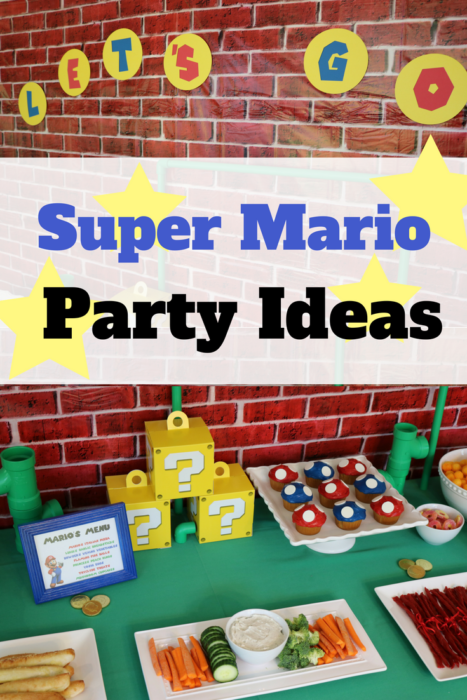 Do you have a Mario fan in the house?  This theme was perfect for my son's 10th birthday.  Here is the fun!  (And check back next week for the amazing scavenger hunt we played – the boys LOVED it!)
(This post contains affiliate links.)
Super Mario Party Ideas
What does it take to plan a Super Mario Brothers party for a bunch of 9 and 10 year olds?  Good food, a fun activity and of course, plenty of time playing video games.  In our family room, we set up two tv's with a Wii and a Nintendo 64.  It was fun to see the kids really get into the N64 with the game I loved playing so much as a kid.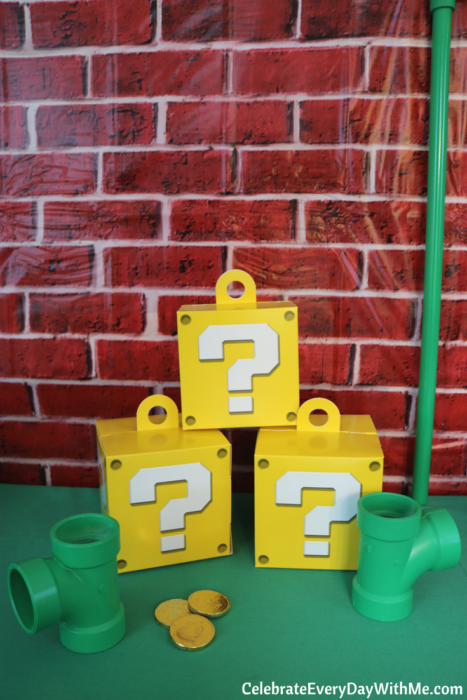 If I had to pick just two decorations to BUY for a Mario Brothers Party, they would be 1) the yellow question mark boxes and 2) this brick wall backdrop.
The boxes were great for decoration and our scavenger hunt.  (They can also be used as favors.)  The brick wall backdrop gave the perfect look for our favorite Brooklyn plumbers and you get a lot in the pack.  I only used a fraction.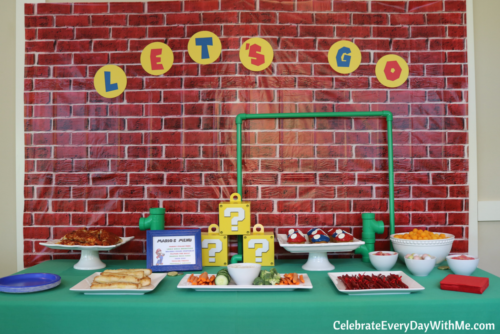 When setting up your buffet, pull from Mario's colors of red, blue, green and yellow.  I used a green table linen, blue plates, red napkins and green spray-painted PVC pipes.  Themed captions are always fun to add to a backdrop.  I made the "Let's Go" banner with my Silhouette Cameo.
Pick a Fun Mario Brothers Menu!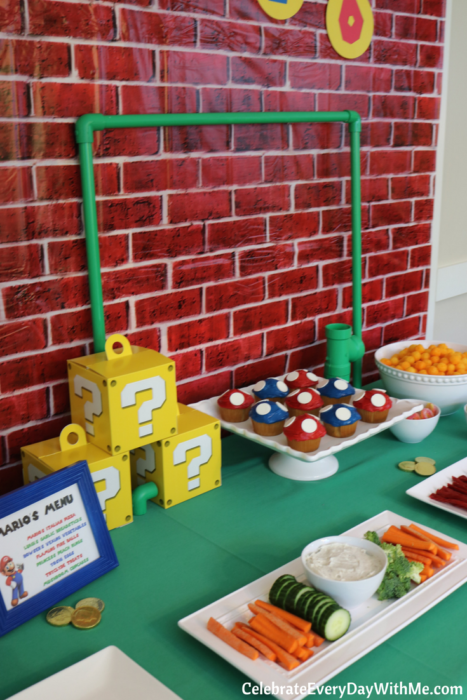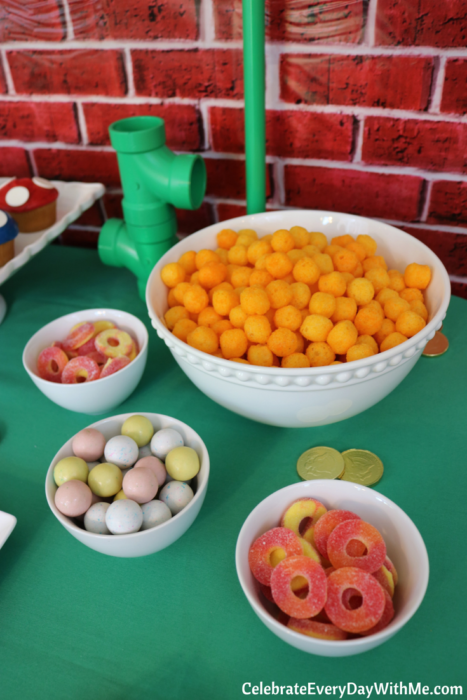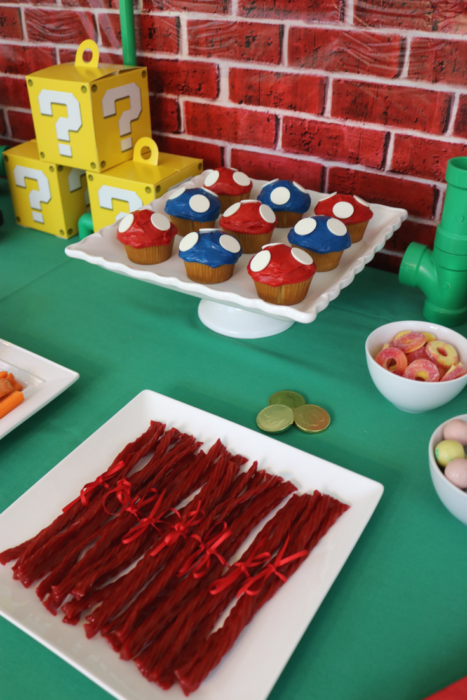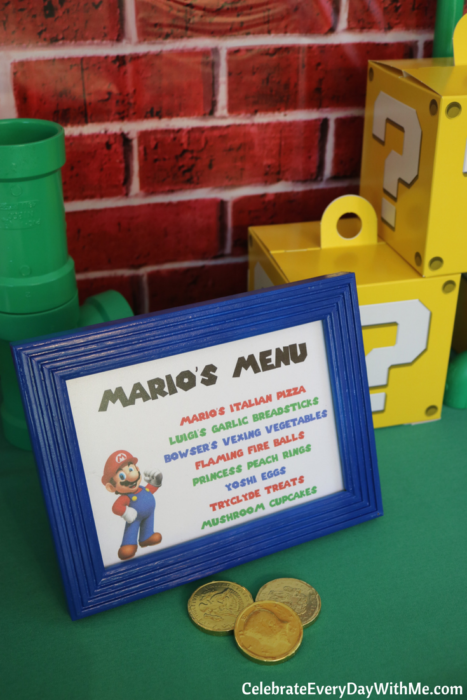 Our menu included:
Mario's Italian Pizza
Luigi's Garlic Breadsteaks
Bowser's Vexing Vegetables
Flaming Fire Balls (Cheese balls)
Princess Peach Rings
Yoshi Eggs (Malted Easter Eggs)
Tryclyde Treats (Twizzlers)
Mushroom Cupcakes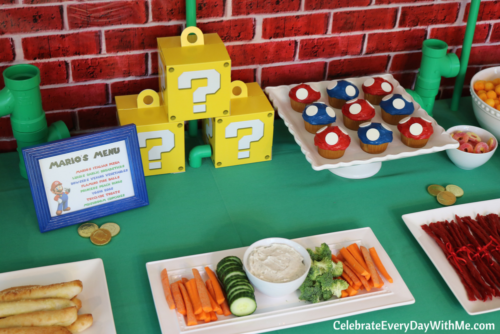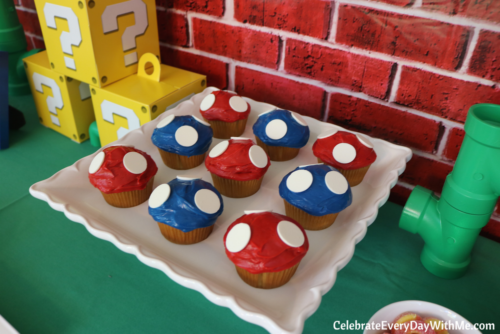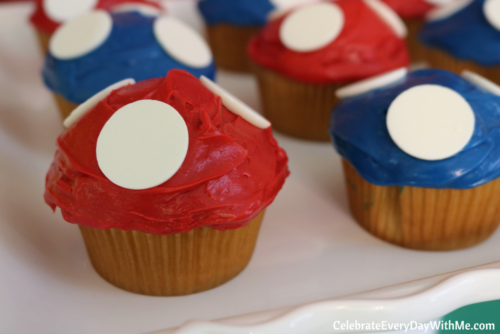 I usually like to make my own icing, but not when dealing with large amounts of red or blue.  For these two colors, I am happy to buy a tub of pre-made icing.  The white circles are white chocolate melting discs.  Mushroom, anyone?
I bought a set of Mario Brothers clipart on Etsy to make the sports drink labels, the venus fly trap flag for the green striped straw as well as the scavenger hunt clues.  I love how it all came out!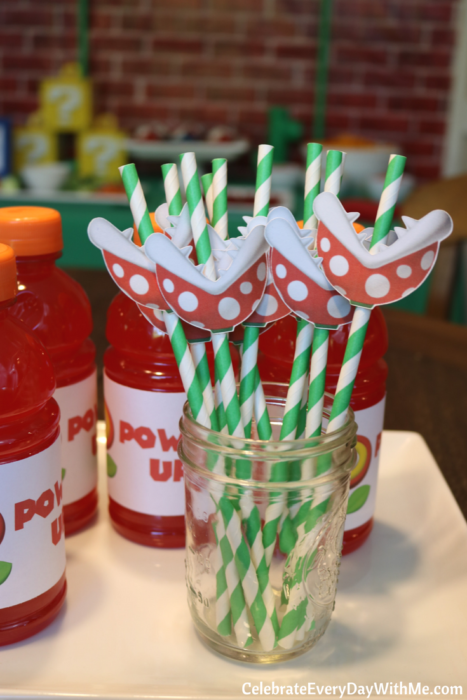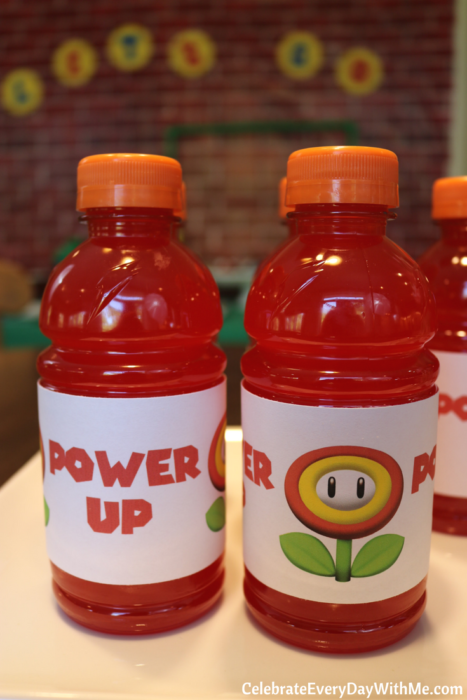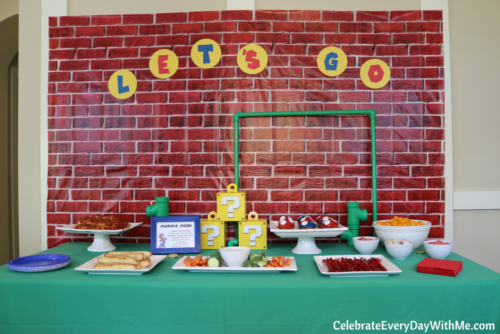 In the red treat bags were stick-on mustaches and a chocolate mustache (made with this mustache mold).  At the end of the scavenger hunt, the boys discovered a large star pinata and filled up the bags with candy.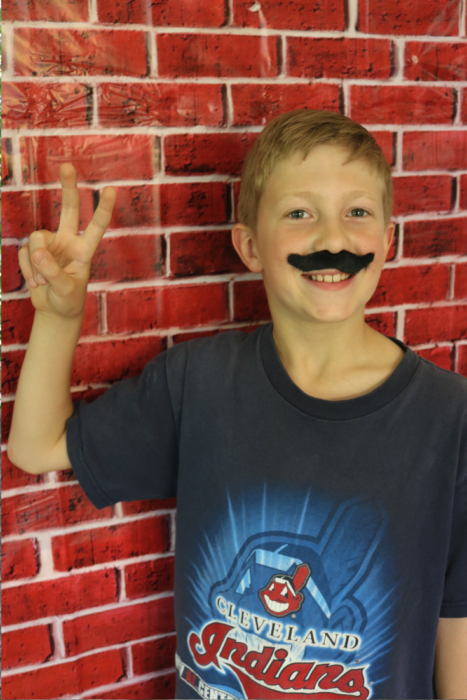 Here is my Mario getting so big.  Happy Birthday kiddo!
Shop Amazon for Mario Brothers Party Products:
>>Check out our Super Mario Brothers Scavenger Hunt next >>
You May Also Like: