Disclosure: This page contains affiliate links.  Please see my Disclosure Policy for more information.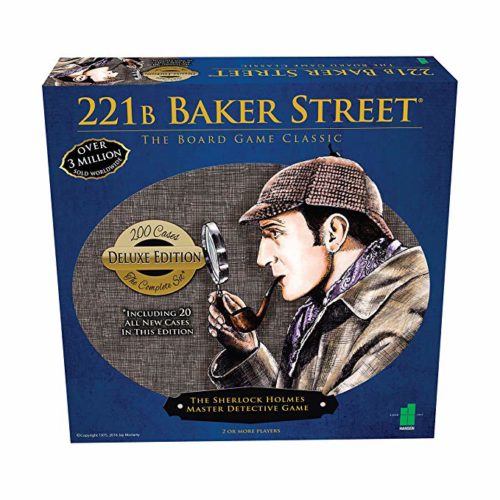 With the holidays coming, here is a great game to play with family!  It is called 221B Baker Street and think CLUE on steroids.  There is a new mystery to solve each time you play (200 cases included) and it is so much fun trying to move around the board, gather clues and figure it out.  The game's afoot!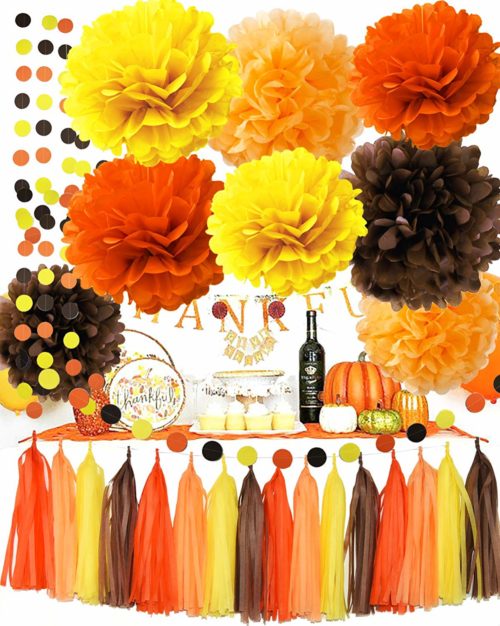 I bought this set in different colors, but with fall and Thanksgiving, this party kit would make great party decor for any celebration!
There are so many uses for this 16ft extendable LED light strip!!  Of course, I am thinking parties and all that fun.  I love how they look in the outdoor picture.  You can connect up to five strips together.  Use this coupon code "6GDWEMOP" to bring the price down $18.39.
I really want this t-shirt for our Royal Wedding Watch Party!  Isn't it cute?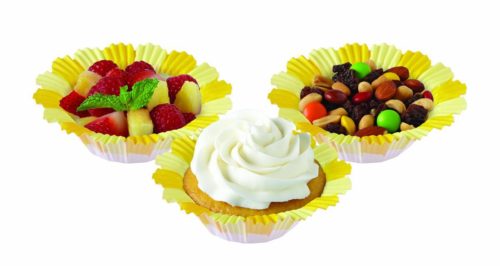 I used these blossom baking cups last year for a picnic party.  And with spring nearly here, I am thinking I need to pull out the rest and make some pretty cupcakes!  Aren't they pretty?
Can you guess what kind of party I'm prepping for?  I am already thinking and purchasing items like these British Flag Toothpicks to throw a Royal Wedding watch party.  Buy your items now before prices rise and items go out of stock!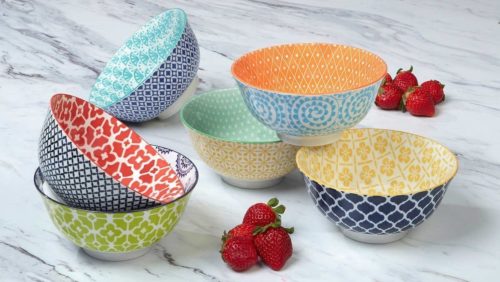 I am a sucker for cute patterned bowls.  Maybe it is that they make me want to spend more time in the kitchen.  I originally saw this set but the price was a little too hefty for four bowls.  Then these sweet things caught my eye and the price is much more palatable.  🙂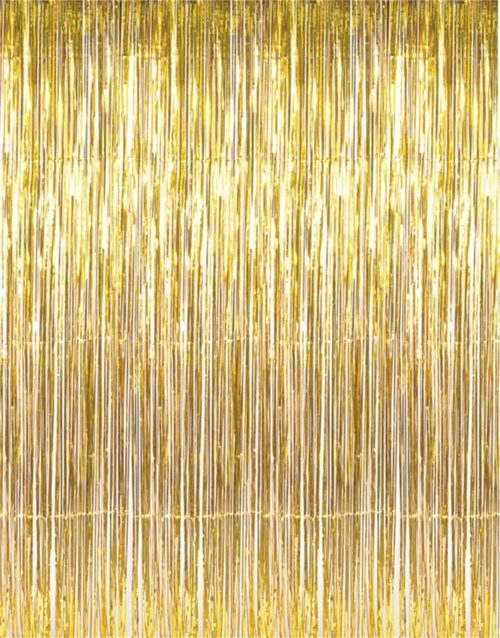 With the amazing cameras now on everyone's phone a DIY Photo Booth is completely acceptable at all sorts of events and parties.  And if you're looking for something that can pack a punch, a fringed backdrop is it.  The shine, glimmer and lines can really help your guests stand out in the photos.  I'll be using a fringed backdrop for an upcoming photo booth and can't wait to see how everything turns out.  See color options and pricing here.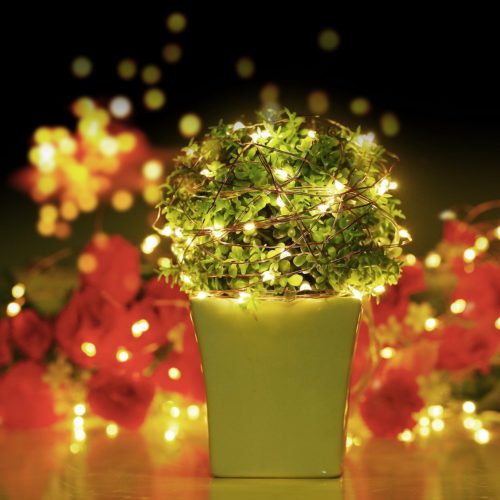 I just bought seven packs (of six) of these little fairy lights for an upcoming school event.  Can I tell you how much I love them?  The strand is 6.4 feet long with 20 warm-white LED lights and the battery is included.  I will be putting two strands in a glass bowl centerpiece with a card stock cityscape surrounding.  The glow of little cityscapes – setting the scene for an adult superhero themed event.  See the lights here.
This week's party pick is a simple reminder to shop the after-holiday sales.  A friend and I went out the day after Christmas and I found so many great party items:  tissue paper pom poms, straws, party cups, red snowflake boxes that can work as small centerpieces and even galvanized snowflake tins that could be used on a buffet.  Walk down the clearance aisles.  You never know what you'll find!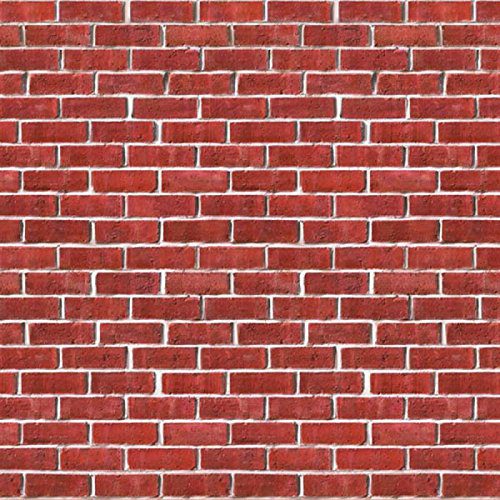 This brick wall backdrop is awesome.  I bought it for my son's Mario Bros. party (pics coming soon) and it looked great behind the table.  The backdrop is 4′ by 30′ so if you're like me, you will have a ton leftover to use for another project.  And when the party was over, I moved the piece to a basement wall.  I love it every time I look at it.  🙂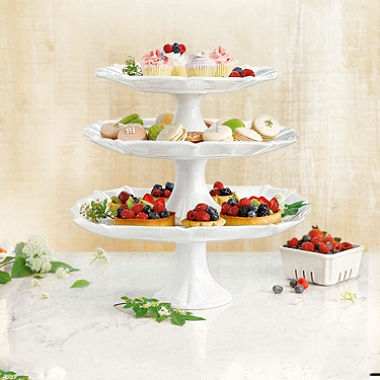 I absolutely love this 3-piece pedestal cake stand set
.  I bought one for myself and one as a gift for my friend.  I have many white cake stands already but all have pedestals that are too large to stack and still surround with food on the different levels.  These pedestals are perfect for stacking and making food look pretty.
* This is only available at Sam's Club, so you do have to be a member and I don't know how long they'll be in stock.  I ordered mine online and scheduled pick up at the store for a convenient time.  So easy!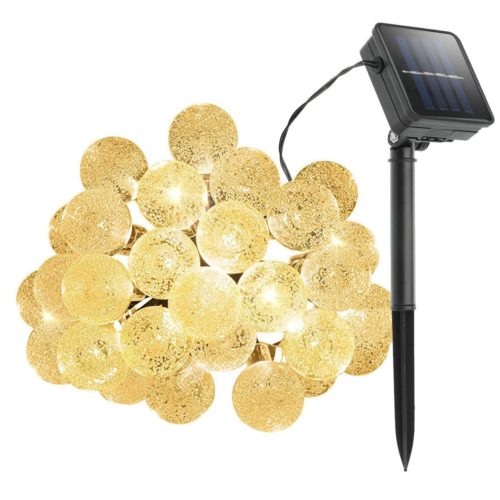 Do you love white lights?  These are solar powered, LED, round bulb lights that look amazing outside!  I bought two packs and really want so many more.  I would love to have all the trees lining the woods in my backyard lit up each night.  (Is that too crazy?)  Solar power makes it feasible.  These lights also cast a warm white glow which in my opinion, is much nicer than a cold, stark white.
Here is another stock picture below, but don't be misled by size.  These are about the size of a marble, not the size of a "patio light."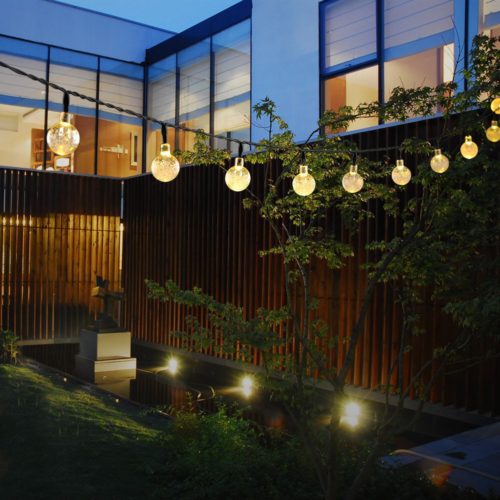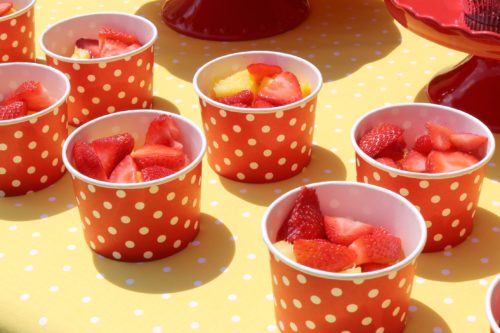 I recently bought these 8oz ice cream cups for my daughter's birthday party.  They were perfect for serving sliced pineapple and strawberry and much bigger than the candy/nut cup size.  The cups come in a variety of colors and add a great pop of color to the table.  Plus, because they are intended to be ice cream cups, they held up well with the juicy, fresh fruit.  Check them out here.
I know this party pick is much more expensive than usual, but it is a great splurge and awesome for parties.  We have had an Amazon Echo for several months now and I've got to tell you how much I love Alexa!  There is so much she can do but my favorite is the convenience with which I can listen to music.  I can ask Alexa to play a particular party play list or I can ask her to find a station for any given genre.  You can connect her to other apps and even use her to control lighting in your home.
If you have Amazon Prime, you also have access to a ton of music for free.  Every so often we do come across a song that is only on Amazon Unlimited.  But if you have Prime, Amazon is offering four months of Unlimited for 99 cents!  Go here to learn more about this deal.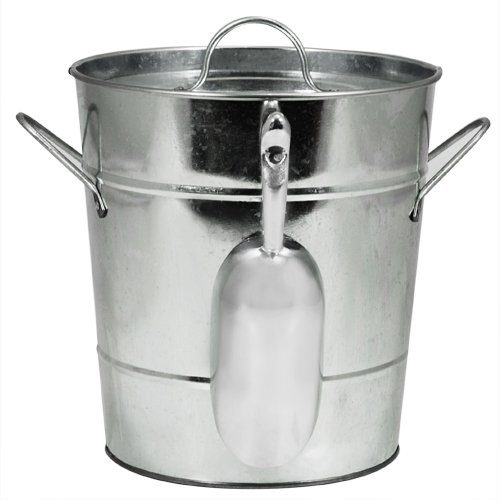 I may have shared this before, but I LOVE my galvanized ice bucket.  I use it all the time and with summer coming, it will be coming out even more.  For my waffle party, I filled it with ice cream and it looked great on the table…so much better than a drippy container of ice cream.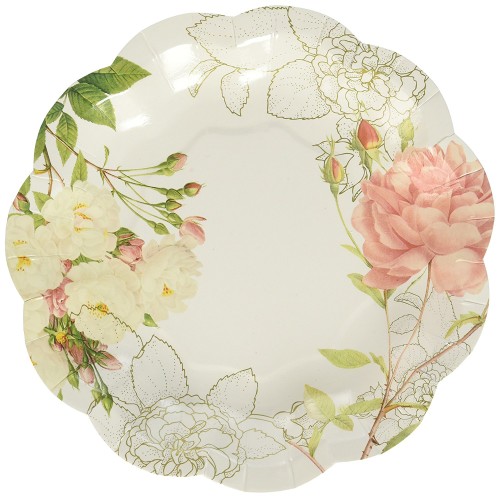 Check out these lovely Talking Tables Blossom & Brogues Floral Paper Plates!  Their pretty design and scalloped edge makes them well-suited for a garden party, ladies' lunch or bridal shower.  The plates are 6.5″ in diameter so be thinking tea sandwiches, appetizers or desserts.
Plus, they are one of Amazon's "Add-On" items!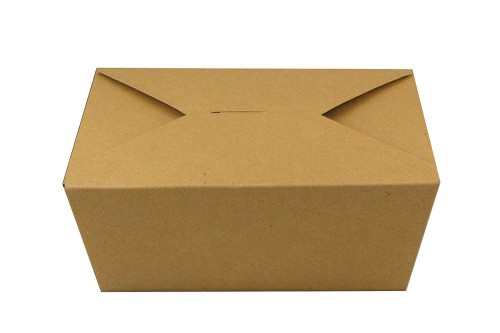 These picnic boxes were perfect for my Spring Picnic Party and I know I will use them for future parties.  Fill them with fun food, wrap with baker's twine or ribbon and head outside.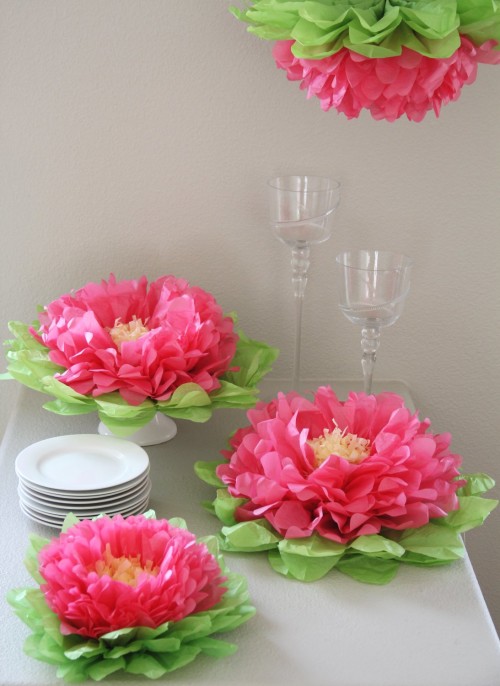 Perfect for spring!  I love this set of 7 pink tissue paper flowers.  Use them for a ladies' lunch, bridal or baby shower, garden party or any spring celebration to add a pop of fun and color to your event.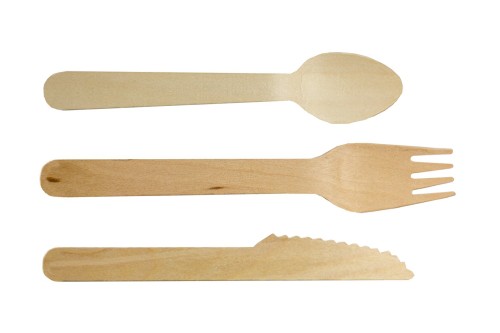 I am working on a picnic post for next month and you had better believe I'll be pulling from my stash of wooden cutlery.  This is the brand I like and if you're willing to spend about $8 more, you can add an extra 300 pieces.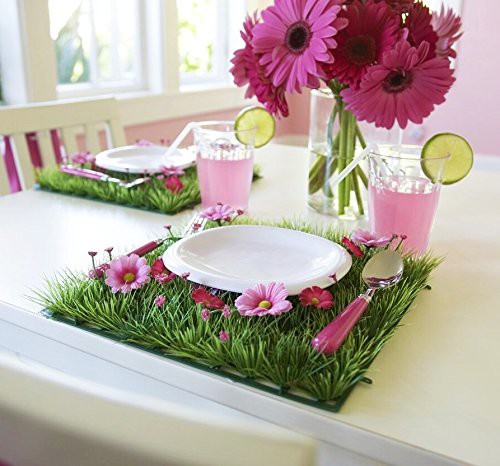 I love everything about this!  The colors, the garden feel and the grass placemat.  I think the placemats may be better suited for a child's party but I may just have to try them for a ladies' spring lunch . . . or line them up as the table runner.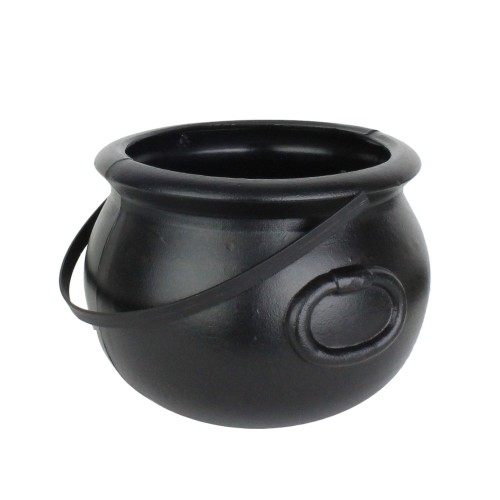 Whether you are throwing a St. Patrick's Day party or just hiding chocolate gold coins around the house, this is the pot for the end of the rainbow.  When I was a kid, my mom used to hide two black pots (like this one) and chocolate gold coins every St. Patrick's Day.  My brother and I would run all over the house in search of our pots of gold.  It is a great memory and something I do now with my kids.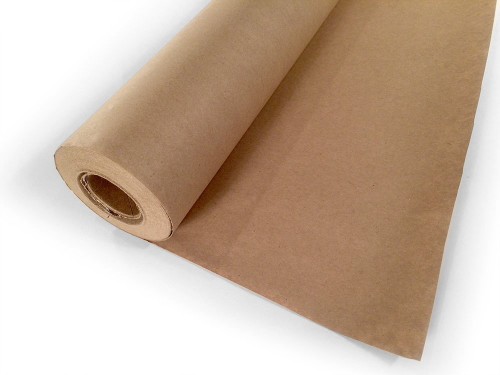 PARTY STAPLE ALERT!  I always have a roll of brown craft paper ready to use for entertaining and parties.  It is versatile, handy and great for quick clean up.  If you're trying for a natural, eclectic, artistic or rustic look, grab a roll of brown craft paper.  Throw it over your counter, your buffet . . . you can even wrap the table as I did for the Dog & Cat Birthday Party.
This Party Pick of the Week is a little pricier than my usual picks.  But after I heard that we may hit 60 degrees in the next few days, I can't help but start thinking of outdoor entertaining.  This Hanging Barn Wood Side Table has me at hello.  It is from Amazon's Handmade category and I would love to see it hanging for a party.  Isn't it gorgeous?
Isn't this Rustic Heart String Art so sweet?  I would love to put a couple of them on a buffet table or on my shelf!  Perfect for Valentine's Day (especially if you order with Prime) or anytime time you want to celebrate LOVE.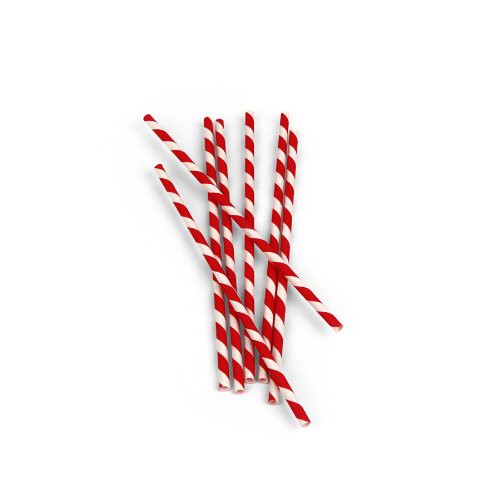 Okay, I know I am a total paper straw junkie, but I can't resist them.  I love colored, striped, chevron, polka dots . . . any kind of patterned straws.  I buy this brand a lot when shopping on Amazon but Walmart also has a cute pack of mixed patterns.  This red and white pack is perfect for Valentine's Day!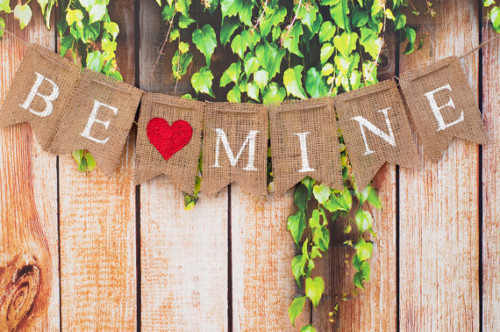 This Be Mine Valentine Banner would look so cute above a Valentine's Day party tablescape or simply hanging from the mantel.  It is available on Etsy.  I love handmade!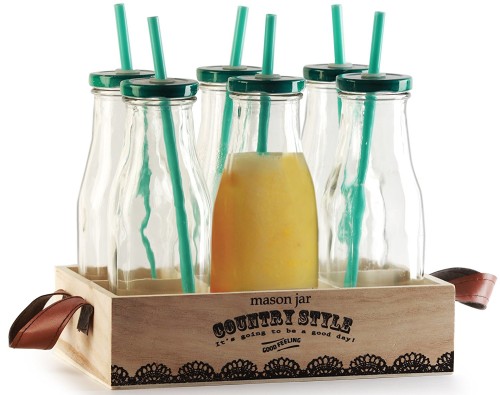 I have used milk bottles in several of my recent parties.  They are great items to add character to your event . . . and look especially cute with fun, striped straws.  Glass milk bottles are a staple of my party closet.  I love the wooden tray that comes with this country style set.
Just in time for your Superbowl party!  I love this green bundle of snack bags, straws and candy/nut cups!
So many possibilities for these 5oz Square Parfait Dessert Cups.  They are heavyweight plastic and come in a 20-pack.  I love how clear serving pieces look on a white platter!
*If you need a ton of them, there is a more economical 320-pc option. 😉
This Kindle Fire is the party pick of the week for two reasons.  1.  Much of my party planning inspiration comes from some pretty photo or great idea I saw online.  Scrolling through images on Pinterest gets my creative juices flowing.  I regularly use technology to help plan fantastic parties.   2.  This Kindle Fire is on sale for $39.99 through December 24th!  (Don't tell my kids, but they are getting one.  It will be their first tablet.  I'm so excited!)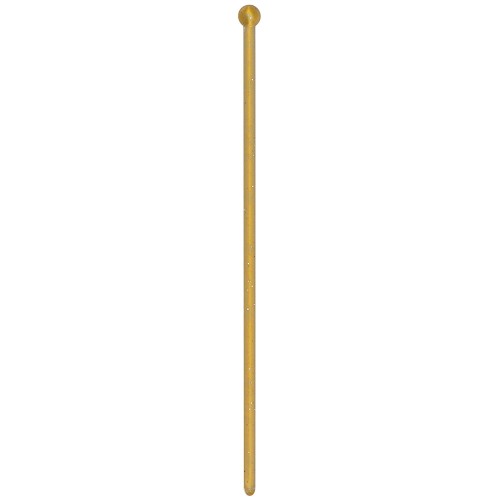 This may not look like much in the photo, but it is a fun, glitzy gold drink stir.  Remember my upcoming New Years Brunch?  I bought these to go in my cute drinks and I am also using them as the skewers for fruit kabobs.  I love double duty. The glimmery stirs come in red and silver, too.  Enjoy!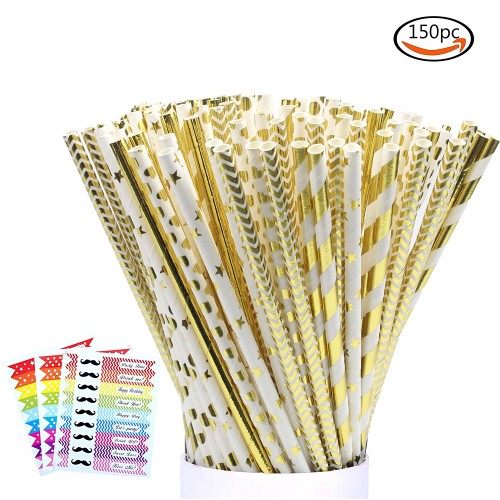 What can I say?  I LOVE paper straws.  This is the gold and white pack I am ordering for my New Years Brunch.  A little glitz, a little glam and a whole lot of fun!  I'll be sharing the party in a couple weeks.
Just in time for Thanksgiving!  Whether your family dinner table will be traditional, rustic or modern, it is a great feeling to add fresh, new napkins to your place settings.  With over a dozen colors available and less than $1.40 each, (plus Prime shipping to get them to you in time), you can add this set of 12 napkins to your table quite inexpensively.
These white dessert pedestals will beautifully showcase your cupcakes and other desserts.  (They also happen to be #15 on my Hostess Gift Guide.  Click here to see more.)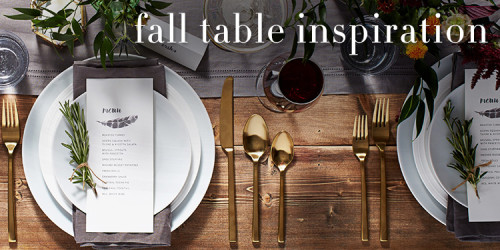 I was browsing on Amazon today (probably something I do a bit too much of!) and found a whole section dedicated to Fall Table Inspiration.  It has dishes, printable menu cards, pretty table runners and more.  Have fun looking around!
This is a beautiful fall serving platter from Sur La Table (sold on Amazon).  Use it for autumn entertaining or at Thanksgiving.  Plus, the price has dropped 30% since last month!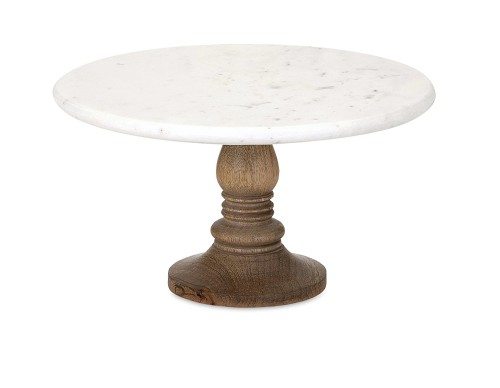 I bought a marble and wood cake plate just like this for my friend for her birthday.  I love it so much and now think I need one of my own!  I am betting this is going to be the next trend in cake plates.  Get one now.
(Mine came from World Market.  But this one is nearly identical.)
Oh my goodness!  Wouldn't these mini cake stands look so cute at each place setting?  I think I need 3 packs!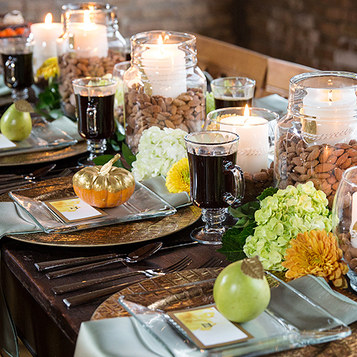 I don't usually share more than one item for the Party Pick of the Week, but when I see a collection like this on Zulily I have to!  It is a Libbey listing of all kinds of goodies from ramekins and relish sets to the sweetest acacia wood footed cake stand and cover.  Check it out!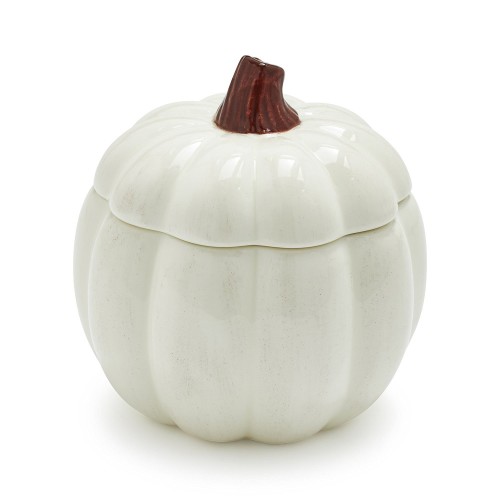 Check out this Sur La Table white ceramic pumpkin bowl!  Serve up soup or stew to your guests in their very own pumpkins.  Wouldn't a set look gorgeous on a fall-themed  table?  The traditional pumpkin orange color is available, too.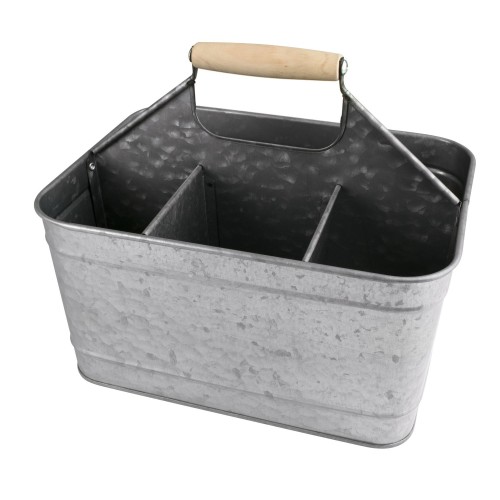 This galvanized metal carry-all isn't just for summertime entertaining.  Fill it with silverware and napkins and use it for fall clam bakes, football parties and other autumn festivities!  Plus, it is very reasonably priced on Amazon Prime!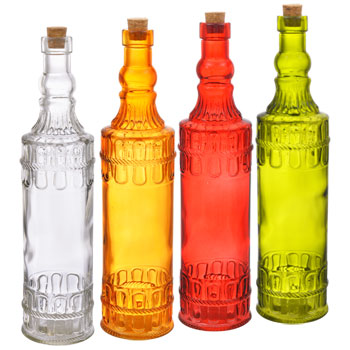 These glass corked bottles are a steal at the Dollar Tree and there are so many ways to use them!  Throw a glow stick inside and create a fun luminary!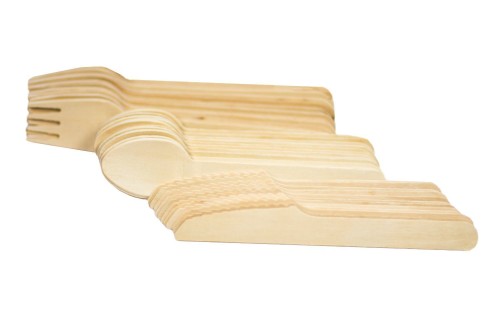 I LOVE wooden utensils.  This set of wooden forks, knives and spoons on Amazon is what I used for our Finding Dory Party last weekend.  Wooden utensils give a unique look to a party and can be customized to fit a party theme or color scheme.  (I painted the ends in different colors!)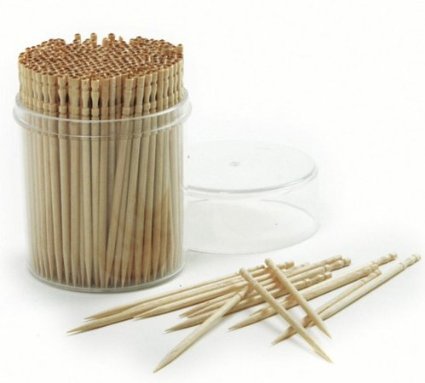 I love these ornate wood toothpicks.  They can make your plate or buffet look that much fancier.  I even painted the decorative part and used them in my recent coloring party.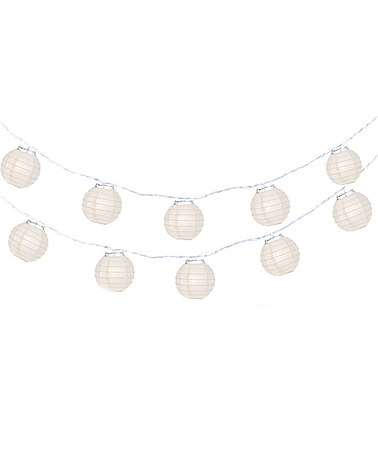 I love party lights!  And I love a good deal.  This strand of beige party lantern lights is only $9.99 on Zulily.  End of the season is a great time to stock up on summer party supplies.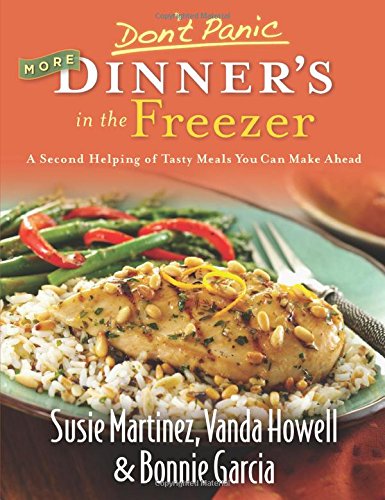 Wondering why a book is this week's party pick?  Here is the story:
This past July 4th, I hosted a brunch.  The brunch menu was the single best menu I have ever put together for an event.  Why?  Because I didn't work like mad hours before the party, slaving over the stove and trying to rush everything to get done.
Any time I can simplify my entertaining, I am thrilled.  This cookbook is filled with great recipes that you can make in advance, freeze, then thaw and bake for your party or gathering.  At our July 4th brunch, I made the Breakfast Strudel from this cookbook.  It had puff pastry, scrambled eggs, sausage, red pepper, hash browns and more!
It was absolutely delicious and all I had to do was thaw and bake the morning of our brunch.  Oh and did I mention the braided puff pastry presentation was so pretty to look at!  I use this freezer cooking cookbook over and over again and think it makes a great addition to anyone's kitchen library.
Instead of a single item for this week's party pick,  I wanted to make sure that you knew about Amazon Prime Day on July 12th.  I have heard that the deals will rival Black Friday and I will be watching for party and entertaining items.  If you don't have Prime, you can get
a 30 day free trial
and join in the fun.  I do have prime and have to say that I love the free 2-day shipping, especially when I am in the midst of party planning.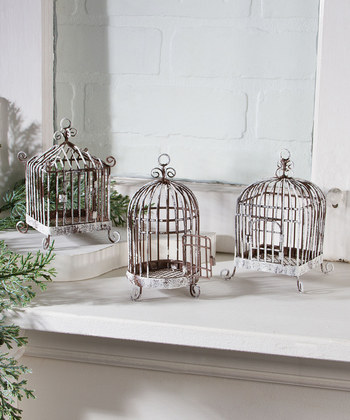 If you were to walk through my house, you would be able to tell that I LOVE bird cages.  I don't know what it is . . . maybe the metal, the shape or sometimes, the sweet little bird with it.  Or maybe it is just the Joanna Gaines effect.  These Zulily sweet little bird cages are this week's party pick.  They are small enough to use on a buffet table as decoration or a fun favor with which to send your guests home.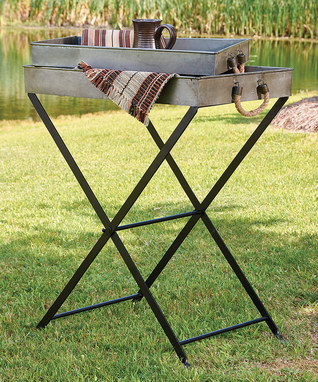 I am in love with this week's party pick.  A galvanized tray set great for outdoor entertaining but can double as everyday decor for your home on the inside.  (FYI – Stand is not included.)
This week's pick is a staple of summer entertaining.  I have already used my mason jar mugs several times in the last few weeks when guests were over.  Throw in a fun, patterned straw with some lemonade and you've added that welcoming, laid-back feel to your summer gathering.  Here is a pack of 12!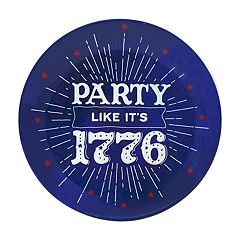 I was in Kohl's this past week and LOVED all their July 4th entertaining wares.  From plates, cups, serving pieces, placemants and table linens . . . so much fun stuff!  And it was 50% off!
I have been eyeing this tiered dessert stand for weeks now.  It is so cute and would be great for any style of entertaining.  Although, I'm particularly interested in using it for a red, white and blue party.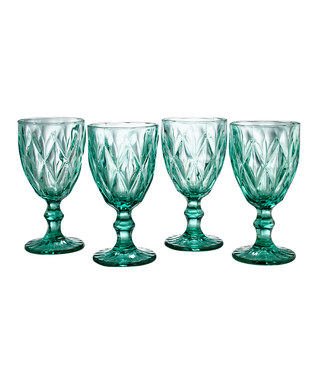 I have a beautiful set of aqua goblets that I love!  They are perfect for summer entertaining and this set of 4 is an amazing price . . . only $9.99 on Zulily.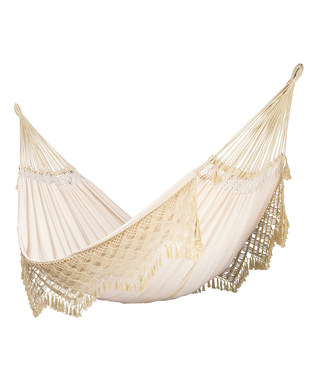 It's time to start thinking about your summer entertaining.  This luxurious Champagne Bossanova Organic Cotton Family Hammock is sure to invite your guests to relax and linger a little longer.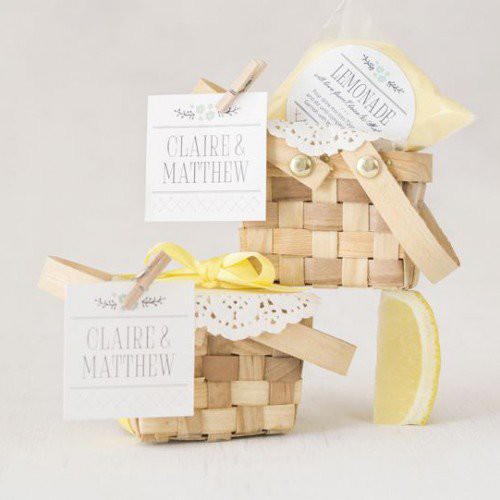 Just in time for picnic season, these mini woven baskets make the cutest party favors for summer festivities, baby and bridal showers.  Yikes, I think I need a dozen.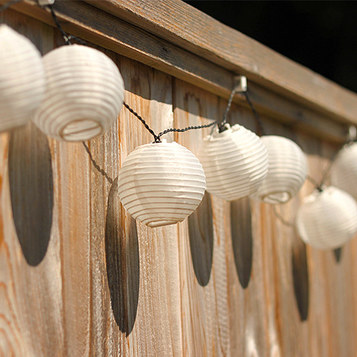 I couldn't just pick one thing from this "Aglow In The Evening" collection of party lighting from Zulily.  If you are in search of something new for your outdoor entertaining space, check this out!  Luminaries, strings, LED votives and so.much.more!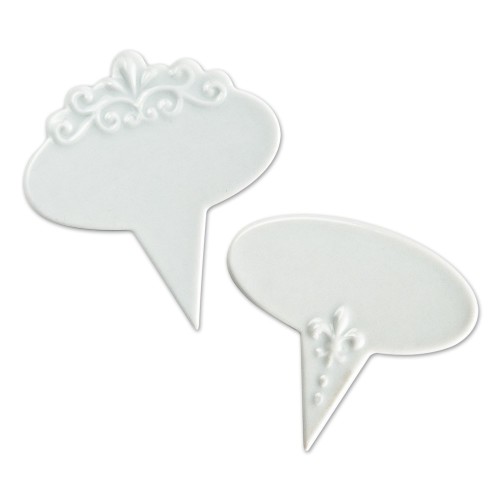 Hosting a Mother's Day Brunch?  Put a cute potted plant at each place setting and write your guest's name on one of these fleur de lis or scroll ceramic cheese markers as the place card.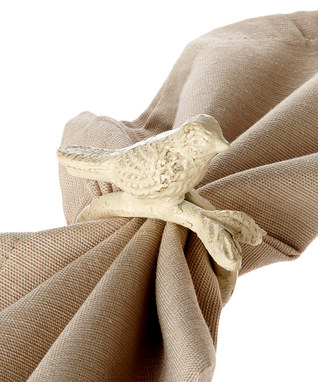 It must be the season, but I can't get enough of pretty little birds and their nests.  This songbird napkin holder would look so sweet on the table of a Spring Brunch.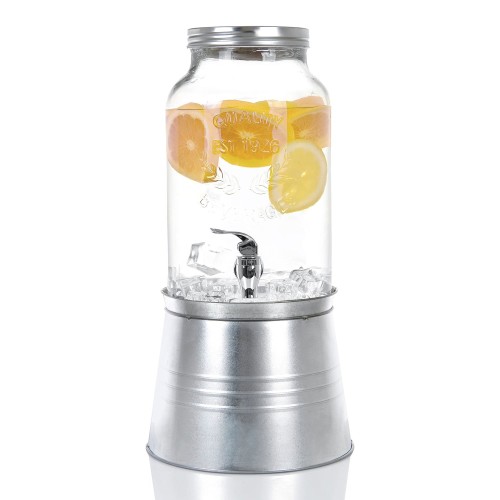 Mason jars are just plain on my mind this week.  Check out this cute Mason Jar Beverage Drink Dispenser with stand.  Wouldn't it look fun next to a basket overflowing with pint-sized mason jars, inviting your guests to grab a jar and fill up on something cool and sweet?
Color Your Own Resurrection Story Eggs Craft Kit – this looks like a fun way to teach and involve the kids in the story of Jesus' resurrection!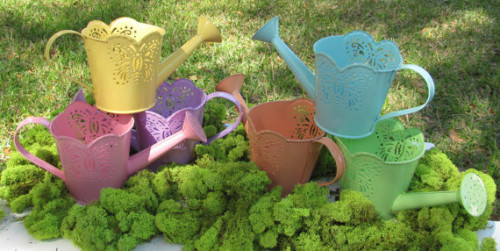 Six Butterfly Watering Cans that would make great centerpieces for a shower, spring party or to include in your home decor.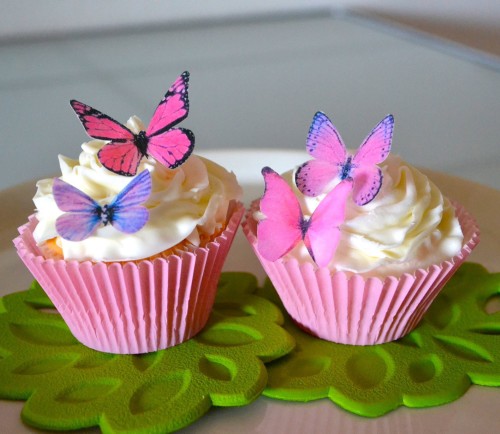 Even though we are under a couple inches of snow, my heart still longs for spring.  Check out these adorable, edible butterflies.
I have been thinking and dreaming about spring parties, completely ready for fresh and bright colors.  These 6″ mini flower fans are catching my eye this week . . . and they are sold for under $6 for the pack!
Looking for some personalized party products?  Check out this selection of plates, goodie bags, flags, banners, stickers and more on Zulily!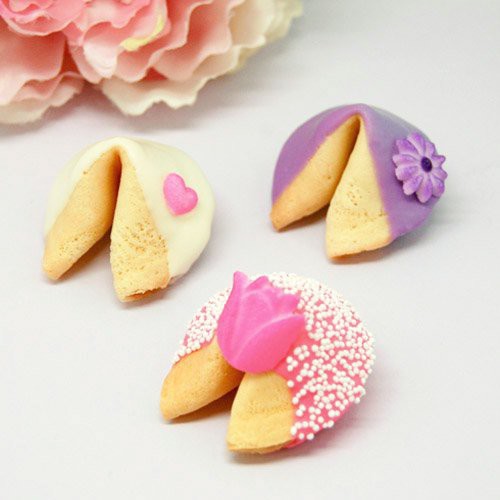 These Valentine Fortune Cookies are adorable!  Customize the decoration and choose up to three lines of text!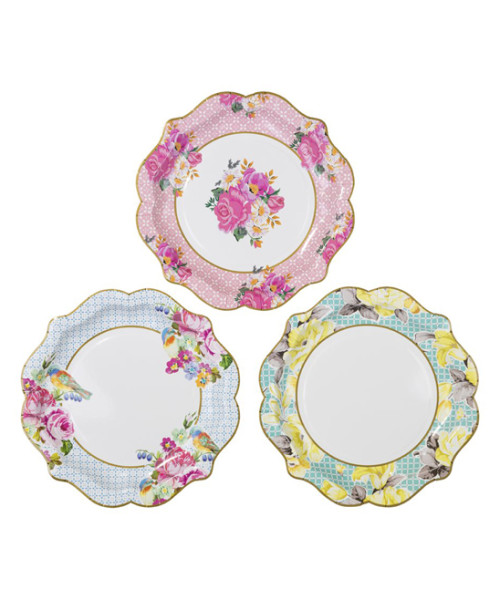 Don't you just love these Truly Scrumptious Paper Plates?  They would make such a pretty addition to a ladies' lunch, spring party or tea.  Take a look around the Zulily Talking Tables collection for more ideas.
This Winter Party Photo Booth Props Kit is so cute!  And it is on prime, so if you are a member you can have it in 2 days.  Not a member of Amazon Prime?  Try a 30-Day Free Trial
 here.
Zulily's new collection, An Asian-Inspired Occasion has some super cute items and I am thinking they would be perfect for a Chinese New Year's Party (Feb 8th).  Check it out!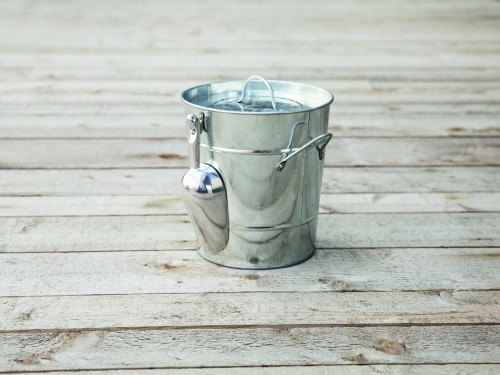 This week's party pick is a Galvanized Steel Ice Bucket
.  I have had mine since our wedding shower and use it all the time.  But for the first time, I served ice cream out of it.  I couldn't believe how perfect it was!  Great look to suit many themes.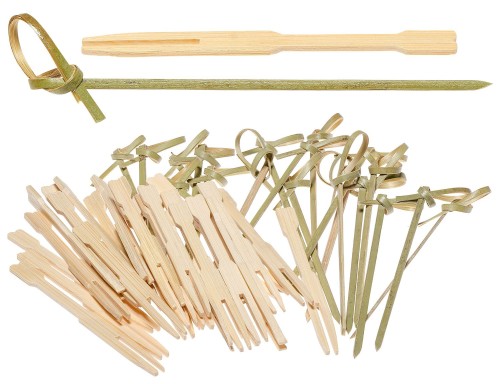 Don't leave your appetizers hanging?  Add these fun Bamboo Knot Skewers and Forks to dress up your hors d'oeuvres for your next party.  Get 100 of each for only $6.99 (with free PRIME shipping).
Have some extra fun with the family this Thanksgiving using these Photo Booth Props.  Ah, I love it!
Round Galvanized Tub
:  I saw one of these at the store and have been telling myself to go back and snag it.  Not only is it great to put beverages in for a party, but I can see bobbing for apples with it or all kinds of fun seasonal displays.  I love how versatile it is!  (And check out the other sizes.)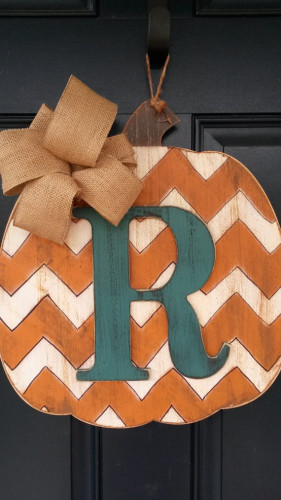 I am thinking about all things home decor and found this cute Fall Door Pumpkin Decor.  What a cute and warm way to welcome guests to your house!  You can find it at Bless Her Heart Designs by Brittany on Etsy.  
Aren't these "Fall in Love" Favor Bags adorable?  Perfect for the fall bridal shower, engagement party or rustic wedding.  I need a party to throw!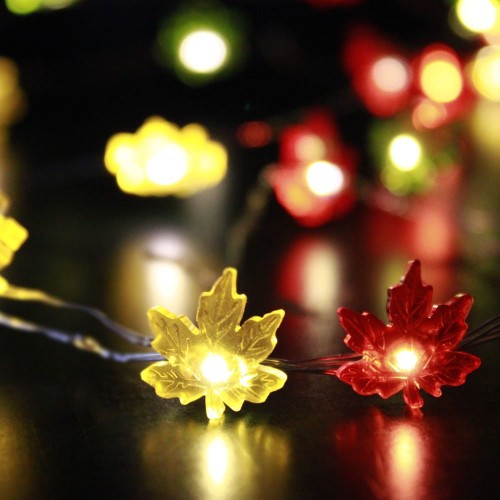 Perfect addition for your fall decor, this 10ft Maple Leaf String of Lights has 50 lights and comes
 with a remote control!  The remote would only cause trouble between the kids in my house, but it allows you to change mode, brightness and time!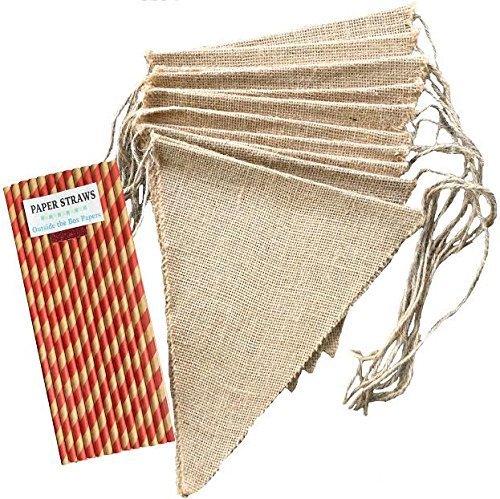 Burlap Jute Triangular Flags with Jute Cord and Bonus Pack of Kraft Paper Straws 8 x 10 Flags – 12 Pack

Super cute and perfect for Fall!  Great price point, too, considering these are larger than others for sale.
White Table Linens:  I purchased these two table linens for my daughter's Alice party and was very pleased with them.  The larger one did have rounded corners, fyi.  
Previous 

Party Picks:

Craftsy is offering a bunch of FREE mini-classes, several of which will help you get ready for your next celebration.  Classes include a cake pop course, knife skills or even creating birthday cards.  See the list here.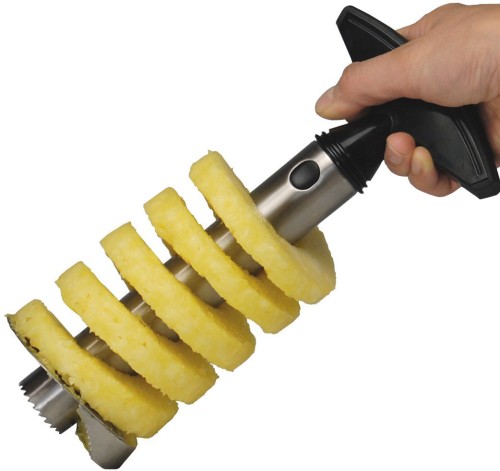 This Stainless Steel Pineapple Easy Slicer and De-Corer
 is a great tool for party prep or everyday use.  I recently picked one up at Aldi and it makes cutting a pineapple so easy.  Plus, the slicer/corer leaves a really pretty and intact pineapple "shell" out of which you can serve food.  A great presentation!  I love that almost as much as how it makes my life easier.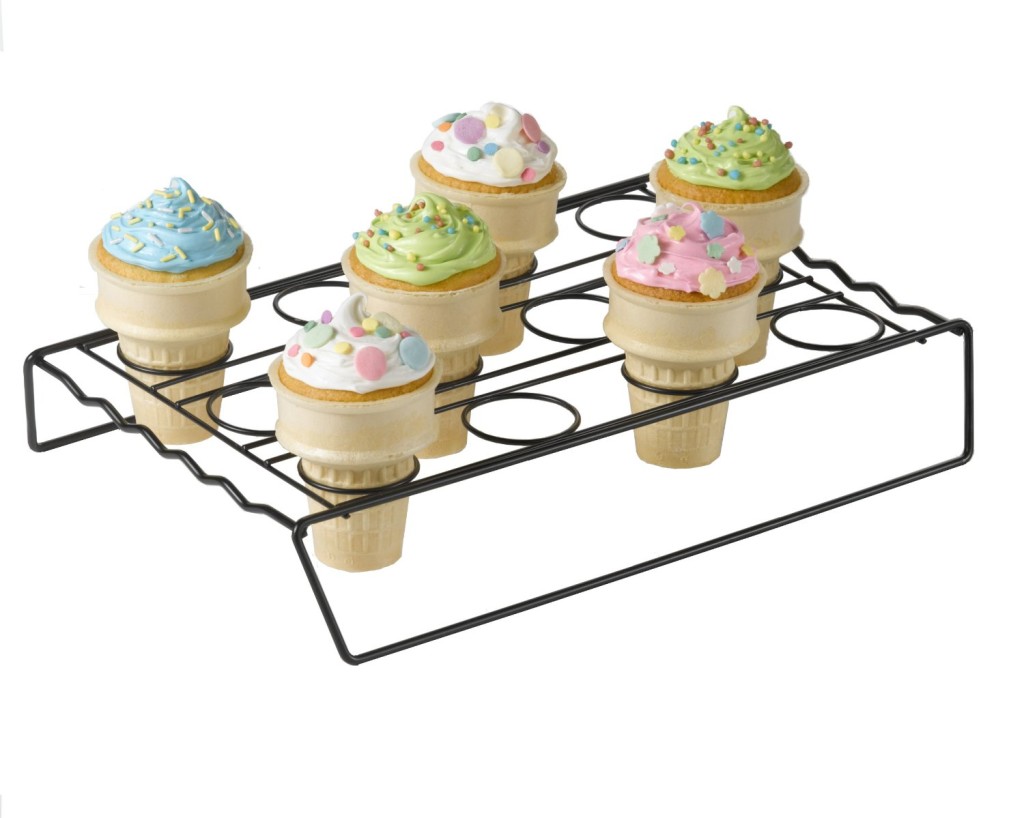 Talk about making your dessert life just a bit easier.  I added this Nifty Ice Cream Cone Cupcake Baking Rack
 to my wish list.  Reasonable priced and great for lots of treats that need help standing up while they cool or dry.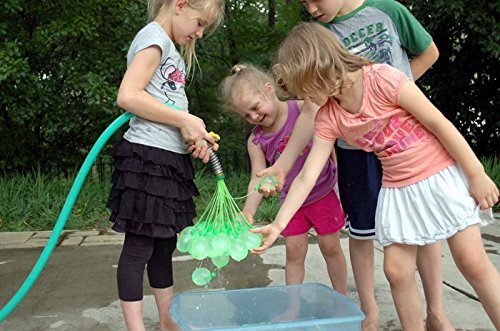 Bunch O Balloons Water Balloons, 100 Balloons Per Minute

A friend of mine just got one of these and LOVED it.  It makes filling up water balloons so much easier and is great for parties!!
These Ice Ball Molds make cute round ice cubes, perfect for entertaining in the hot summer.  Did I mention we're hitting 90 this week without air condition.  Pray for me, friends!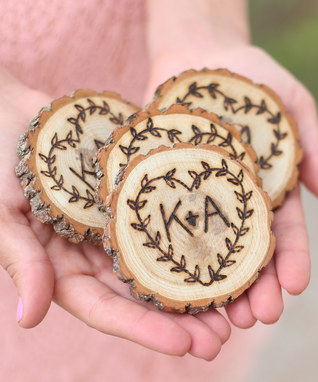 Personalized Rustic Coasters
Whether you are giving these as a gift to newlyweds or buying them for your own house, what a sweet way to memorialize love!
Get ready for your summer entertaining with a Bocce Ball Set!
Dublin Crystal 10 Piece Punch Set
I'm just drooling over this beauty.  Breakfast, brunch, an elegant dinner or hors d'oeuvres party.  Baby showers, bridal showers, Girls' Night Out… Do you have a punch bowl you love?  If not, this is one for the wish list!
This Yumms Burger Press is my party pick of the week.  It is easy to use, easy to clean and made great-shaped, even burgers.  It is sold on Amazon, but if you use this Yumms link first, you'll get a coupon code for 10% off on Amazon.
Oversized Cotton Rope Hammock

Picture a great summer barbeque.  Friends hanging out around the yard and this Brookstone hammock inviting your guests to relax.  We'll be spending plenty of time on this hammock during the lazy days of summer!

4-Foot Adjustable Height Folding Table
Having a 4-foot adjustable table is great for entertaining when you don't need a huge table.  The width is perfect for a drink station (like this one) and I love that you can adjust the height to suit your needs.

Waring Pro WT90B 400-Watt Stainless-Steel Warming Tray
If you don't have double ovens and love to entertain, a warming tray is a must.  I usually use my mom's, but I just added this one to my wish list.
These Spring Easter Egg Paper Lanterns are adorable!
Cinderella Straws – Pack of 100
I am guessing Cinderella parties are going to be popping up everywhere with release of the new movie.  Love the colors and designs of this pack of straws.
CLASSIC PORCELAIN PLACE CARDS – SET OF 6

I bought these for my mom and they are super cute.
Use them as food labels or place cards.
It's A Girl!  Party Favor Cake
What a cute idea!  It is easy, reasonably priced and looks cute when
separated.  Plus, you can fill it with candy of choice.
Solar Lighted Balloon Stakes
Wouldn't these be super cute for an outdoor party (day or night)?  LOVE!
8″ Round Porcelain Skirted Cake Stand
I have one of these cake stands and I love that I can change out
the ribbon to suit my theme or event.
Pack of 100 Paper Straws (one color/four patterns) for $10.98. 
That is a steal! *Different colors available, too.
Three Tiered Stackable Glass Cake Plates
I love these plates from Amazon!

Free Photography Class with Craftsy – take better photos at your next celebration!