If you are looking for a fun and easy breakfast idea, look no further.  This waffle bar is it!  It requires only basic prep work before your guests arrive and the build-your-own style menu is fun for all.
A couple weeks ago, I hosted a Norwex Party with friends and family.  Are you familiar with Norwex?  It is a company that makes products for cleaning your home (and more) . . . all chemical free.  You only have to add water to their cloths and they clean whatever you are tackling.  My favorite is the window cloth.  Wet the Enviro cloth, wipe the glass and then rub dry with the window cloth.  Amazing!  My windows have not looked this good since we moved in.  (Want to learn more?  Here is my friend's link.  If you happen to place an order and wouldn't mind, please add a note to your order that you are coming from Kristen's blog.)
(This post contains affiliate links.)
Back to waffles!  I was searching for something fun for my guests to enjoy after we heard about the Norwex products.  Since our party started at 10am, I thought a delicious waffle bar would be the perfect treat.
A waffle bar worked well for several reasons:
Options are fun.  Guests can pick and choose, having complete control over what they put on their waffle.
When hosting a direct sales type party, your guests can come to the buffet when they are ready.
If you are using a Belgian Waffle Maker, you can only make one waffle at a time.  Having guests trickle in to the buffet table after they have placed their order or asked their questions, makes a belgian waffle bar very doable.
I love our Belgian Waffle Maker!  I received it as a bridal shower gift oh so many years ago and have used it many times.  If you're shopping, here is one nearly identical.
Toppings to Make Your Waffle Bar Delicious:
Mmmm, toppings!  I wanted to offer healthy and sweet tooth options for our waffle bar.  I did have a couple guests tell me they tried a little of each topping just for the experience.  Oh, how I love them!
This is what I offered:
Three sauces (chocolate, caramel and maple syrup).
Strawberries, blueberries, raspberries, pecans, chocolate chunks, crushed Heath Bar, chopped Kit Kats, colorful sprinkles, ICE CREAM and whipping cream.
Waffle Bar Logistics:
I would have loved to have a pump from which my guests could get the batter (like they have in the hotels), but that would have added significant cost and isn't something I'll make enough use of in the future to warrant the expense.  So a clear glass pitcher worked just fine.  I put the pitcher and the measuring cup on their own plate to help keep things neat.
Many belgian waffle makers come with a measuring cup so you can pour the proper amount of batter on the griddle.
Presentation & Creating a Pretty Table:
If you've been with me for awhile, you know that I am always talking about creating different levels on your buffet table to create visual interest.
By using a turned over drawer, a wire basket (filled with a linen-wrapped box), cake pedestal, empty frames and fabric garland, I not only created different levels but also different textures.  This turns a table into a tablescape.
The frames are cheap garage sale finds, now boasting many colors of spray paint under the current light and dark blues.   The fabric banner was something I made years ago for our Peter Rabbit party.  Check this tutorial to learn how to make the fabric banner in three steps.
Let's talk ice cream . . . my favorite topping for belgian waffles.  I didn't want to have a gallon of ice cream sitting on the table making a mess as it dripped all over my blue checked fabric.  My solution?  Decant softened ice cream the day before into my galvanized tin ICE BUCKET.  Not only did it look great, but it held up very well during the party.  (Store overnight in the freezer.)
Signs can be another way to add fun and interest to your table top.  I tied in Norwex cleaning with my waffle bar by framing this text, "Now, you'll love cleaning a WAFFLE lot."
More fun: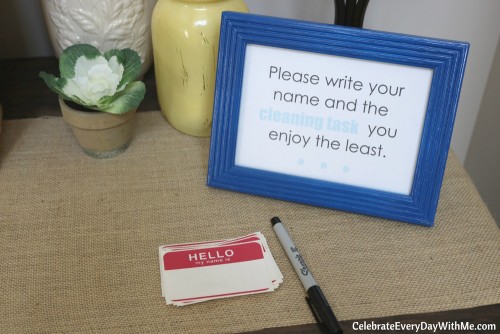 Because our party was focused on cleaning and I had several guests who did not know each other, I asked my guests to fill out a name tag and write the cleaning task they enjoy the least.  It was fun to hear the answers.  We even had one person who really loves to clean.  Say what?!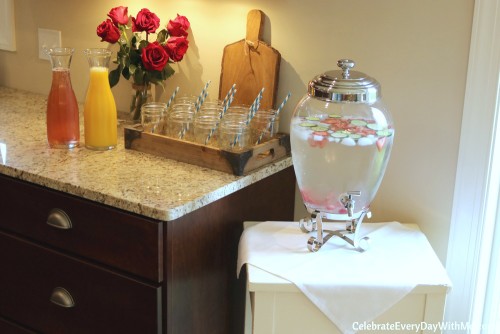 For beverages, I served strawberry and cucumber infused water, two juices and coffee.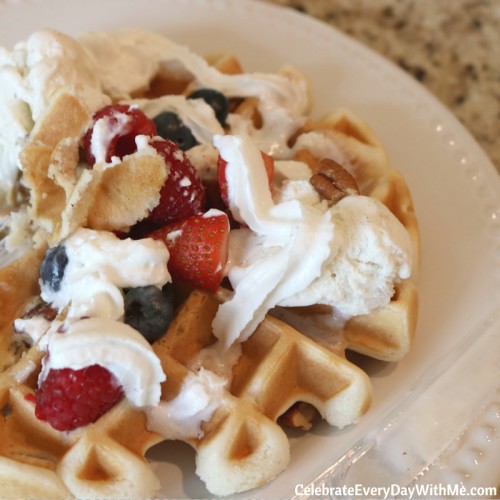 Yum!
How do you like our Waffle Bar?  What is your favorite topping to put atop waffles?  
Shop this look: