This post was sponsored by Colorwear as part of an In-Home Party Activation for Influence Central. I received complimentary products to facilitate my review.
Are you a bit stressed?  Do you need a little time to slow down and unwind with friends?
You all know I love any excuse to throw a party.  And today, I am sharing an amazing party that will have you and your guests relaxing and unwinding while getting your creative juices flowing.  Grab a pen and paper to start jotting down an invite list because we are gathering friends for a coloring party.  Not only will we come together for a time of creative fun, we will also be sharing lives, encouraging and inspiring one other.
Don't we all need that?
So let's get to it!  I have some great tips for throwing an amazing coloring party . . . from what to color and the food and drinks, to a thoughtful way to send the ladies off with their new artwork.
First Things First:  Color Something Super Fun
I am new to the adult coloring craze and let me tell you, I had no idea what I was missing!  I loved coloring as a kid but now as an adult, I am finding coloring to be relaxing and satisfying.  Even after spending just 10 minutes adding colors to a series of lines and shapes, I find myself feeling more focused and my usual speed of go-go-go is slowed to a peaceful, unrushed pace.
In the midst of how busy we all are, I wanted this party to be a place where each of us could step out of our busy days and take a couple hours to unwind.
And that is what we did.  However, we did not color just a piece of paper from a book.
No, we colored Colorwear t-shirts, a new product line released by The Mountain® that creates wearable art through personalized and colorable t-shirts.  And I love the assortment of shirts they offer!  They have 175 designs by popular adult coloring book artists such as Valentina Harper and Angelea Van Dam.
Some of the designs include Mandalas, animals and pets, aquatic scenes, gardens, holiday themes, inspirational quotes and fantasy scenes.  There really is something for everyone.  Plus, did I mention that the products are environmentally friendly?
One thing that I found challenging at first, but then completely loved once I let my imagination and creativity rule was that I could choose whatever colors I wanted to color my butterfly.  There were no rules.  It was fun and became a therapeutic escape from stress.
In addition, my guests and I enjoyed coloring something that wouldn't sit in a book when finished.  This is artwork you can wear yourself or give as a gift.  It is practical, yet fun!
Save some $$ on your party by signing up for the Colorwear Newsletter.  You'll get 25% off your order!  And don't miss the contest at the end of the post for your chance to win a Colorwear pack!
To color our shirts, we used Tulip fabric markers and many of the ladies commented how much they liked the markers and how long they were lasting.
Think about Party Set Up
When preparing for your coloring party, consider where you'll set up a space for the ladies to color.  I hosted the party in my dining room.  There, I knew I could accommodate my guests, serve food and drinks and display the t-shirts for the ladies' selection.
I organized the Colorwear T-shirts by size on a portable rack.  (I also think a laundry line strung across the room could be super cute!)  If you haven't pre-arranged for your guests' size and choice of design,  be sure to provide a nice assortment of sizes and images.
Even though I was fully aware that my friends wouldn't be getting marker everywhere (unlike my kids), I still decided to cover my table with white craft paper.  It made me feel creative.  The white blank canvas across the table was undistracting for the fun we were about to have.
With the shirts, comes a mini shirtboard to be placed inside the t-shirt and used as the coloring surface.  It protects the fabric on the other side from fabric markers bleeding through.  It is reusable and can be wiped clean.  I placed the shirtboard at each place setting along with a set of markers for my guests.  And if you want to dress up the place setting, add coiled ribbon to the markers' packaging.  It gave a more festive and playful look.
Don't forget music in the background.  Create a playlist that is relaxing and inspiring.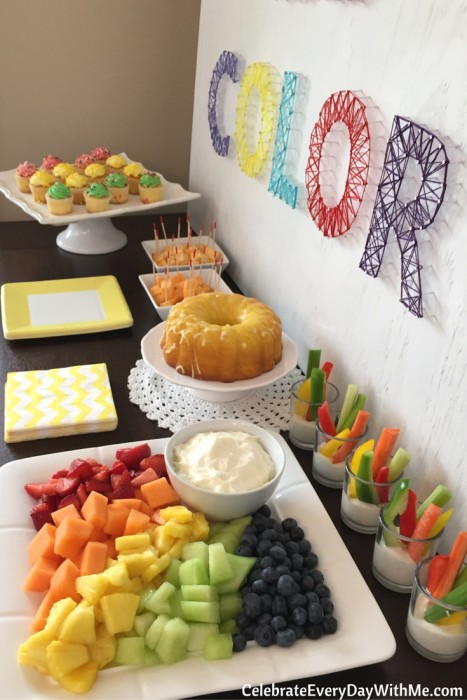 Serve Colorful Food & Drinks
When planning your menu, keep your foods simple and colorful!  Your guests will enjoy a little break to munch so be sure to offer a few healthy selections as well as something sweet.
Here is what I served:
a rainbow fruit platter with dip (cream cheese and marshmallow fluff)
a moist lemon bundt cake with lemon glaze drippings
cubed cheese with painted tip fancy toothpicks for added color
assorted mini-cupcakes
individual servings of colorful vegetables in ranch dressing
My backdrop sign was string art that I had fun making before the party.  If you decide to recreate the sign, just know that using a varying color of embroidery thread on a cursive font will look blurry in all the photos you and your guests take.  Go with a single colored thread and consider skipping the cursive.  Just looking out for you, here!
For the drinks, I wanted to serve fruit-infused water as well as sparkling beverages.  I chose a pink sparkling lemonade and tropical punch spritzer.  I also pulled out my stemmed water goblets instead of everyday glasses.  Fancy just makes it feel that much more special.
Don't Forget a Colorful Centerpiece
I didn't want to pour big bucks into a centerpiece but I did want it to be colorful.  I cut daisies from the garden and simply arranged them in three vases (remember odd numbers are more pleasing to the eye).  The color came into play when I added drops of food coloring into the vases.
Get the Coloring Party Started
Chat and relax.  Color.  Listen to great music.  Share stories.  Share lives.
We talked about work and family, about hilarious recent experiences, new apartments and kids harrowing weeks at camp.  It was very enjoyable to be spending time with each other and doing something tangible and relaxing.  The t-shirts were such fun to color . . . something different and unique.
Send Your Guests Home With Some Love
When it was time to leave, I had a bag ready for the ladies to put their Colorwear shirts and markers in to take home.  The little note on the bag was just a little expression of how much I value these ladies and the color they add to my life.
My party was about two hours long.  In planning your own party, know that not all your guests will finish their designs.  One of the moms texted me the next day to tell me that she stayed up until 1am finishing her t-shirt.  Now that is coloring love!
After our party, my kids asked if they could color a few of the extra t-shirts as gifts for their Grandma's birthday.  How could I refuse?  What a perfect gift idea from a child to have personalized coloring on something so practical!
Here is my finished design.  I love it!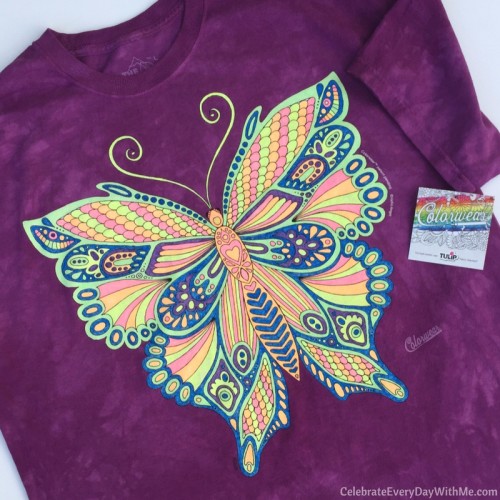 Would you like to host a Colorwear party?  Be sure to check out their website for inspiration and don't forget you can get 25% off your order by signing up for the Colorwear newsletter.
Here is your chance to win one of 20 Colorwear Prize Packs!  The contest closes August 25, 2016.
I-C will randomly select 20 winners from all program entries and will handle fulfillment of the winning prizes. Open to US residents only.