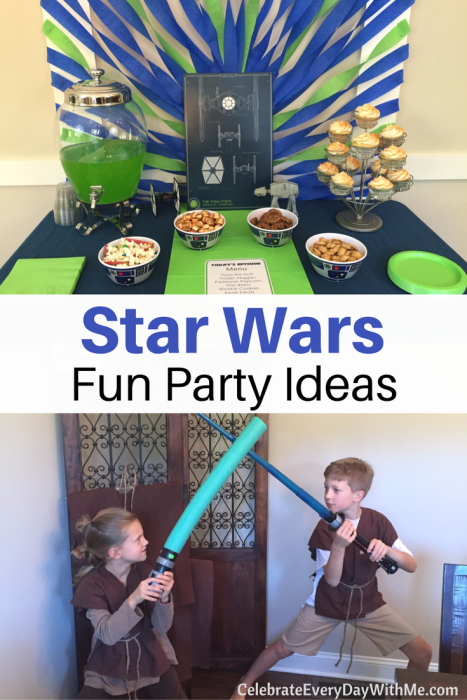 Do you have a young Jedi?  For the last year, my own Jedi has been looking forward to a Star Wars themed party.  Now, I know that I am often telling you that I have found [another] new favorite party theme but how can I not feel that way when we're talking Han Solo, Chewbacca, BB-8 and so many more loved characters from a story far, far away!  If you are looking for Star Wars party ideas, you are in the right place.
Our galactic party was so much fun.  We invited only a couple boys, keeping the party small.  It reminded me of my daughter's Alice in Wonderland party where there was a total of four kids.  LOVE!  But instead of falling into a rabbit hole, we hopped into hyper space, made light sabers and fought Storm Troopers!
For this party, I kept things more along the lines of the original trilogy but did enjoy pulling in a couple things from The Force Awakens.  Today, I will be sharing some of our Star Wars party ideas in regards to food and decor.  Let's take a look!
(This post contains affiliate links.)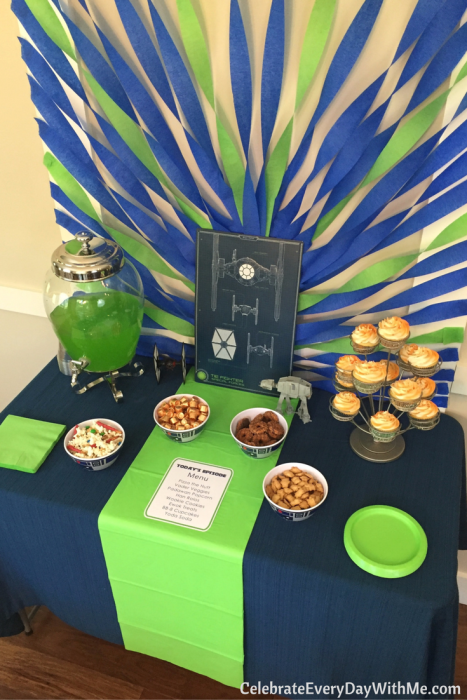 The Star Wars Tablescape:  I decided to go off track from the traditional Star Wars colors.  I found this great Tie-fighter sign on clearance at Hobby Lobby and from this, drew the color scheme of dark blue and lime green.  I already had the table cloth from our Finding Dory party and added an un-folded plastic (shhh!) table cloth as the runner.
Because I didn't want to break the bank on the backdrop, I opted for twisted streamers.  I considered Star Wars curtains and other fabrics, but this was so easy and cost all of $2.00.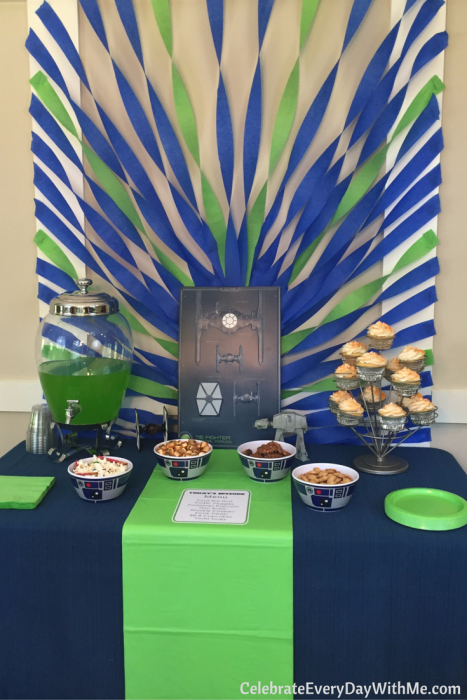 Thr R2-D2 bowls are from Amazon and looked great holding the snacks.  I like them so much and will pull them out every May 4th for Star Wars Day.  Also on the table are two Star Wars toys.  We made great use of so many of my son's Star Wars paraphernalia.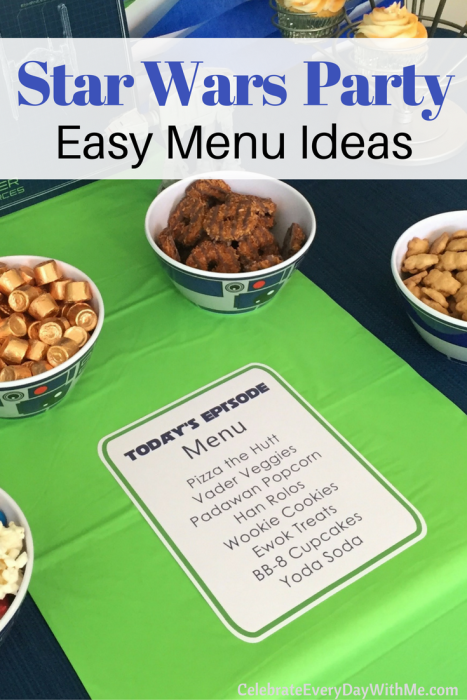 What do you serve at a Star Wars party?  A quick look on Pinterest will give you many ideas.  Here is what I opted for:
Pizza the Hutt
Vader Veggies
Padawan Popcorn
Han Rolos
Wookie Cookies
Ewok Treats
BB-8 Cupcakes
Yoda Soda
I also served an assortment of Star Wars themed chocolates made from these molds.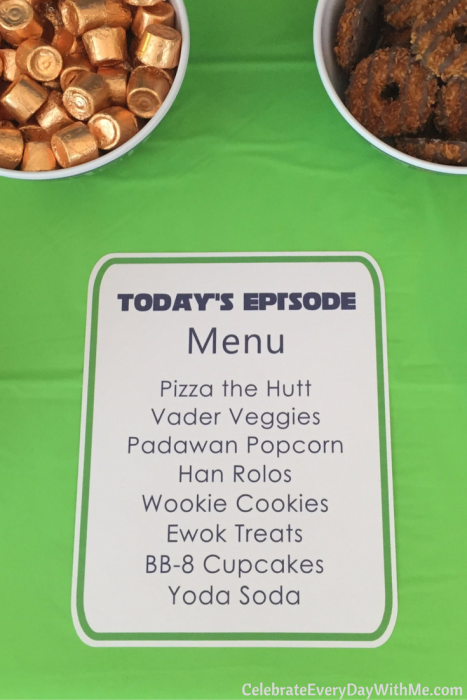 The Padawan Popcorn was freshly popped popcorn with salted peanuts, blue and green M&M's (don't ask what happened to the other colors…A girl has gotta stay in theme!), and also pretzel sticks dipped in red chocolate to look like light sabers.
Of course, the Han Rolos were just the regular Rolos candy.  The Wookie Cookies were from Aldi, although this Keebler version or Girl Scout Samosas would work well, too.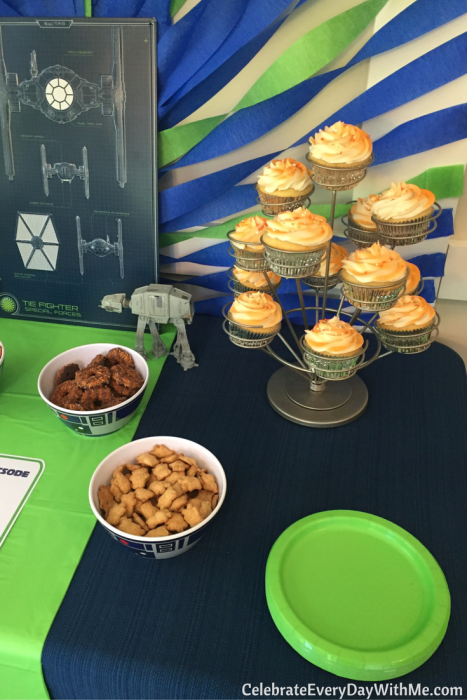 The Ewok treats were Teddy Grahams.  I love it when I can buy a good portion of the party treats and have less to make myself.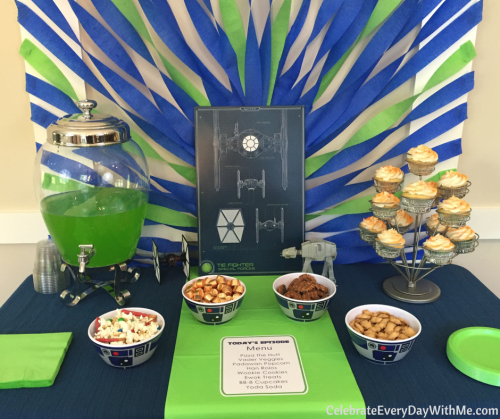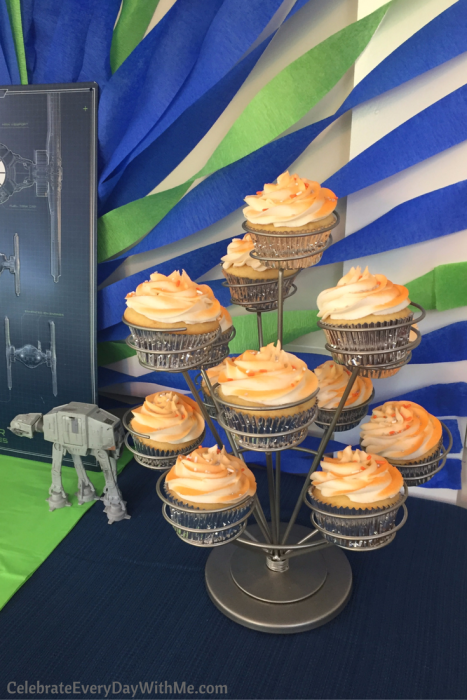 The cupcakes were inspired by BB-8 with orange, white and silver sprinkles.  This past summer, I discovered color mist.  I love it!  It makes adding a little color to frosting so easy.  Yes, I could have dyed the frosting and but the mist looks so much cooler!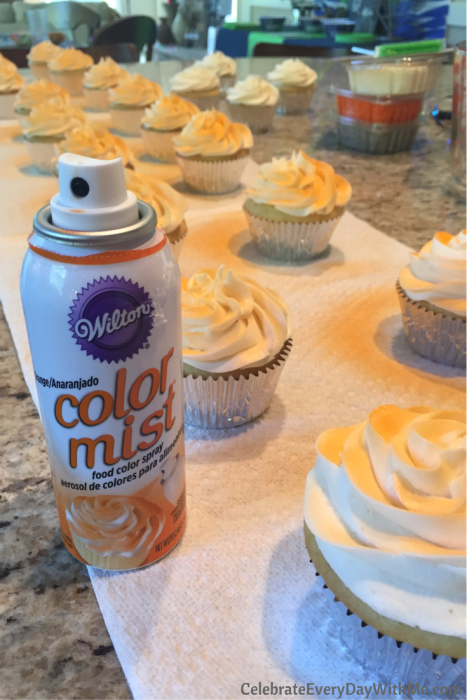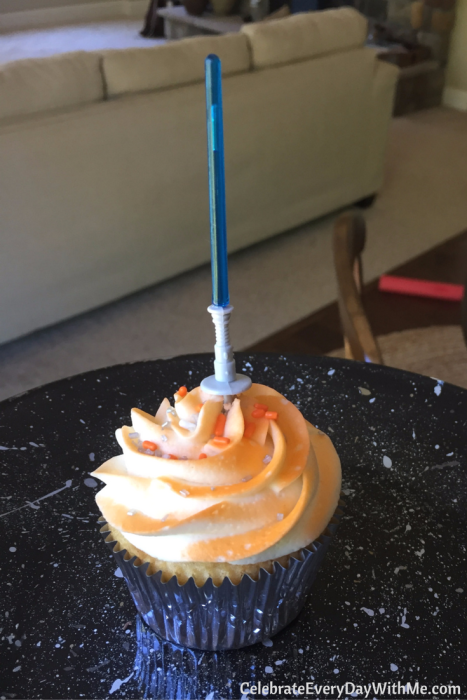 When I served the cupcakes, I put a light saber cupcake topper in each one.  So simple, but the boys were elated!
On the counter, I served Pizza the Hutt, a little platter of Vader Veggies with dip and fun Star Wars themed chocolates made from these molds.  My favorite was the peanut butter flavored Han Solo in carbonite.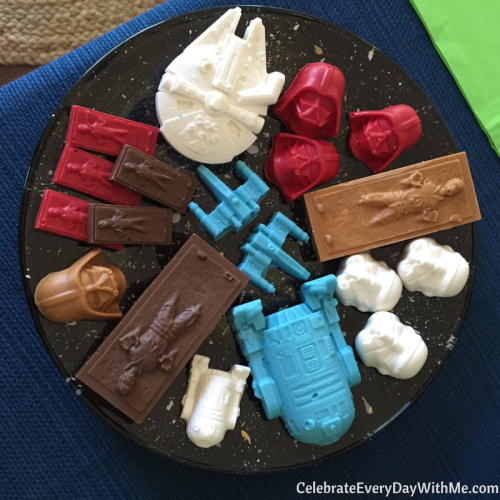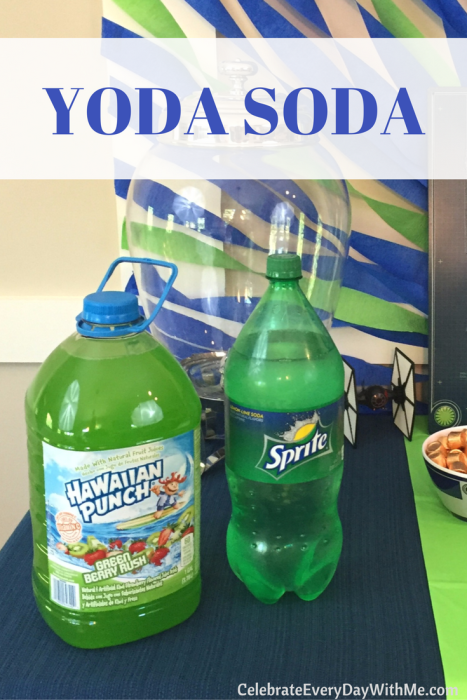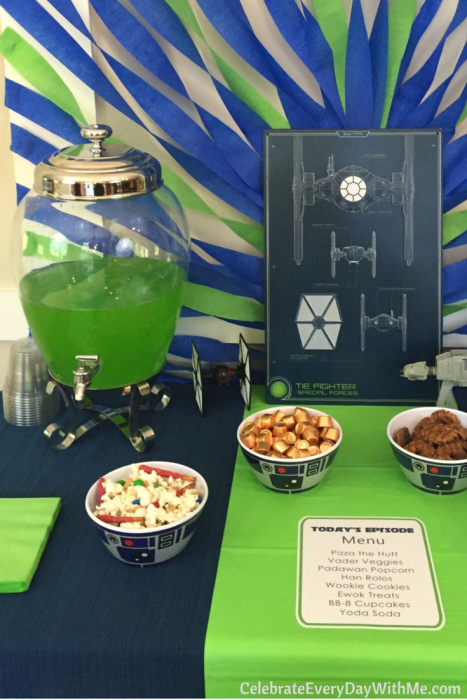 The Yoda Soda was a hit and so easy with just two ingredients:  Green Berry Rush Hawaiian Punch and Sprite.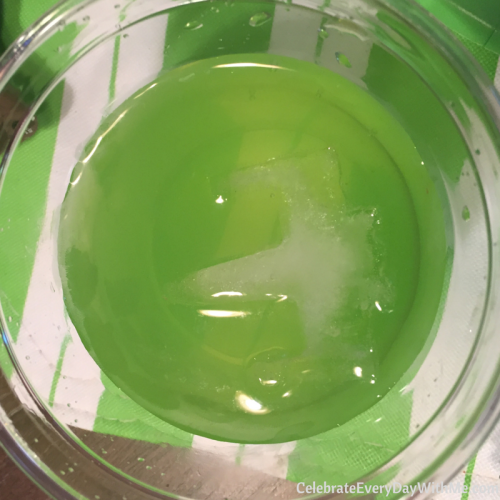 I used the chocolate molds to make ice as well.  I asked each kid if they wanted to join the rebellion or the dark side.  Depending on their answer, they got X-wing, Darth Vader and/or Storm Trooper ice cubes.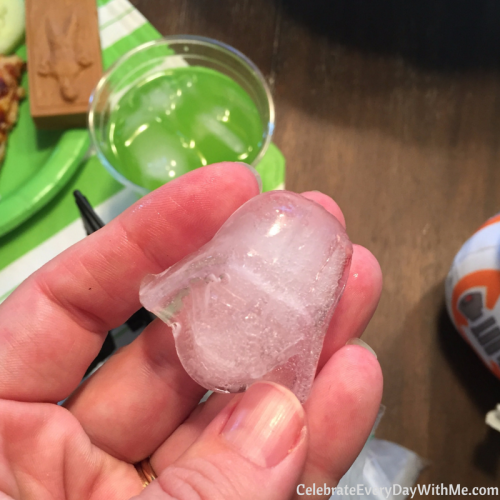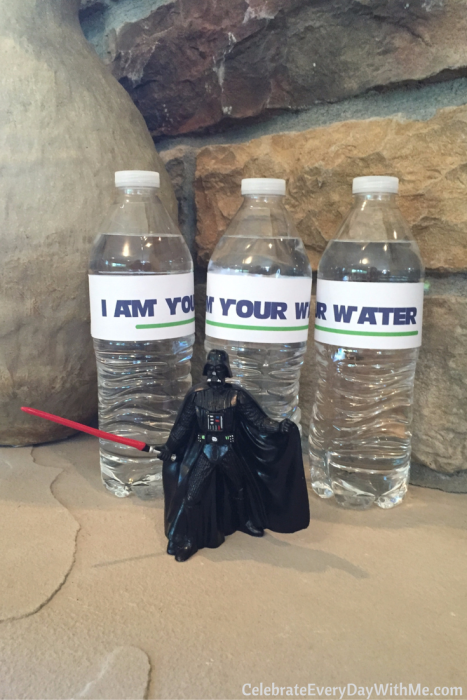 A little "I Am Your Water" from Darth Vader.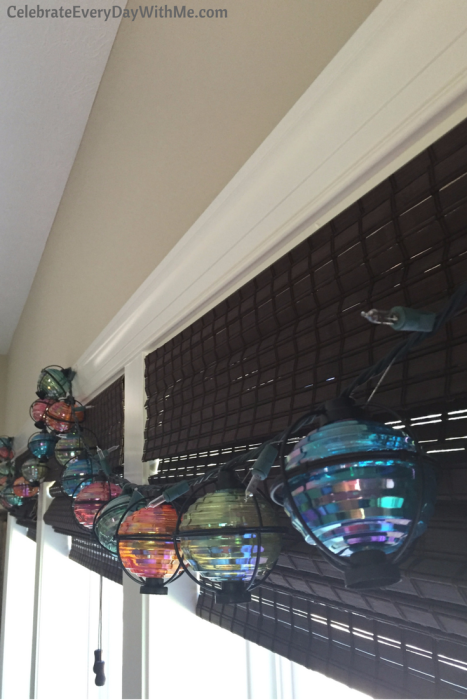 Extra Decor:
I had picked up these string light covers at a garage sale last year.  My son thought they looked like the Death Star so it was a win-win for atmosphere when it was dark and movie time.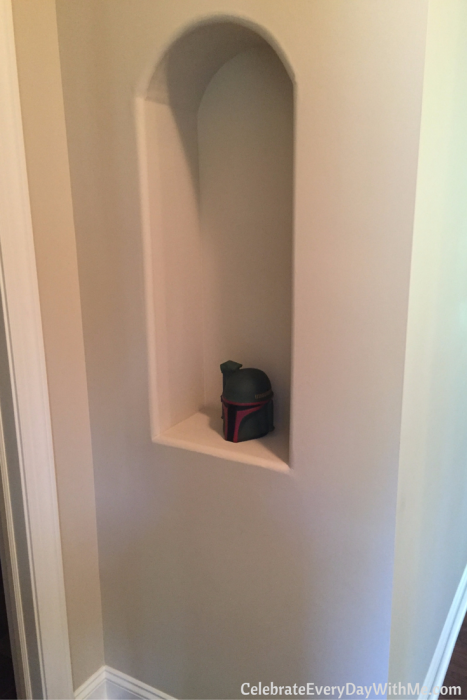 Doesn't everybody have a Boba Fett head tucked away?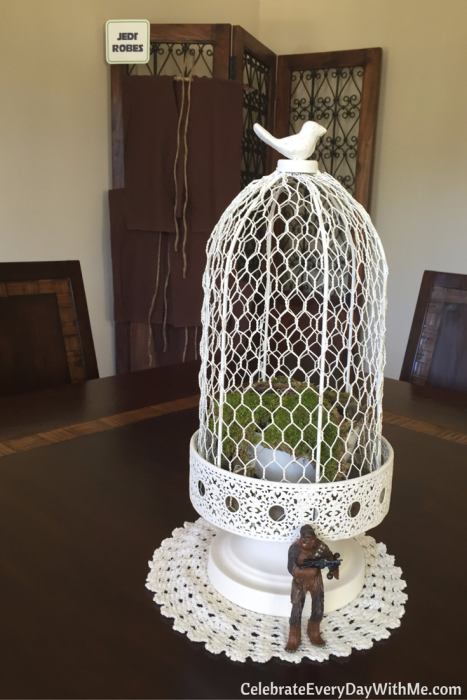 More of my son's action figures strategically placed around the house. . . However, when I was writing for my Motherhood On a Dime post, after working on all my pictures, I noticed an Ewok in my primary image.  Yeesh.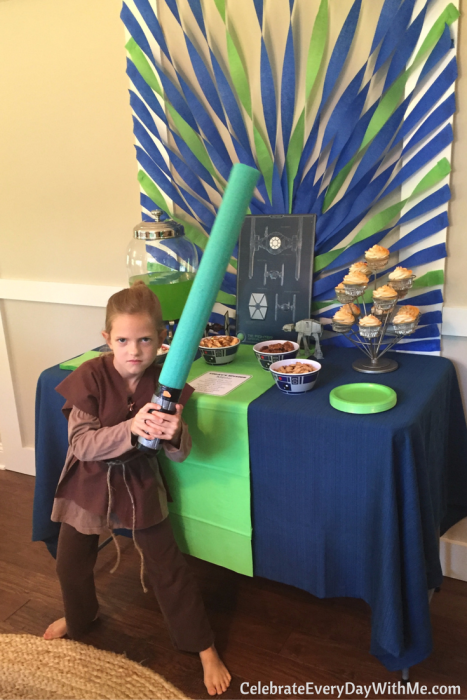 If you're ready to take on the First Order, come back next week to find out the three activities that really made this party a galactic hit.  
You May Also Like: