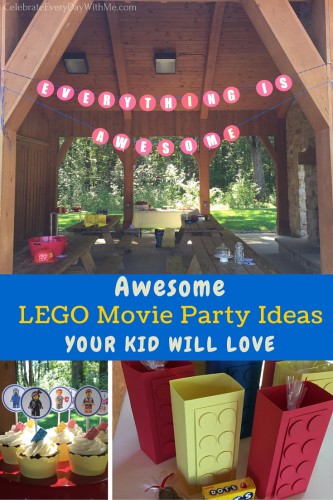 Well, my little boy turned 8.  And if you've had the pleasure of meeting him, you probably know that he is very into legos and the Lego Movie.  In fact, there have been times I have had to put the kibosh on the singing of "Everything is Awesome."  It is a catchy song and I really do like it, but 500 times in row . . . well, you probably know exactly what I mean.
So let's feed the obsession of the Lego Movie with a Lego Movie party.  I'm asking for trouble, right?  But I love any theme to design a party around and even if it means I will have that song in my mind for the next 364 days, so be it.  I love that sweet boy.
At the party, we played super fun games and I will share those next week.  Today, we're talking decor, food, favors and other great Lego Movie Party ideas.
Take a peek!
This post contains affiliate links.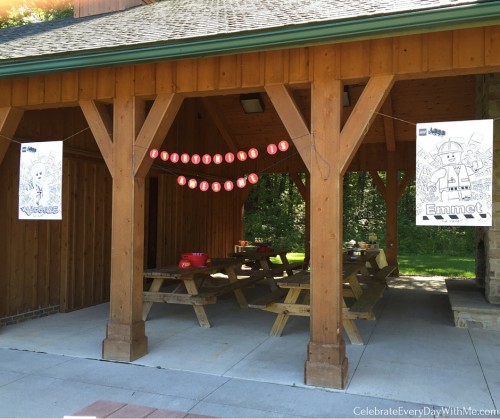 We hosted my son's party at a local park.  In my area, our park system allows residents to reserve the pavilions for free.  So that in itself is a huge blessing.  I love the lake in the background at this property and it had the option of an indoor shelter should we have inclement weather.  Everything really is awesome.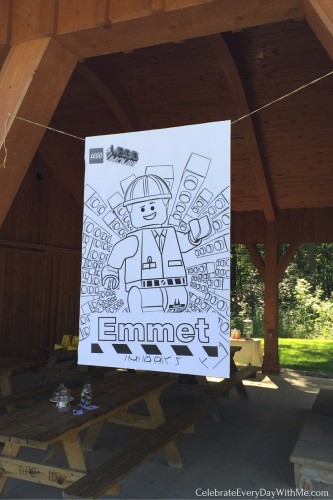 What could be better than posters of the two favorite characters, Emmet and Wyldstyle?  Friends, if you are looking to enlarge and print something for a party, search for coloring pages online and then head to Staples.  I downloaded these coloring pages from Lego and emailed them to Staples to print engineering prints.  Then I mounted them to foam board (Dollar Tree) and strung them up at the pavilion.  My kids will love coloring them at a later time.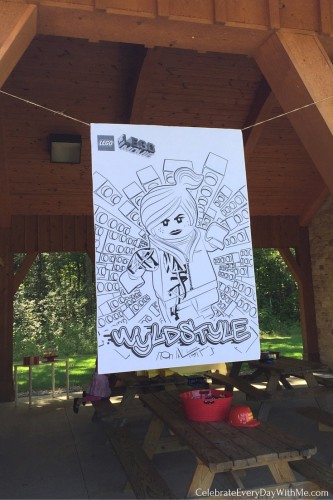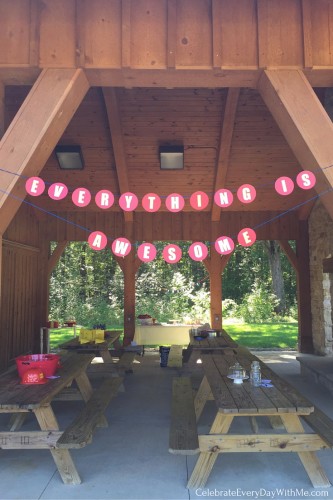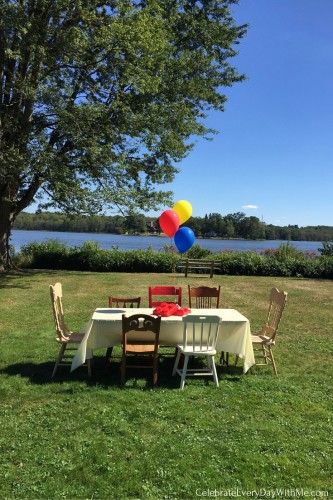 One of my favorite views!  The kids sat lakeside to eat.  I kept the table super simple.  Balloons and Lego box lids
 as the centerpiece.
This party required much more cutting on my Cameo than my daughter's Alice in Wonderland Party.  I cut the lego shapes, both banners, favor boxes and cupcake toppers/wrappers.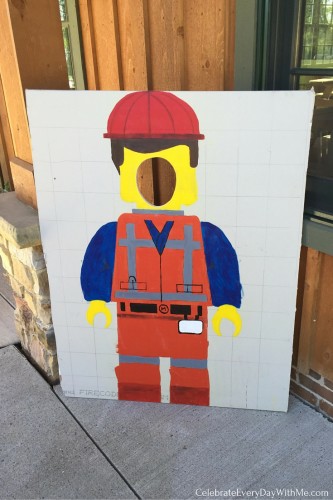 Friends of ours made this Emmet for their daughter's party.  Hand-me-downs are great even for parties!
More engineering prints of Uni-Kitty and Benny, just the smaller size for the bathroom doors.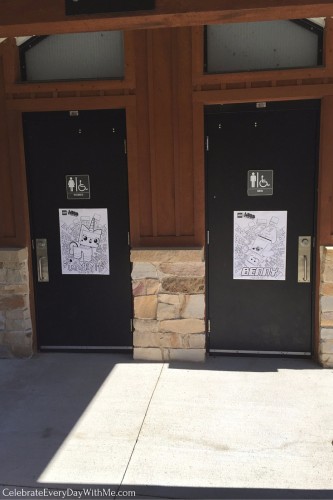 And what would a Lego party be without the Kragle under glass?  I used nail polish remover and a qtip to wipe off some of the lettering and give it a worn look.  

Even though we held the party on a Monday afternoon, of course we had to pretend it was Taco Tuesday which meant a Walking Taco Station.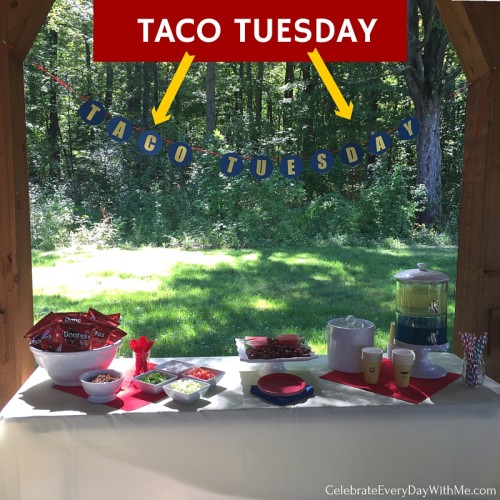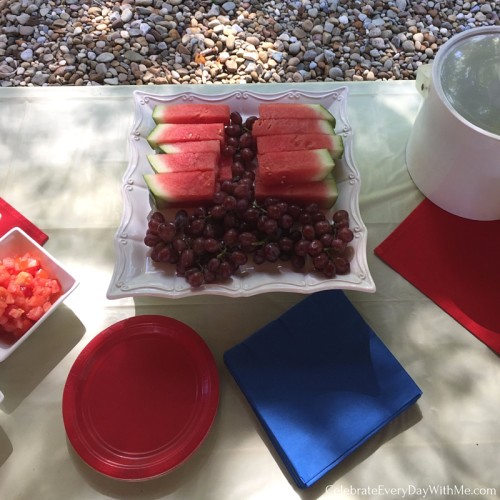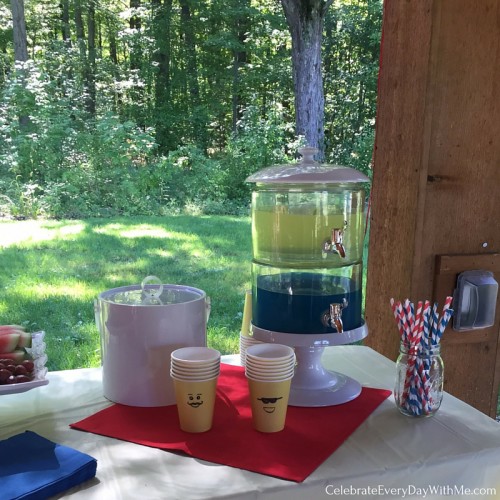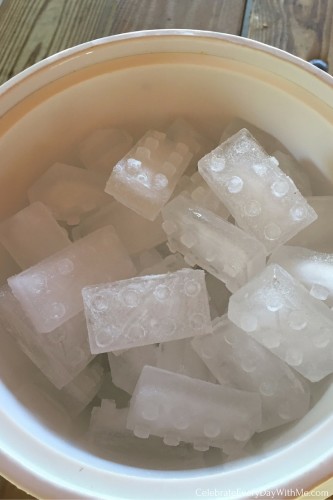 I was delighted with the kids' excitement when I asked them how many "bricks" they wanted in their drinks.  This is the mold I bought to make the lego ice.
For the cupcakes, I purchased Lego Movie clip art from this Etsy store to make the toppers.  The candy came from a local specialty store (here is an amazon link).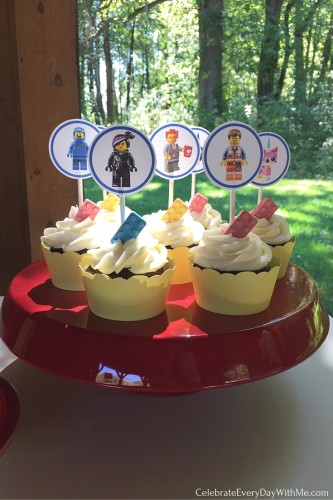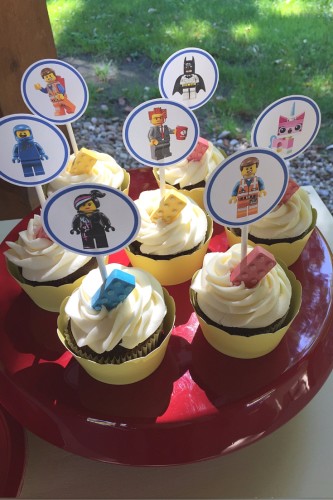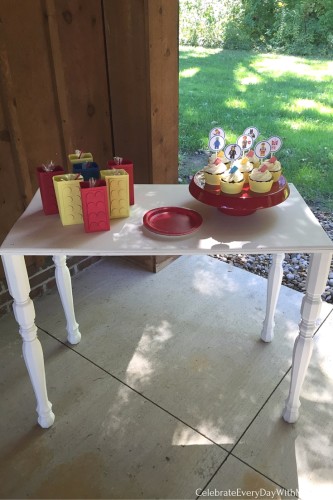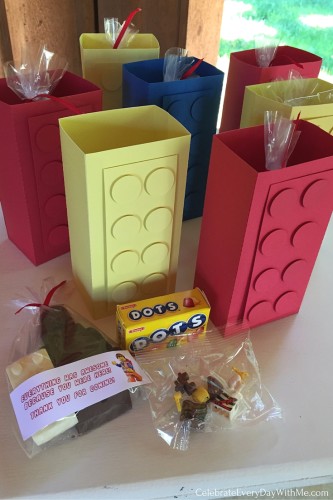 I made the lego favor bags with my cameo and filled them with chocolate, dots and minifigures.  And if every party has a crisis moment, this was mine.
The wonderful folks at Chocoley sent me chocolate to use for the party (Bada Bing Bada Boom Candy & Molding Chocolate, Real Red Coloring Oil and Blue Coloring Oil).   Their chocolate is delicious and I like using it.
The only problem?  I gave them the wrong mailing address.  I slipped and mistyped one of the numbers on my address.  When I realized the problem, it was only 72 hours until the party (and you know how I like to prepare in advance).  After a couple calls to Fed Ex and visiting 5 neighbors' homes, I found the chocolate at the final house on the street.  Phew!  A couple days later, we took these treats to the nice neighbors who didn't eat my chocolate.  😉
One thing I learned about using the brick and minifigure molds was that I needed to pipe chocolate into the divots to be sure everything was filled and well-formed.  Because I was learning as I went (sigh), I wasted some of my good chocolate and had to supplement with store-bought.  But don't worry, we still ate everything!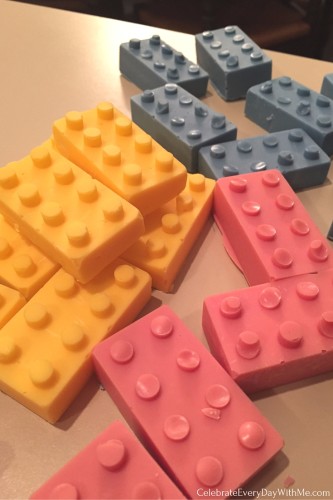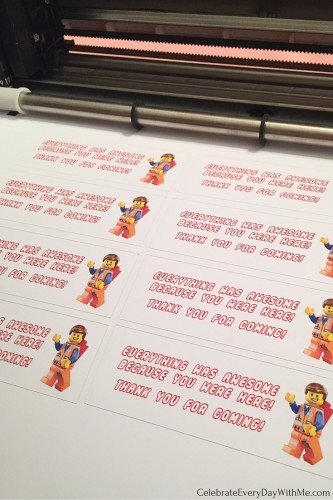 Chocolate minifigure, anyone?
What do you like best about this party?  Don't miss the awesome games coming in the next post!