I love that you can thrill young children with just about anything.  You can take an interest or hobby and create a whole party around it.  You can send an invitation in the mail making them feel special.  You can even keep the party simple and they will still love it and have a great time.
. . . AND if Grandma is throwing the party, you get to sit back and enjoy it with your kids!
Last month, my kids received invitations to a Thomas the Train luncheon over at Grandma's house.  Not only were they thrilled to receive the mail, but they were excited to head over to Grandma's for a fun and informal party about Thomas.
You may remember that my son loves trains.  He chugs through stores, creates imaginative stories for his toy engines and knows more information than I do about any kind of train.  It is his #1 hobby right now and I just love it.  (Do your kids have anything they are completely in to?)  
The guest list for the luncheon was simple:  my kids, myself and my mom.  My mom bought Thomas the Train party invitations and used the extra invitations to cut from for the front door and table decorations.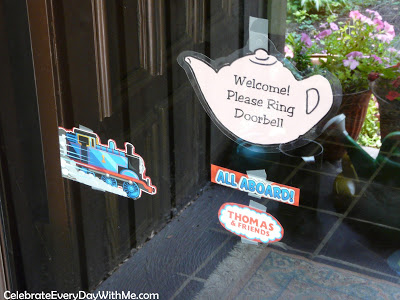 She set the doorbell to ring "I've Been Working on the Railroad."  Gotta love it!
Both kids had a Thomas placemat which they were able to take home as the favor.  Notice that for the other two place settings, my mom placed an invitation under the glass plate.  Clever and cute.  She also used modified invitations as place cards.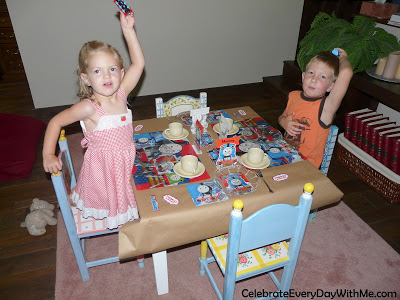 We brought every Thomas the Train we own . . . which I think was 5 when you count the small take 'n go sizes, the regular sizes and the Thomas train flashlight.
They played two games.  They were simple, but my kids loved them.  The first was train racing on our old tracks (look familiar to anyone?).  My mom tucked the flexible track in the couch and the kids sent the trains flying down the hill.
The second game was simply Hide and Seek with two eggs of silly putty (the other favor) and the trains.  The kids left the room and my mom hid the silly putty or trains.  When my mom yelled, "All Aboard," the kids raced back in the room and began searching.
It was a fun party and the kids loved it!  (Thanks, Mom!)
What kind of party can you plan where your kids are the only guests?  Keep it simple and have fun!