(This post contains affiliate links.)
Every time I throw another party, I find a new theme with which to fall in love.  Looking at the details, getting creative and planning some memory-making fun . . . this Finding Dory party was no different!
An aquatic-themed party is not new to my household.  We've done Little Mermaid, Octonauts and Luau parties.  But Finding Dory was such a fun movie that I couldn't wait to revisit the open sea.
So let's dive right in!  Here are our fun and creative Finding Dory party ideas from our family birthday celebration.
Welcome Your Guests in Typical Dory Style.
The new movie continues the story line of Dory's short term memory loss.  Play this up as you welcome your guests into the party.  Ask them why they are here.  Dory would have forgotten.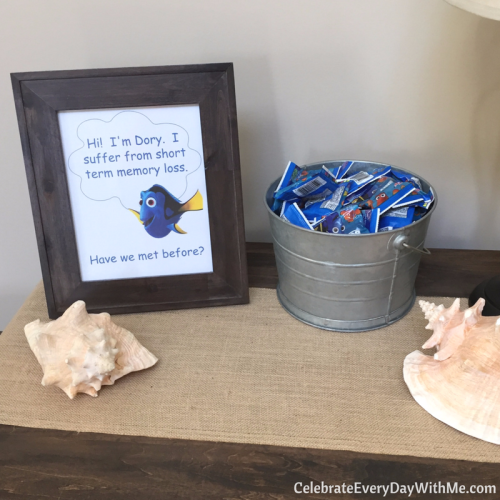 Once your guests are inside, play it up again.  After seeing Dory at the front door, my guests met her inside as well.  She is so quick to forget, isn't she?
I decorated around the framed sign with two large conch shells and a galvanized bucket filled with Dory Fruit Snacks.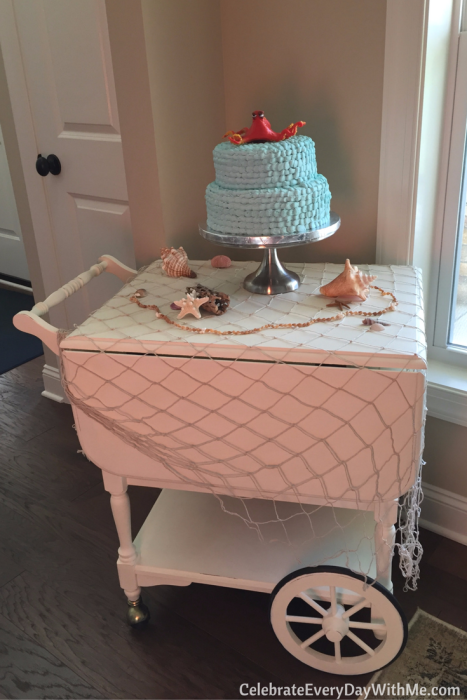 Introduce Other Characters from the Movie.
Destiny, Bailey, Hank and Becky are just some of the fun new characters introduced in Finding Dory.  I purchased a clipart set on Etsy to use for signs and other party printables.  I also purchased a set of Dory characters and topped my cake with Hank.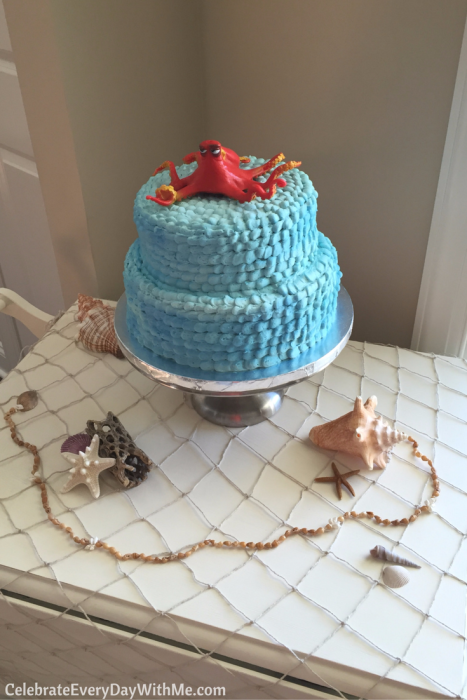 In making the cake, I used Wilton Tip 12 for the design and then sprayed the cake with color mist for a quick variation in color.  Oh boy was this easier than dying frosting!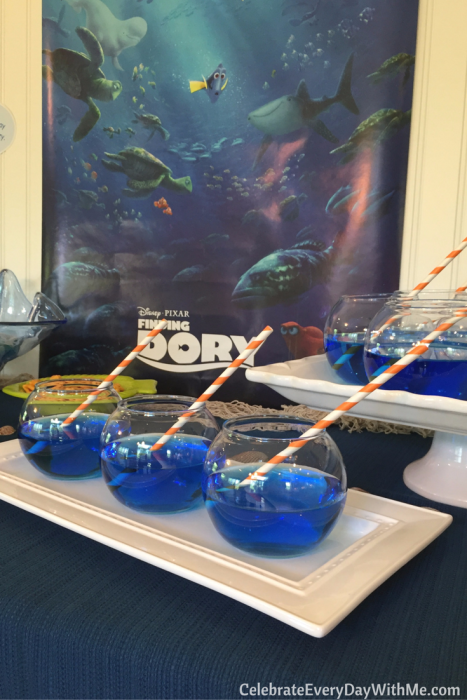 Serve Drinks in Individual Fish Bowls . . . Yes, You Read That Right!
Inspired by Laura's party, I purchased 29 glass bowls from the Dollar Tree and served "Ocean Water" in the fish bowls.  It is very difficult to drink directly from the bowl, so be sure to add cute striped straws.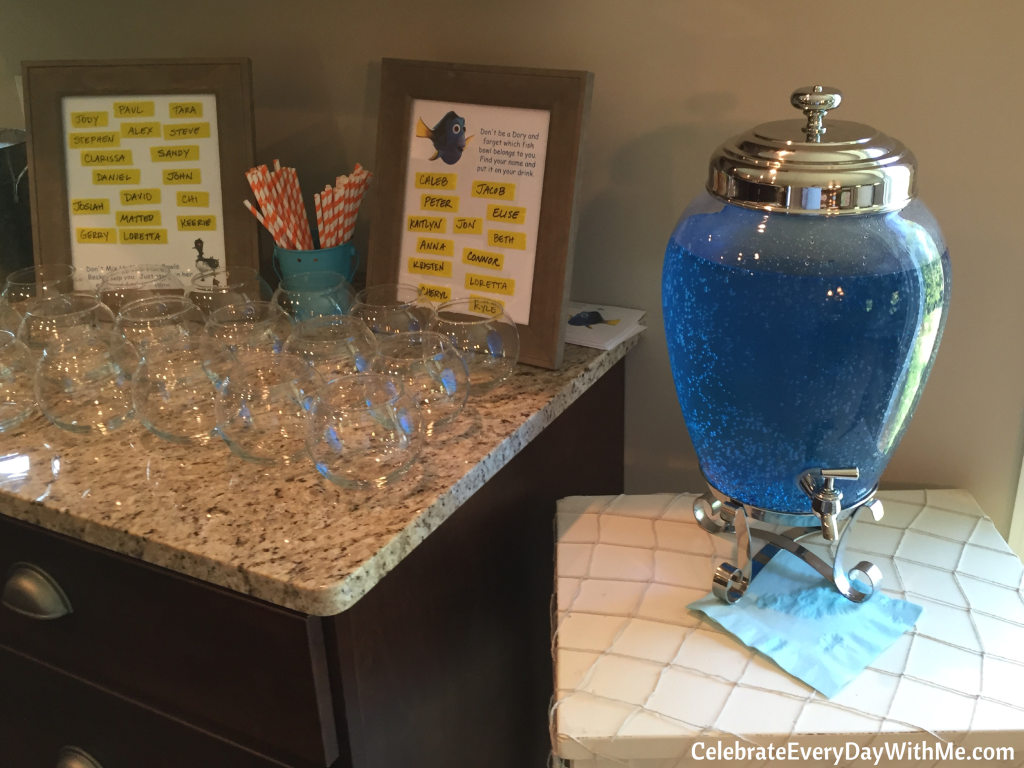 If you are worried about people mixing up their bowls since you're not using the traditional red party cup and a sharpie, here is what you can do:
Put pieces of washi tape on one or two glass picture frames.  Washi tape is very forgiving when peeling it off glass items.  Write your guests names on the washi tape before the party, then they will easily be able to label their bowls so as not to confuse their drinks with others'.
With the labels on the front of the glass, you can place instructions keeping "in theme" behind the glass of the frame.  This is what I shared on the printouts with Dory and Becky.
"Don't be a Dory and forget which fish bowl belongs to you.  Find your name and put it on your drink."
"Don't mix up your fish bowls.  Becky can help.  Just stare in her eyes and find your name."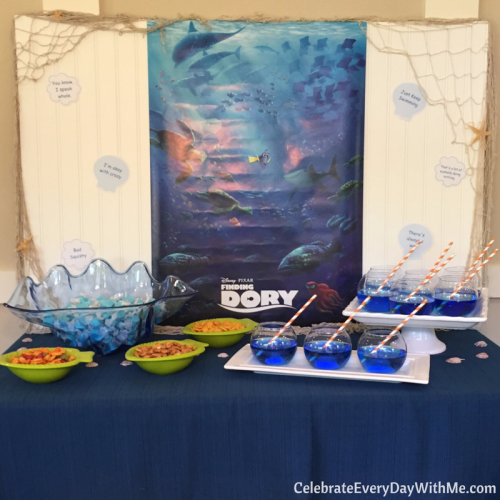 Create a Fun Tablescape
For the backdrop, I made use of my bead board and fish netting as well as a Finding Dory poster.  In the netting, I weaved a handful of starfish and finished off the look with quotes from the movie (made with my Cameo).
Just Keep Swimming * That's A Lot of Eyeballs Doing Nothing
There's Always A Way * You Know, I Speak Whale
I'm Okay With Crazy * Bad Squishy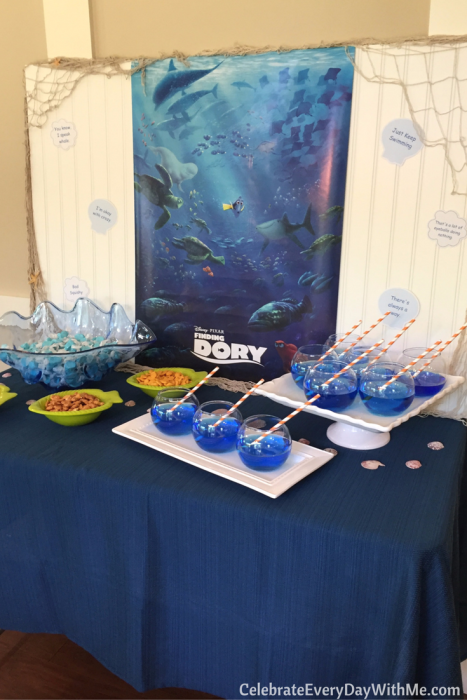 In the movie, Dory's parents leave a trail of shells and Dory's mom especially loves purple shells.  This led me to weave a line of purple shells among the snacks and drinks.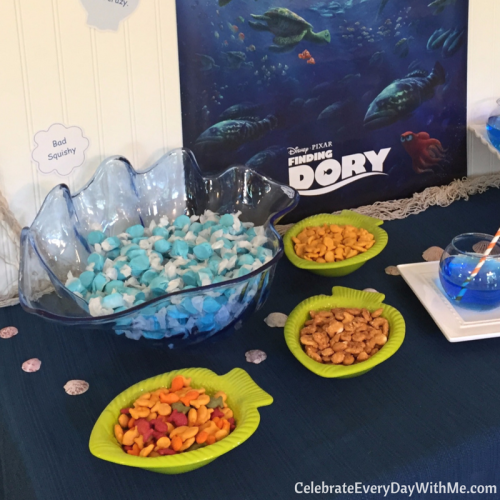 For munching, I served three kinds of goldfish and blue saltwater taffy.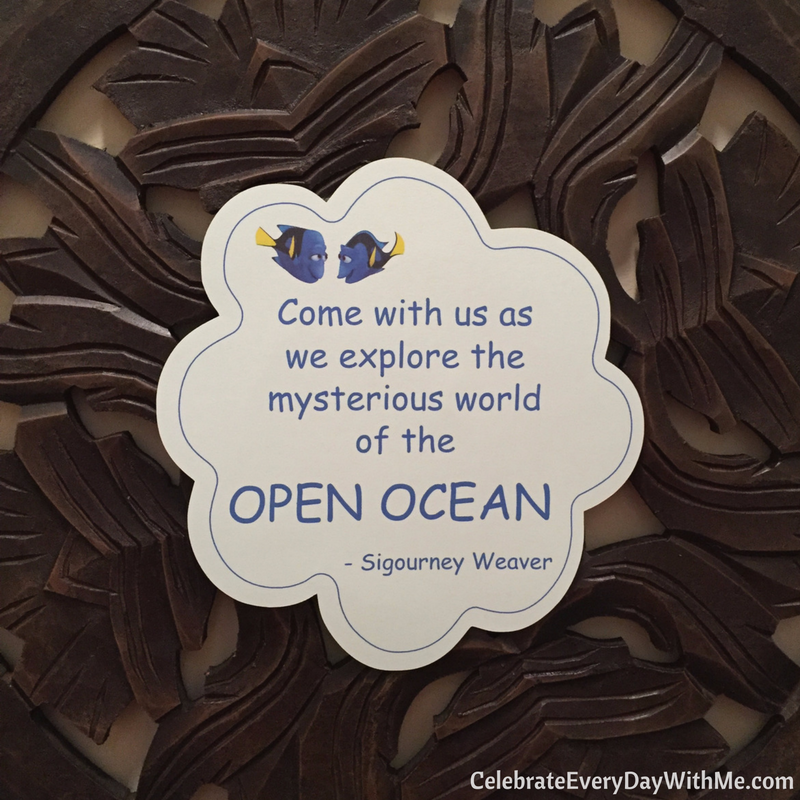 Make Use of Themed Signs
Have some fun playing on different parts of the movie.  On the way to the basement (where we ate), was the above sign with Sigourney Weaver's line from the Marine Life Institute.  I also put a Quarantine sign on the bathroom door, and for the kids' place cards, each tag had a picture of a character from the movie.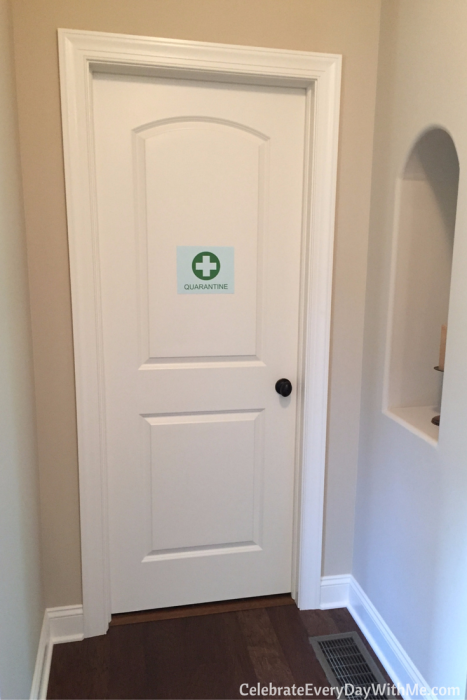 A Creative Non-Seafood Menu
I reached back into Finding Nemo for the line, "Fish are friends, not food."  Since I was not serving any seafood, this seemed like a natural way to start the buffet line.
Step it Up with Fun Utensils 
I love wood utensils.  They add something unique to a party but I also like the fact that you can customize them for your particular party theme or color scheme.  I took some simple acrylic paint and painted the ends (as seen in the above photo).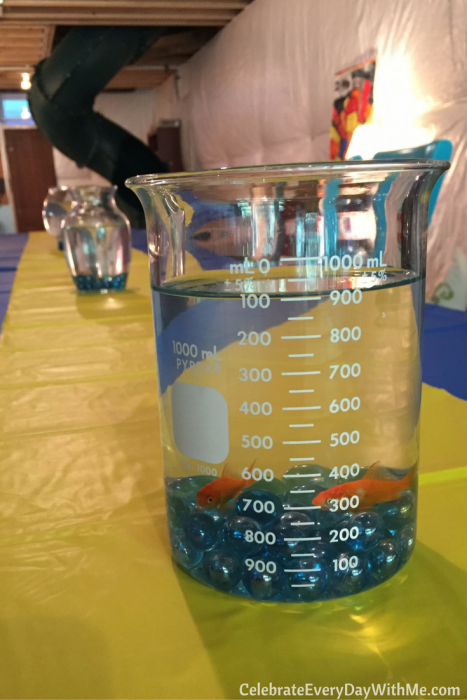 Go Under the Sea with Live Centerpieces
Keep things swimming with goldfish in a variety of bowls and beakers (pulling from the movie) arranged on your dining tables.  My plan was to send a couple of the families with young kids home with fish.  However somehow, I still sit here with 13 12 goldfish.  Hmmm….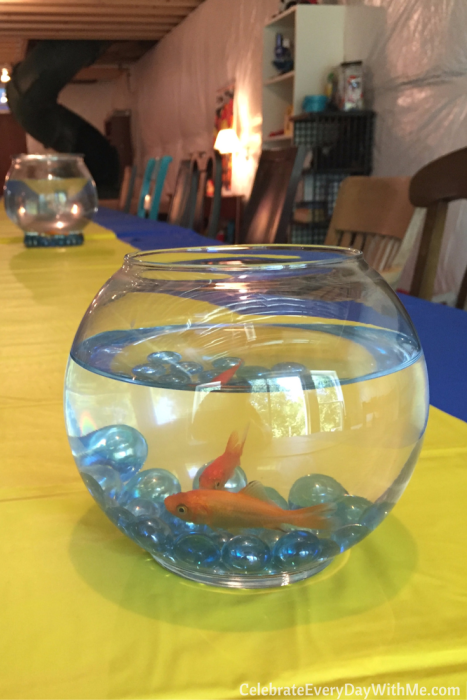 And in case you missed this post . . . yes, that is a slide in the back of the basement.  The basement is unfinished but hey, we have carpet remnants and a slide.  Good enough for me.  😉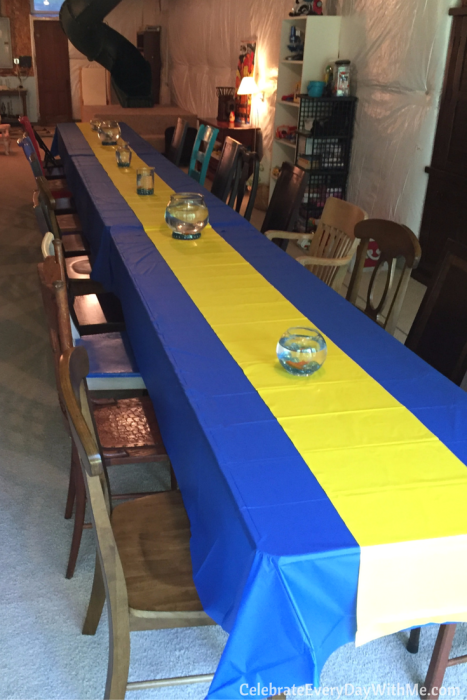 Go Color Strong with Tables
Tables are a great place to go strong with the color scheme.  I stuck with Dory's blue and yellow for the tablecloths.  The yellow runner is simply a plastic tablecloth not quite unfolded all the way.  It works, doesn't it?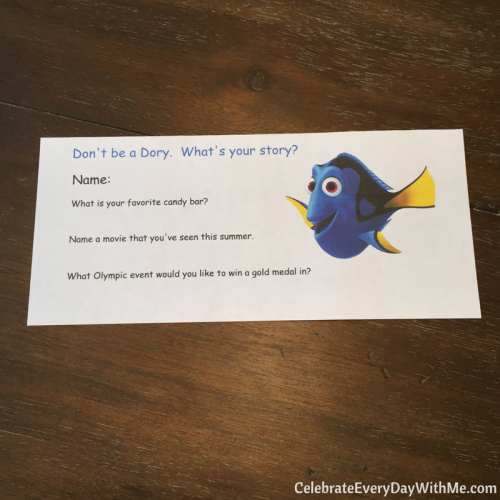 A Fun Memory Game
We always play a game at our family parties.  But this time, it was two hours before the party and I still hadn't finalized the plans.  I knew I wanted some memory based game to play off the "Don't be a Dory [forgetful]" line from the movie.
So sitting around the kitchen island, Dan, our friends Tara and Jon, and I came up with this "Don't be a Dory.  What's your story?" party game.  Each guest was asked to fill out the form with these three questions:
 What is your favorite candy bar?
Name a movie that you've seen this summer.
What Olympic event would you like to win a gold medal in?
All completed forms were spread out on the dining room table and guests were invited to review each other's answers.  Later in the evening, we gathered everyone together and Dan asked a question (or all questions) from a particular sheet.  For example, who can remember the movie that Jody saw this summer.  The first person to shout out the answer won the page and the person with the most pages at the end of the game was the winner.  It was fun to see how many people remembered so many of the answers.  Not nearly as many Dory's as I thought!
The top two winners received this as a prize – – >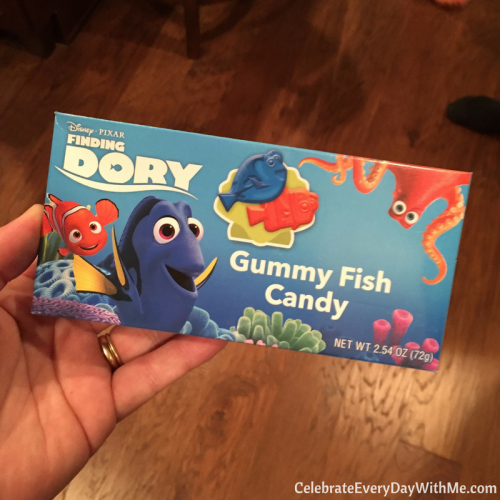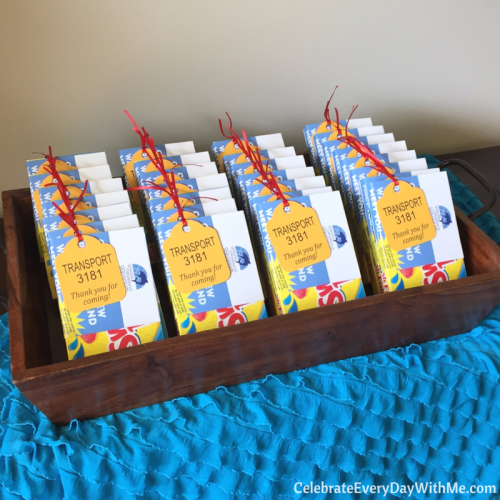 Tag 'em and Send 'em Off to "the Cleveland"
In the movie, Dory is mistakenly tagged with a transport tag that identifies her as one of the fish being sent to the Cleveland Aquarium.  For our party favor, I wrapped a Cleveland Aquarium brochure (with coupon) around a box of Swedish Fish.  The tag read like Dory's, "TRANSPORT 3181" with the addition of "Thank you for coming!"
And thank YOU for swimming with us for this Finding Dory party.  I hope you are finding inspiration for your celebration.
Until next time,
Just Keep Swimming!