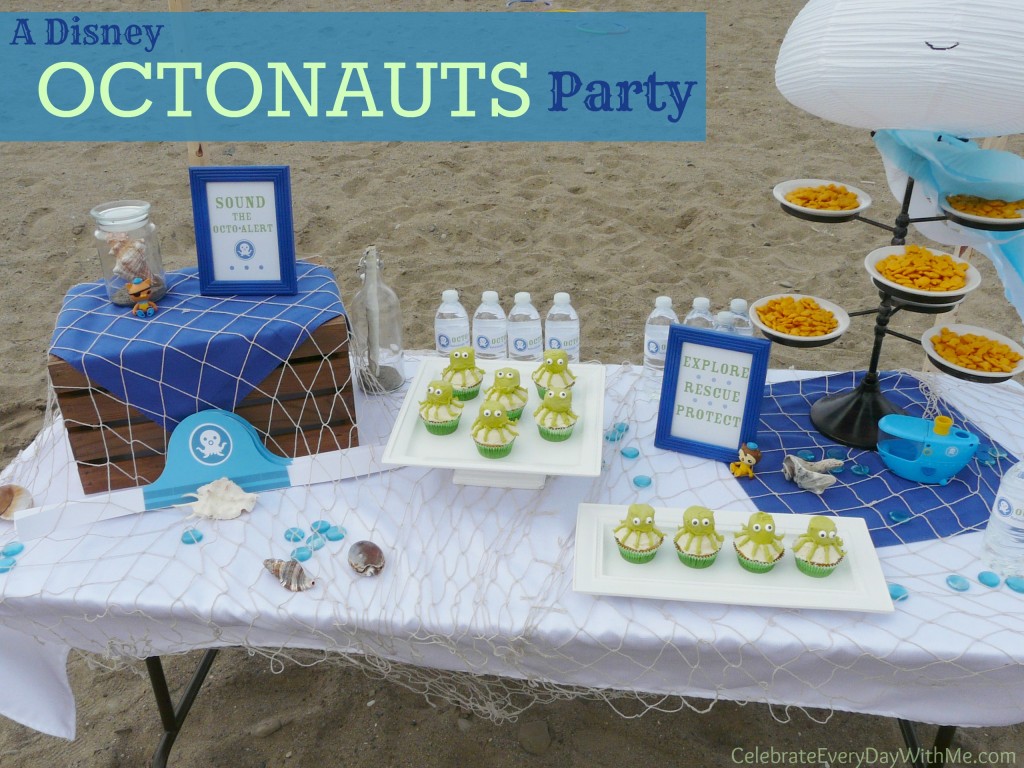 As I mentioned last Friday, my Sweet Boy has turned 6 years old.  I love seeing what my kids are into at the time of celebrations and creating fun parties for their birthdays.  And over the last year, my son has been loving Disney's Octonauts show.  It is a fun program that teaches kids to help others, work as a team, learn about different sea creatures and as the motto of the show goes, "Explore, Rescue, Protect."
If you must know, I think it is a mini and mild version of Star Trek…all different creatures coming together to explore the sea, going on missions of diplomacy and rescue.  Does this mean that I am destined to have a Trekkie in the house? Well, we will see.
But for now, here is our Disney Octonauts Party.
I have always wanted to throw a party (or a wedding for that matter) on the beach.  As a WP, I did plan a wedding on the beaches of Mexico.  I made all the arrangements, worked with an awesome couple, but being pretty pregnant, I did not attend.  So now, at last, I can check off my wish of a throwing a party on the beach.
A party on the beach means wind.  I was ready for wind.  Beaches are usually breezy, right?  I was not, however, ready for 'let's knock everything down' kind of wind.  But thankfully, it did let up a little in time for the party.
The decorations were simple in nature.  I made a balloon banner (using this method).  I envisioned a wall of balloons to mimic the look of bubbles, but then decided after blowing up 25 balloons that a banner at the top of the stakes would be just fine.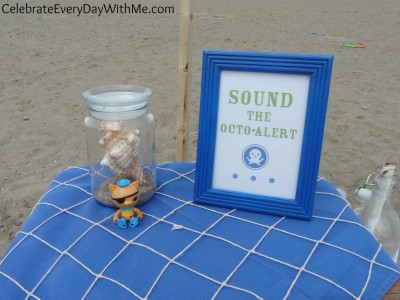 I pulled most of the other decorations from my seashell and stone collection, Sweet Boy's Octonaut toys, the frames that get painted for nearly every party and my nets from the Dollar Tree (remember the Luau party?).  The jellyfish was made with an Ikea lantern and streamers, making use of my Blessings Unlimited stand for the base…I love using this piece for entertaining and parties!
I kept the food simple!  Personalized water bottle labels, goldfish (a.k.a. fish biscuits) and the Octopus Cupcakes.  You can read how I made them in last Friday's post.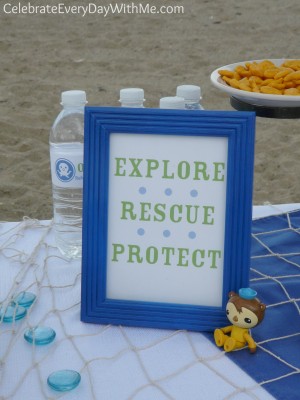 Octonaut Hats made with my Cameo
.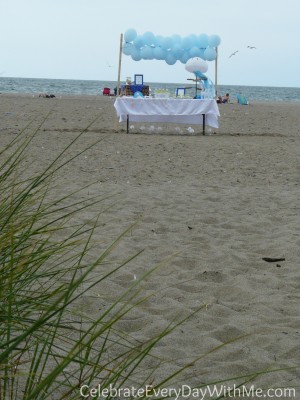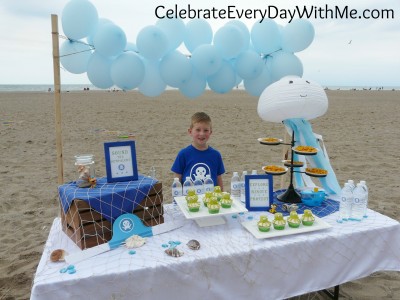 Happy Birthday Sweet Boy!!
Next week, I'll be sharing the activities we did at the party.  But here's a hint if you are an Octonaut fan:  Peso's Obstacle Course and Kwazzi's Treasure Hunt.  Did I mention how much fun the beach is for games?  Oh how I loved it!
What was one of your recent party themes?  
Related Posts:
How to Make Treasure Map Paper in 2 Easy Steps!
Octonaut Party Games (Part Two)
(This post contains an affiliate link.  Please see the Disclosure Policy on the About Page for more information.)