As you can safely assume, birthdays are a big deal in our house.  We celebrate the actual birthday with a fun activity and a more intimate dinner.  We plan a friends party for each child and then we also host a joint family party for both kids (about 25 people and only our immediate families).
This year, I wanted to do a luau theme for our family party.  In keeping with a good "party approach"  (see this post to learn more), our guests were greeted with leis, hibiscus clips for the ladies' hair and deliciously sweet pineapple coconut smoothies.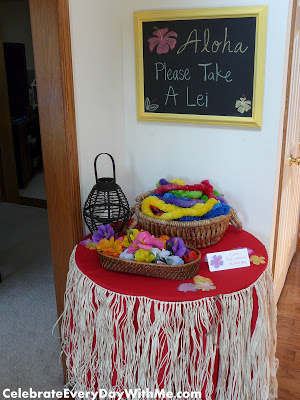 I used two grass skirts (
Dollar Tree
) as my table skirt.
This upcycled chalkboard has gotten a lot of use lately!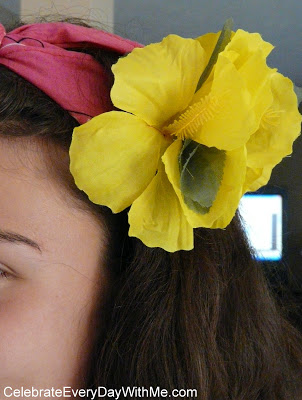 We looked at several different pineapple smoothie recipes.  The fresh pineapple and coconut sounded delicious but we thought they'd prove a bit tricky given our time constraints in preparing the rest of the food.  So we opted for the non-alcoholic recipe on the back of the Daily's Pina Colada Mix.  It was fast, easy and sweet.  We topped them with whipped cream, shredded coconut and an
umbrella
.  They were a hit!
Don't forget to welcome your party guests with something delightful whether it be a special decorating concept, favor, drink or appetizer.  Lure them in with something fun and build the anticipation for a great event.
Related Post:
Sand Pail Birthday Cakes (cakes from our Luau)