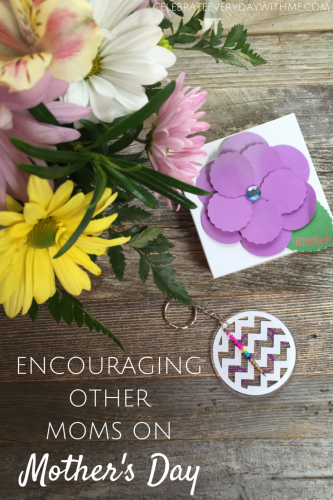 Each spring, we all anticipate what the new Mother's Day activity will be, sent out from my cousin, Cherise.  Now in its fifth year, this tradition has been such a fun way to encourage each other in our role as mothers.  The first year it was Mother's Day Compliments, followed by the Secret Mom Meaningful Flower & Candy and plates with Bible verses.
Last year was encouragement based on the Fruit of the Spirit (Galatians 5:22-23).  Along with a list of participating moms, we were each instructed to identify a fruit (love, joy, peace, patience, kindness, goodness, faithfulness, gentleness and self-control) that each mom excelled in.  We could explain if we'd like or just list the fruit by the mom's name.  Cherise organized all the information and created these fun key chains.
Each bead represented one of the fruits to let us know what other moms saw in us.  A letter accompanied sharing the meaning and any comments people wrote.  This Fruit of the Spirit Encouragement was such a fun way to encourage and inspire each other to grow in our faith together and in our role as mothers.
Is there a circle of moms at church or a group of friends that you could do this activity with?  Can't we all use a little encouragement from one another?