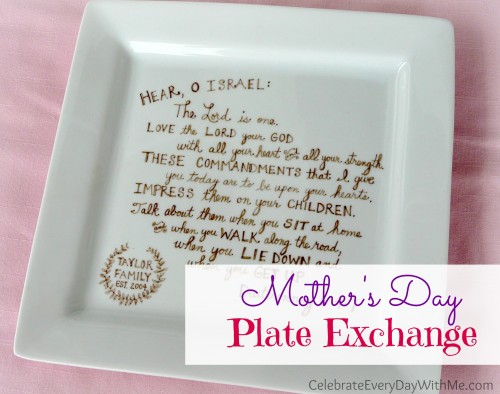 Every year, my cousin, Cherise puts together an exchange of some sort for Mother's Day.  It is a wonderful way to encourage and support each other and something I look forward to each year.
The first year, it was an exchange of compliments among the group of moms.  The second year, each of us were assigned a mom to whom we should give a meaningful flower and candy.  Both ideas were great and you can click over and read more if you would like to try something special with a great group of women.
Last year, the idea was a Mother's Day plate exchange.  Cherise assigned each person a secret mom.  We were instructed to buy a ceramic plate, and with markers, write a Scripture passage about mothering.   Then,  fill it with a treat.
What You'll Need to Make Your Own:
Ceramic Plate
Ceramic Markers (Sharpies can work, but see why you should get the ceramic ones below.)
A great group of moms who can use encouragement and support.
1.  Invite Other Moms to Participate
Email your girlfriends, ask your Bible study group, talk with other school moms or church friends.  For this particular exchange, it isn't necessary that everyone know one another.  That isn't the case for the previous two exchanges.  Think about who you can invite and be sure not to exclude someone.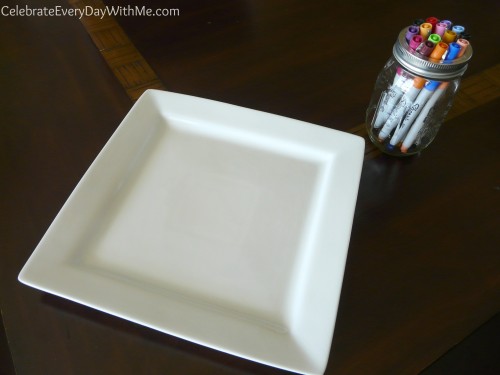 2.  Buy your plate and markers.  
Cherise had ceramic markers
that we could borrow if we wanted.  Let me tell you that I should have borrowed them!  I shopped at Wal-Mart and they didn't have any for sale.  I knew you could do this with Sharpie permanent markers, so I thought I'd try the thousands I have at home.  It turned out to be more work!   Maybe it was because I was using fine point…
The moral of the story?  Get the markers made for this kind of project and save yourself the grief.
3.  Sketch out your verse.  I chose Deuteronomy 6:4-7.  It is a long passage but one of my favorites on parenting.  I played around with different ways of writing and then wrote it on paper the same size as my "workable surface."
4.  Write your verse on the plate.  I used my sketch as a guide to be sure I wasn't getting off track.  Make any modifications necessary.  😉
Notice my cute purple leafy thingy?  Yeah, if you use Sharpies, the color doesn't carry through when you bake.  I LOVE Sharpies.  But don't write on plates with them.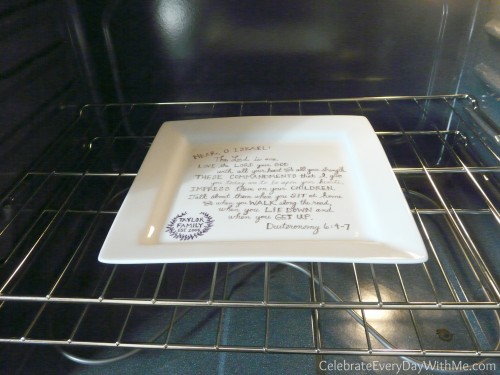 5.  Bake the plate.  Put your plate in a cold oven and heat to 450 degrees.  Bake for half an hour.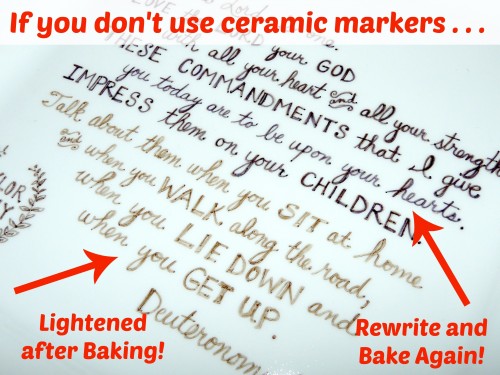 6.  If you used Sharpies (and at this point, if you have used them after reading all this . . . well, you asked for it.  But I still love you!), re-write the passage and bake again.
Even after all my re-writing and re-baking, this is still a lovely and thoughtful way to celebrate motherhood and the special moms in your life.  Who will you encourage?
Be sure to check out these Mother's Day exchanges as well:
On a side note, Cabin Connection tried several different methods of writing on ceramics with Sharpies.  See which she found to be the best here.
And if you want to save yourself the grief of re-baking, check out these assorted ceramic markers on Amazon
.  You're welcome!
(Disclosure:  This post contains an affiliate link for wonderful ceramic markers.  Please the my Disclosure Policy on the About Page.)