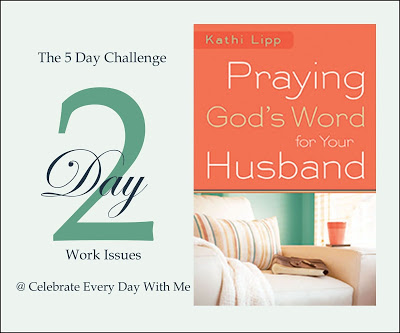 I am so glad you're back to join us in praying for our husbands.  If you missed Day One, head
here
to catch up on our 5 Day Challenge with 
Praying God's Word for Your Husband
.  Otherwise, let's jump right in to today's topic,
work issues.
Any and every job has challenges.  Think about how many hours in a day our husbands spend at work.  Naturally, we want to cover them in prayer in all things related to their jobs.  In Praying God's Word for Your Husband, Kathi Lipp does a wonderful job of includig sub-categories like:  when he works too much, stress of the job, integrity at work, success at work and career calling.  Each category has Scripture verses and prayers to get you started in praying more powerfully and effectively.
Day Two (verses and prayers from page 77 and 79):
"Whatever you do, work at it with all your heart, as working for the Lord, not for human masters." (Colossians 3:23)

Let my husband be ever mindful of your gracious hand in all his works.  As he pours his heart into the projects and activities required by his job, remind him that it is you we work for, with gratitude for the many talents you have bestowed on us.  

"Be sure to fear the Lord and serve him faithfully with all your heart; consider what great things he has done for you."  (1 Samuel 12:24)

Help my husband to be ever mindful of the great work you have begun in him.  Let him always know that fear of you is the beginning of wisdom, and the gifts he has are not of his own making but ones you have bestowed on him.  Allow him to serve you faithfully with all his heart, soul, and mind in every task he undertakes.  Remind him, O Lord, of the great things you have done for him, and that his greatest accomplishment in life can be none other than serving you.
As a stay-at-home mom, it is easy to want to dump on my husband the moment he walks through the door at night. The adventures of raising two young children, the messes, the stresses . . . it can be exhausting (as if our husbands' jobs aren't!).  When I read the following in Kathi's book, I was particularly convicted and motivated to watch my attitude.
For Us (from pages 71-73)
"Do everything without grumbling or arguing, so that you may become blameless and pure, 'children of God without fault in a warped and crooked generation.'  Then you will shine among them like stars in the sky as you hold firmly to the word of life.  And then I will be able to boast on the day of Christ that I did not run or labor in vain.  But even if I am being poured out like a drink offering on the sacrifice and service coming from your faith, I am glad and rejoice with all of you.  So you too should be glad and rejoice with me."

Lord, even when the days are long and I feel shorthanded, help me to go about the day without grumbling or arguing.  Help me to be blameless and pure when it comes to my attitude about my husband.  Help me to be uplifting and kind and generous with my praise even when I'm feeling exhausted and alone.  I want to be a light, a refuge for my husband, a place he can turn to when the entire world seems dark.  I want him to know he can run into my arms and he will find safety and comfort.  Lord, help me to be willing to sacrifice for him.  If that means getting up early or staying up late or spending my days cleaning up messes, I'm willing.  I want to rejoice in my marriage and in the man you gave me, just like I rejoice in you and the amazing gift you gave me at the cross.  
Did you need that?  I sure did!  🙂
I am so glad you're joining us.  Before we close for today, don't forget to enter the giveaway to win a copy of Kathi's book.  Two winners will receive a copy of Praying God's Word for Your Husband.  I know it will be a blessing to you.
Please Note:  This post contains affiliate links.  For more information, go here.