As I shared with you yesterday, our trip to Disney World was not as magical as we had hoped.  We were sicker than dogs for quite a bit of the trip.  (You can read more about our story of choosing to focus on blessings over disappointment here.)
We did have so many fun moments though:  meeting the characters, riding the rides and creating memories.  As my children's Sunday School teacher pointed out to me, the kids only remember the good of the trip.  They don't remember the fevers, vomiting, coughing, or the days so many of us spent in bed.  I wonder why that is… but I hope to follow their example.
So here are some of our favorite photos.  And I'll tell you, I am saving the best for last.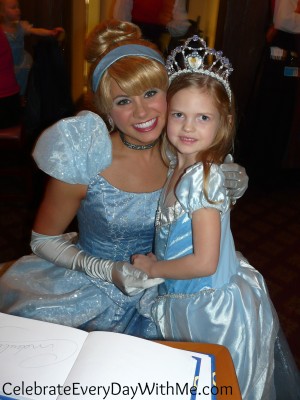 Sweet Girl was feeling just good enough to enjoy our dinner with the Princesses at Akershus in Norway.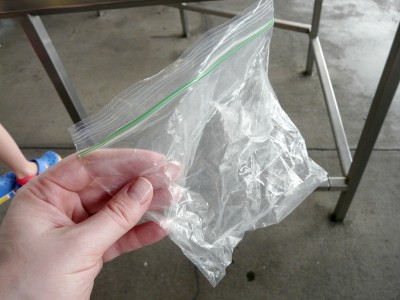 Unfortunately, this spent several day with us.  I called it the "just in case" bag.  I'm betting all you moms can figure out why I carried it around.
On our first evening at Epcot, we walked by the wait time info desk and one of the cast members, Danielle, caught a glimpse of Sweet Boy's jacket.  She immediately started singing the Batman theme song.  He stopped and laughed.  Well, after chatting it up and my son commented on the long wait time for Soarin'.
Danielle disappeared for a minute and then returned with a "no strings attached" priority entrance certificate for the ride.  The kids had not been on it before and they were thrilled.  Soarin' is such an impressive experience.  Thanks, Danielle, for creating some magic for us!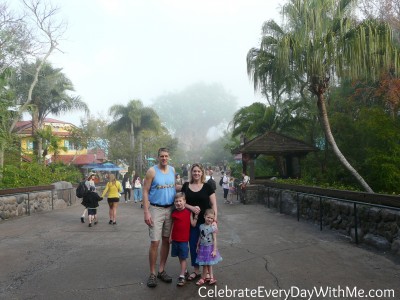 One of only the few family photos we got while we actually together and not sick in bed.  Foggy day at the Animal Kingdom.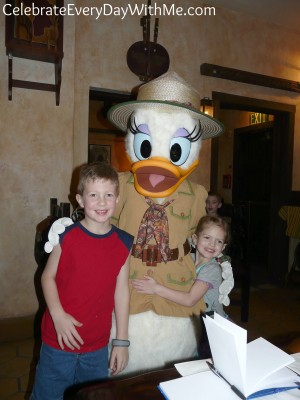 One of our favorite restaurants, the Tusker House.  Mickey, Goofy, Donald and Daisy make their way to each table and we love the great buffet.  Our secret:  we schedule the meal for about 10:50am.  This way we enjoy a great assortment of breakfast foods before they switch over to lunch at 11:15am.  My husband loves the best of both worlds!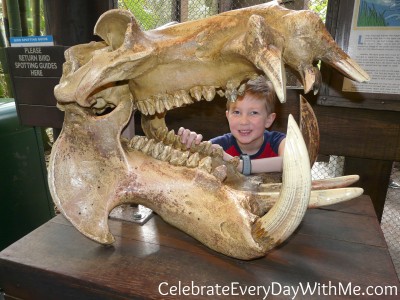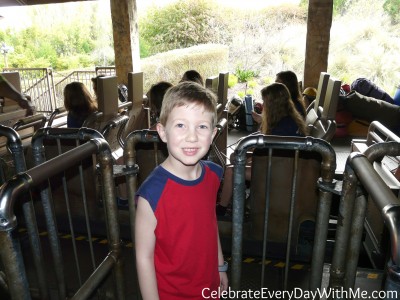 This was Sweet Boy's first ride on Expedition Everest.  He loved it but was ok with not riding it again.  😉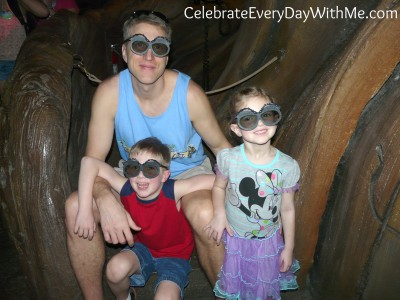 All of Disney's 3D (4D!) movies are impressive.  While I love the way the bug eyes look on everyone, "It's Tough To Be A Bug" does have some scary parts.  We may skip this one on the next trip until the kids are a bit older.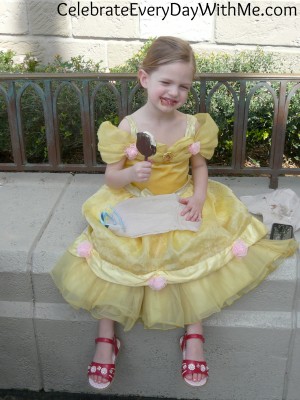 Even princesses can get good and messy!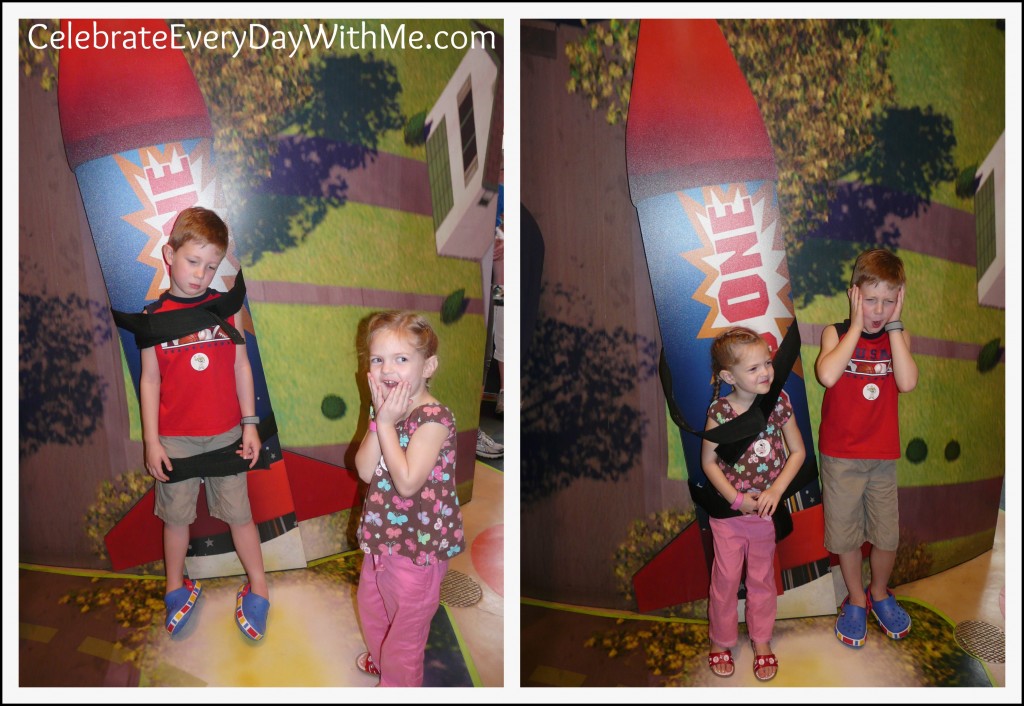 This was the day it was just me and the kids in the parks since my mom and Dan were sick in bed.  We actually did quite well and had a lot of fun.  We hit Hollywood Studios and Epcot!  The pictures above are from our wait time to see Woody and Buzz Lightyear.  Love their faces in these photos!
Yes, my kids are just like yours!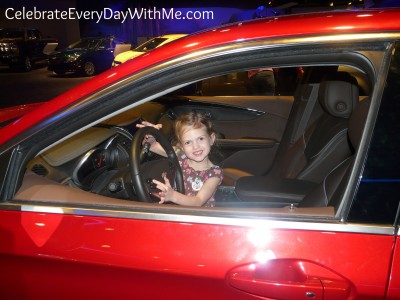 This photo is ordinary but so special to me!   The Fast Pass+ system messed up in my favor!  Even though I had changed fast passes for Test Track, they actually gave me three for this ride on one day.  While my son was with us for the first ride, Sweet Girl and I, alone, stayed late to ride Test Track the other two times.  She loved it and after each ride found a red car to sit in . . . and basically push every button she could.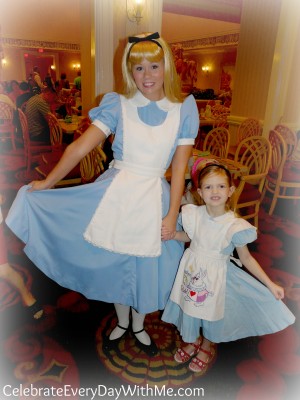 Sweet Girl is wearing the dress that I wore when I was about 5.  It was the the first Alice dress being sold in the parks way back when.  What a delight to see my daughter in it now!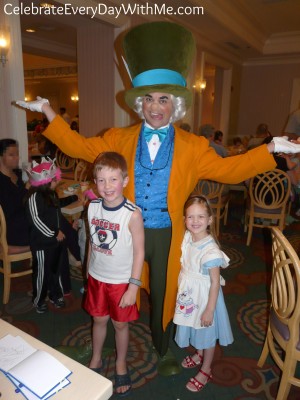 This Mad Hatter was a highlight of our breakfast at 1900 Park Fare.  He was quite funny and engaging.
AND NOW, for Dan's favorite picture.  First, let me tell you that my mom is a riot on roller coasters.  She is terrified of them but has always been compelled to do them because her kids were doing them.  She screams bloody murder and has often gotten a bit panicky.  I have seen her actually willing to pay someone to get off as the "big hill" approached.
For the people riding with her, however, it is hilarious.  I think it is Dan's favorite part of the roller coasters.  I kid you not, a couple once thanked her for making Space Mountain more entertaining.
So here is the shot Dan captured on Big Thunder Mountain:
And there you have it!  Our favorite Disney memories.
Are you thinking about a trip to Disney World?  Be sure to check out my Top 10 Disney Vacation Planning Tips.