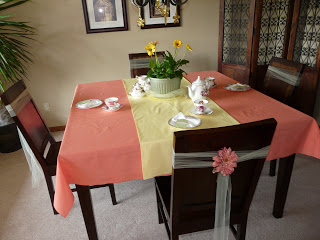 So now you're thinking about having an Afternoon Tea and you know where to start.  Let me show you what I put together for my Spring Tea.  Oh, what fun it was!
I decided on a tea party for four, knowing that it would be more manageable to prepare for than a large group.  Tea sandwiches are labor intensive and I didn't want my guests to have to bring anything.
I borrowed lots of Tea Time magazines from the library to get ideas for table décor and the menu.  (I'll be sharing my menu in Part Three.)
I borrowed most of my tea accoutrements from my mother who used to have a business catering tea parties and giving inspirational talks.  Again, don't feel pressured to do everything properly.  It is ok to use what you have.
I selected all my table décor, one of my favorite things to do!  But I was trying to stay on a budget, so this is how I did it.
I bought my table linen at a party rental company.  See this post for details.
I used a coupon at Joann's and bought some fabric for a runner.  Now, I don't really sew, so I ironed it to the size I wanted and (shh!) just used masking tape underneath to keep it together.
I used a coupon and partial gift card for Michael's to buy these sweet flowers to hang from my chandelier.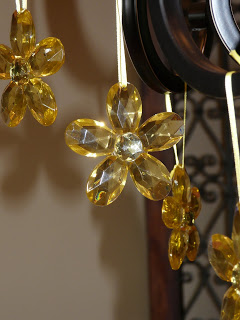 I bought the potted gerber daisy centerpiece, something that would last longer than just a bouquet.  Now, it was a bit too tall, but turned properly, we could all see each other.
I used 6″ tulle and flowers I already had for the chair sashes.
People enjoy seeing their names, so I put place cards on the napkins.
I burned a spring scented candle in another room.  It smelled great!
I chose one 'ice-breaker' type question to ask my guests during lunch:  Who from the Bible would they like to have lunch with, excluding Jesus.  The answers were really fun to hear.
For favors, I wanted to keep in some sort of Spring theme, so I gave everyone birdseed in these cute take-out containers.
(Please note:  most product links in this series are my Amazon referral links and I will get a very small percentage of any sales using these links.  If you're uncomfortable with that, please go directly to Amazon or another source to find the product.  I am linking most of all to show the kinds of products you may need for your tea.)