Selecting Your Afternoon Tea Menu
As I mentioned in a previous post, I searched through tea magazines from the library and on the internet for new ideas.  Tea foods are traditionally finger foods and are also rather labor intensive.  Be sure to give yourself plenty of time to prepare them.
My Spring Tea Menu:
Spiced Apricot Tea (This is an absolute favorite of mine.  I picked it up at a tea room, but here is the website for it.)
First Course:
   * Coconut Scones accompanied by Clotted Cream and Strawberry Jam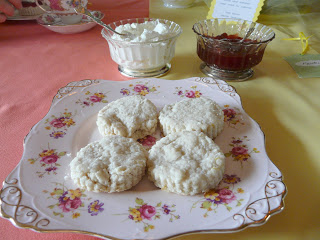 The scones didn't rise as high as I had hoped, but they were yummy!
Second Course:
   * Cucumber Dill Tea Sandwiches (I had made this previously and found it to be delicious and simple.)
   * Zucchini Muffin Sandwiches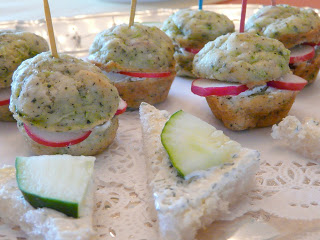 Third Course:
   * Miniature Cheesecakes with Strawberries and Chocolate Drizzle
   * Red Velvet Miniature Bundt Cakes with White Chocolate Glaze
I am so glad I had decided to do three desserts because not only did the bundt cakes not come out of the pan easily, the recipe for the cake was awful.  Just a reminder to try new recipes before serving them to your guests.   At least my kids thought they were tasty.
For your sandwiches and desserts, have fun with different shapes.  Use cookie cutters and for the sandwiches, be sure to start with frozen bread.
I was so refreshed after our tea time of sharing and laughter.  I hope you enjoy your Afternoon Tea as much as I did . . . now, one lump or two?
Learn all about Afternoon Tea, the history, how to's, many recipes and planning ideas from Emilie Barnes' great book,  If Tea Cups Could Talk, Sharing a Cup of Kindness with Treasured Friends.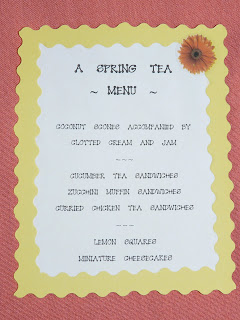 Other Posts in this Series:
Host an Afternoon Tea (Part One)
My Spring Tea:  Host an Afternoon Tea (Part Two)
(Please note:  most product links in this series are my Amazon referral links and I will get a very small percentage of any sales using these links.  If you're uncomfortable with that, please go directly to Amazon or another source to find the product.  I am linking most of all to show the kinds of products you may need for your tea.)