(This post contains affiliate links.)
I love the fun look of string art.  Whether you are adding it to a child's room or putting it above a tablescape for your next party, there is something creative and artistic about using string to create a design.
For my adult coloring party, I wanted a fun and colorful look to my backdrop.  So I made a string art sign and today, I am sharing the tutorial.  You will see how easy it is to create your own string art and learn what I wish I would have done differently.
Here is What You'll Need:
Wood Sign Base
A Print-Out of Your Phrase or Design
Scissors
Hammer
Nails (I used #17 x 1 inch)
Spray Paint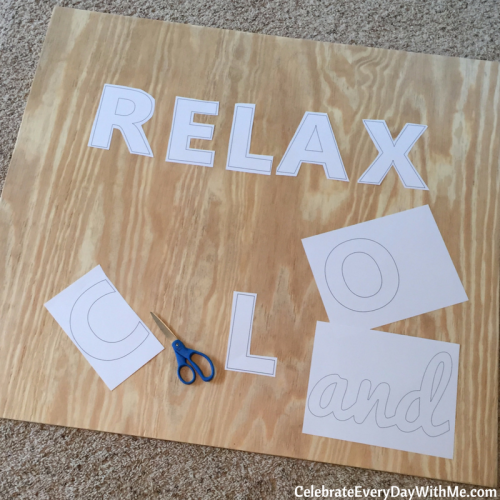 To get started, you'll need to pick your phrase or design.  If you are using text, play with different fonts on the computer until you get the look you want.  In actual size, print your phrase or design and cut close to the lines.  Leave yourself a little border of white paper around the letters.
Place the phrase or design on the wood.
Begin to hammer in nails on the lines of the letters.  I spaced my nails about 3/4″ on straight lines and fudged where I needed to.  I hammered the nails in, leaving about 5/8″ of nail exposed above the wood.  I didn't measure each nail for height, just estimated.  Be as consistent and straight as possible.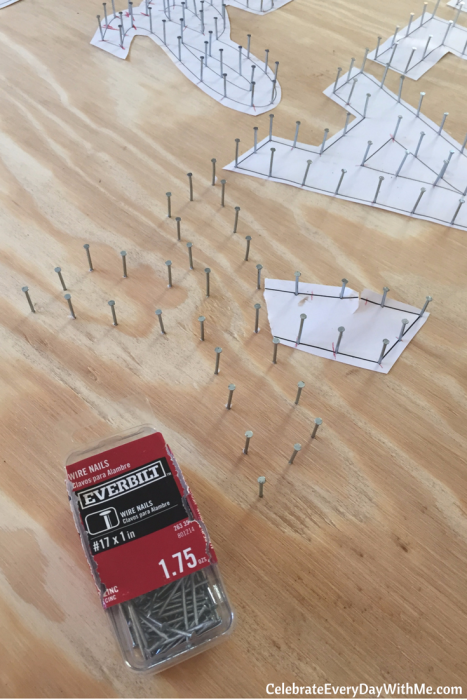 Continue until all letters are complete and then, remove the paper.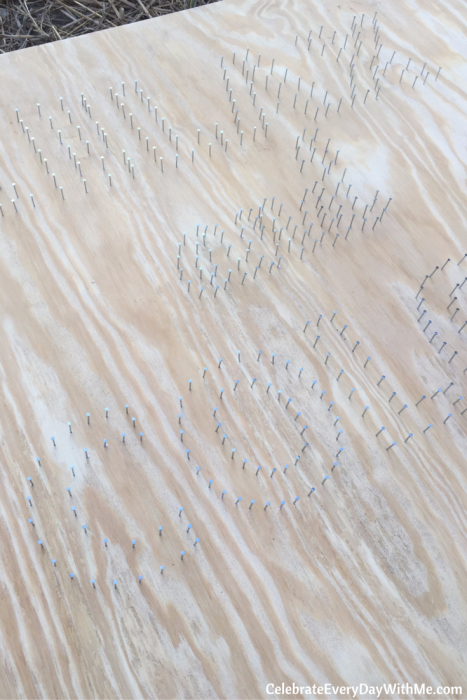 Spray paint your backdrop and the nails.  I wanted the letters to disappear into the wood, causing my threaded letters to pop.  If you want your wood to be natural, you may choose to paint the nails in advance or leaving them as is.
Now, it is time to string your letters with embroidery thread.  Tie a knot around one of the nails and begin to wrap around the letter outline.  I started with the outline of the letter and then zig-zagged back and forth to fill the interior.  I really didn't have much of a pattern but I wanted good coverage with strong lines.  Before finishing a letter, I went around the outline once again so that this thread would be strong and pronounced.
When you are done, tie off another knot, and snip the extra thread.
What I wish I would have done differently:  I liked the idea of cursive writing for the "and."  However, I should not have used the embroidery thread that was multi-colored.  I should have used a solid color for the cursive.  It made it blur in all of my photos.  Know that it doesn't look as bad in person.  🙂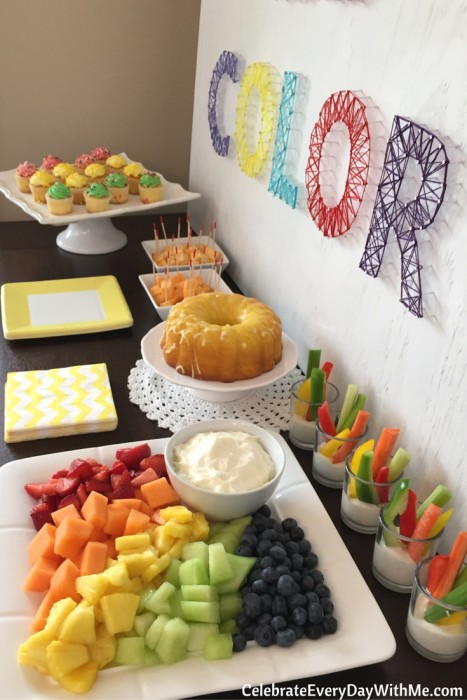 Have you created string art before?  Do you have any helpful tips to add?  Leave a comment and share below.    
Would you like to see what we did at our coloring party?  Click here.