(This post contains my affiliate links.)
Oh friends, when my eyes caught a glance of these decorative glass bottles, I knew I had to do something fun!  And with a quick little addition, for a whopping total of 2 bucks, I made Dollar Tree Luminaries.
Not only are the luminaries ultra easy to make, the bottles are gorgeous and well, each luminary only costs $2.00!  You can bet I'll be saving these bottles for a long time and using them for all sorts of things.  In fact . . . I think I need to buy more . . . sorry, honey.
The Dollar Tree luminaries are great for summer entertaining, nighttime fun for the family or any other time you want to create a special glow.  When we sleep in the tree house for the first time, I think they will be perfect along the path back to the house.  The glass reflects the light and makes the whole thing look super cool!
Here is how to make the luminaries:  Buy the bottles and glow sticks from the Dollar Tree.  Open all packaging.  Crack the glow sticks and drop them in the bottles. . . . Yes, it is that easy.  I used one pack of 8 bracelet-size glow sticks for each bottle.
Coordinate the glow sticks with your party theme.  Go red-white-blue for July 4th celebrations.  Choose team or school colors if possible or simply, mix and match for a festive feel.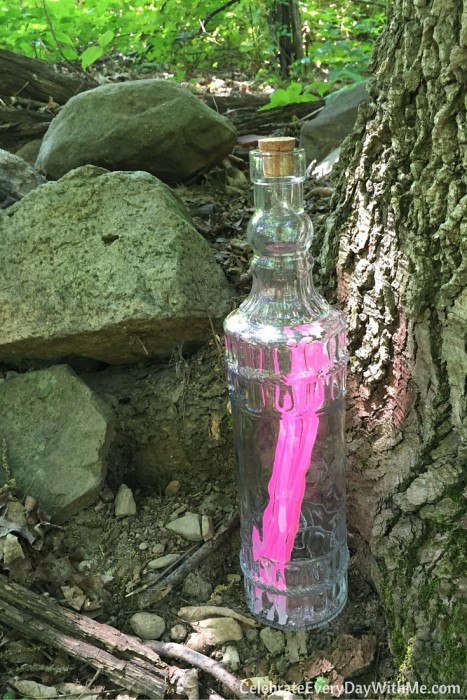 What will you use the luminaries for?  Do you have something special in mind?  
>> If you like to save money and you love entertaining, you may like to read my post on finding inexpensive table linens.