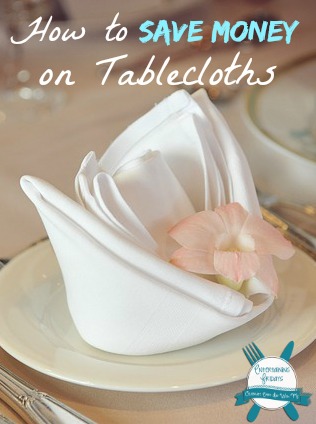 Welcome to Entertaining Fridays!  I am so glad you are here.
Today, I have a great tip for saving money on tablecloths.  It is amazing how much a regular tablecloth can cost.  I'd rather not spend a ton of money on something that is inevitably going to be stained by my kids, their birthday friends or my husband.  Wait, did I just say that out loud?  
When I was a Wedding & Event Planner, I rented hundreds of table linens.  I loved the variety of colors, materials and patterns.  (I also loved rolling them up after being stained and letting someone else worry about it >>read why I miss my staff here.)  But in doing all that, I learned a little secret.
Do you want to know what the secret is?
Many party rental companies sell out-right their older table linens at amazing prices.  I can buy linen napkins for 25 cents each and you would never know they were rental company rejects.  When I started buying linens from these companies, I often found long buffet tablecloths for under $7.  Now, I am paying $10 each, but to get the color I want, it is still a steal.
When you are looking at the different linens, be selective.  If you find a random stain on a tablecloth, grab another one.  If you are buying a lot of napkins, take a good look at coloring and avoid faded ones.  Even with a little sorting, this is a great way to save money on tablecloths.
Have you missed out on our series?  It is very easy to catch up!  Just hover over "Entertaining" on the navigation bar and select "Entertaining Fridays."  You'll find ideas from simple centerpieces to creative seating.
Where do you find your tablecloths?  Do buy retail or shop around?