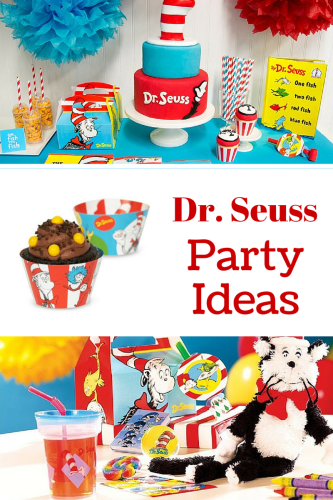 "I know it is wet and the sun is not sunny, but we can have lots of good fun that is funny."  ~The Cat in the Hat
Ah, this is my favorite quote from Dr. Seuss' Cat in the Hat.  A poster with this silly saying used to hang in the playroom in our basement and I hope it holds up in storage to find a place in the next house as well.
Silly, fun and a little wacky is this February's Party of the Month from Birthday Express.  It has everything you need to get great Dr. Seuss party ideas and throw a fantastic birthday celebration (or a party simply for fun like we did).
Invitations – Get your guests into the party spirit with these Dr. Seuss Invitations. Check out the assortment!  Each package includes 8 invitations with envelopes and features all of your child's favorite Dr. Seuss characters on the front.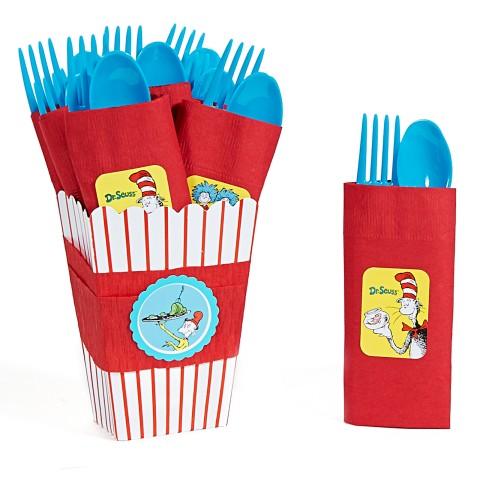 Party Decor  – With the Dr. Seuss Balloon Bouquet and Dr. Seuss Wall Decal Set, your guests will walk in and be transported to Dr. Seuss' world of the Lorax and the Grinch.  Start the party off right by giving each guest a Dr. Seuss Cone Hat and Dr. Seuss Blowout when they walk in the door. Parents can also get in the spirit with several adult costumes available at Birthday Express. My favorite is the Adult Cat in the Hat Costume.  Can you imagine your husband wearing this?  Oh, the pictures we would take!
"Today was good. Today was fun. Tomorrow is another one."  -Dr. Seuss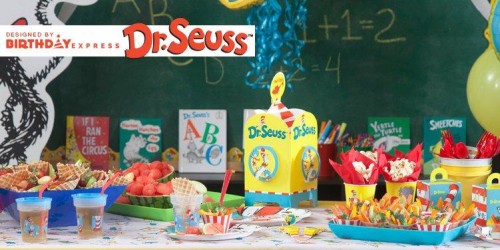 Food & Drink – The books of Dr. Seuss are filled with great food ideas.  Spice up your typical deviled eggs with some green food dye and serve alongside some roast ham to get the classic green eggs and ham. And what better way to serve your party's green eggs and ham than on the Dr. Seuss Dinner Plates.  For dessert, the kids will enjoy these Dr. Seuss Cupcake Wrapper and Box Kits. Each kid can get their own present with these individually wrapped boxes. You can either make a Dr. Seuss themed cupcake or buy some from the store and change out the wrappers.
Now have a great party!  I am sure your mother won't mind if we do.