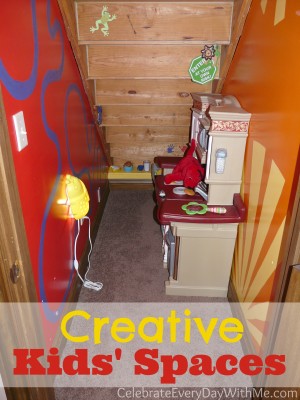 "You want to put what under your basement stairs?"
That was what I heard when I told my husband and his cousin, the contractor, that I wanted a kids' clubhouse under our basement stairs.
Growing up, my brother and I spent a lot of time playing in the fun space under the basement stairs.  We imagined, we hid, we told stories, we played games.  It was a great space for us to call our own.
So when Sweet Boy was born and we decided to finish our basement, I knew I wanted to dedicate part of the basement to fun and creative kids' spaces.
What makes for great kid-spaces?  I focused on several components:
Bright Colors – I chose fun and bold colors for the walls of the clubhouse.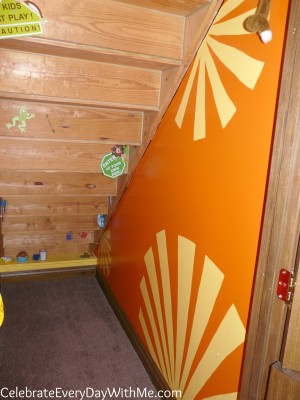 Creative Design – the road on the wall is magnetic.  Magnetic Paint
 is AWESOME!  Put several coats on so the primer can hold an actual magnet.
Fun Lights – Both lights in the Clubhouse are from Ikea, but of course the lady bug is the kids' favorite.
A Split Door – "Let's pretend to have an ice cream shoppe.  Come place your order at the counter!"  A split door is great for imaginative play.  It is also unique, adding to the fun.  Just watch for younger walloped heads not paying attention to the 1/2 open door.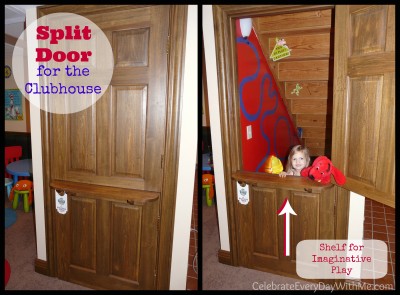 Memory Makers & Hand Prints – I have my children's hand prints under the stairs [wipe tear for when we move].  It is a great tracker of their growth and a good reminder of childhood fun.  ADDED BONUS:  I found my husband's ceramic hand print from a school project when he was a child.  It proudly hangs in the Clubhouse as well.  Does that say 1980??
For the below photo, I had always planned to use Glow in the Dark Paint
 to write a message or create a design on the space above the door.  Well, the best of intentions . . .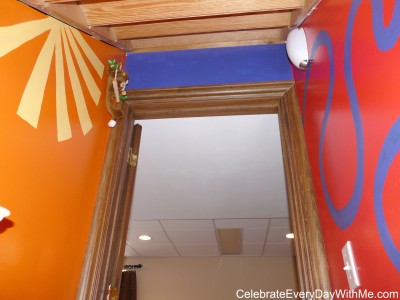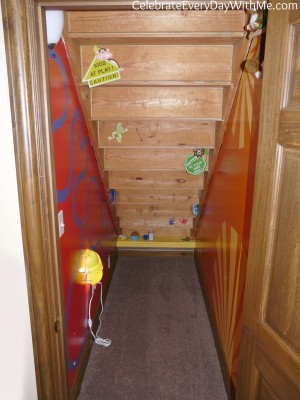 A Place To Draw, Color, Create – The Playroom is right next to the Clubhouse.  I painted a chalkboard below the chair rail and used the magnetic paint to create a border at the top of the chalkboard.  See the yellow magnet on the left wall?
The furniture is from Ikea, as are the circular rugs.  I love the playful look.  My kids have spent many an hour down here chalking or playing with playdough.
We love our space and will certainly miss it when we move.  But with a little paint and intention for fun, we will make a new one.
What creative kids' spaces have you created?