I am very excited to be teaming up with a great group of Christian bloggers for The Creation Story For Kids Series.  Scroll down to the bottom to check out more creative activities, crafts and experiments.
Are your kids into Legos?  Mine are absolutely and positively crazy for them.  Building, creating and playing with them non-stop.  (Did I mention they are also everywhere?)
Legos are a great teaching tool.  Since all you need is a little imagination and assortment of bricks, you can create manipulatives for any lesson.  Enter the 7 Days of Creation in Legos!  Today's lesson:  Creation, Day 1.
What We Used for Day 1 of Creation:
A Shoebox
Black Acrylic Paint & Foam Brush
White Legos*
*All the legos in our creation series came from this one box (affiliate link).
1.  Read Your Passage for the Day.
"In the beginning God created the heavens and the earth.  Now the earth was formless and empty, darkness was over the surface of the deep, and the Spirit of God was hovering over the waters.  And God said, "Let there be light," and there was light.  God saw that the light was good, and he separated the light from the darkness.  God called the light "day," and the darkness he called "night."  And there was evening, and there was morning – the first day."  Genesis 1:1-5
2.  Paint your box black.
When God created the world, He created it out of nothing.  The Latin phrase is "ex nihilo" (ex nee-hee-lo) and can be pretty fun to say.  Paint your box black to represent the nothingness.  God created the heavens and the earth out of nothing.
3.  Build a white design in the black box for when God created light.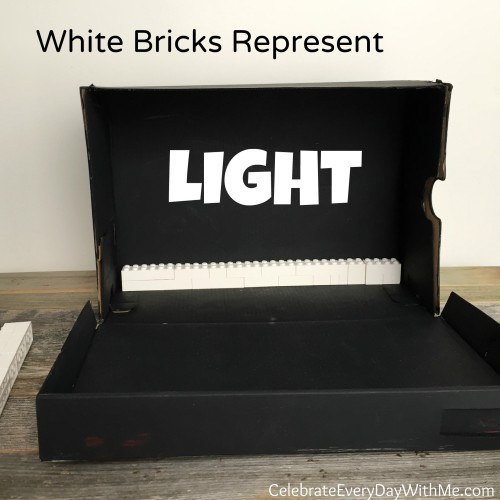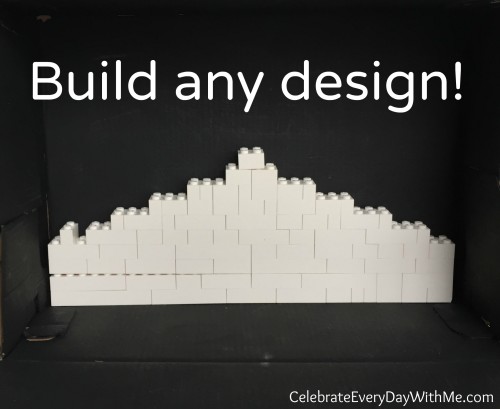 We used quite a bit of the white bricks from our box, but reserved a good handful for later projects.  Let your kids build a white wall and then shoot some light rays off it.
For extra fun when you're done, turn off the lights and use a flashlight in the box.
Day One – God created light.  And it was good.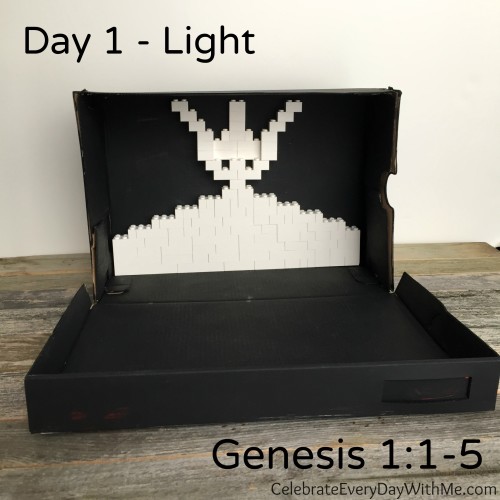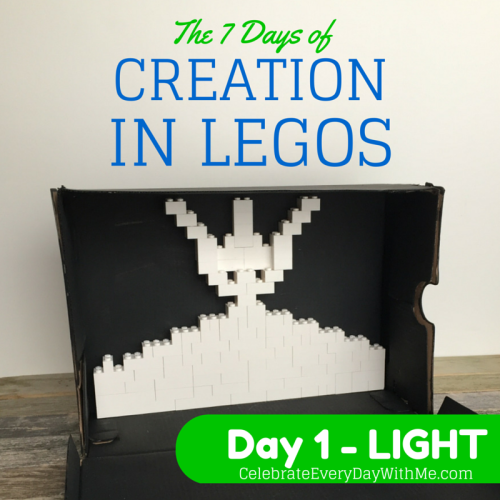 See the whole Creation Series in Legos at a glance.
The Creation Story for Kids Series – More Fun on Day 1!
Crayon Resist & Making Light Experiment from True Aim Education
Creation: Light – No Sew Quiet Book for Toddlers from Powerful Mothering
Creation Scripture Journal from Bible Fun for Kids
Creation for Kids First Day – Paper Plate Art & 3 Part Card from Walking Fruitfully
Click here to see more Creation posts on Pinterest!