This shop has been compensated by Collective Bias, Inc. and its advertiser. All opinions are mine alone. #HelloNutchello #CollectiveBias

Hi friends,
How often do you stop and take a little time for yourself?  I find that as a woman and a mother, I don't generally think that I am allowed time for myself.   My mentality is to stay busy with household management, taking care of my family, running a blog and writing.  And while I absolutely love doing all these things, I realize that I don't often stop to do something for myself, just for fun.  Whatever I am doing always has a reason behind it, a motive, a purpose, a person … not just for my own enjoyment.   Can you relate?
So today, I am going to encourage you to take a moment this afternoon for yourself.  Put the kids down for a nap.  Hop off the computer and grab your apron because I have a quick recipe and yummy drink to celebrate YOU!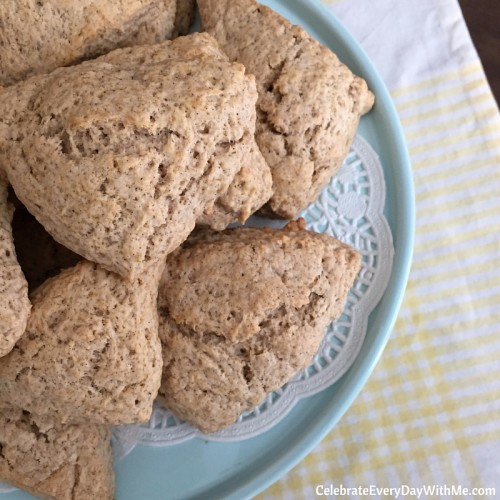 We are making Cinnamon Scones, which happen to be dairy-free, and enjoying them with a glass of Nutchello, Silk's new nut-based beverage.  There are three delicious flavors:  Caramel Almond & Cashew, Rich Dark Chocolate & Walnut, and Toasted Coconut & Cashew (all with 90 calories or less per serving).
Let's get baking.  This recipe only takes 15 minutes to prep.  You can also add in different ingredients to the scones like nuts, berries or chocolate if you like.
Cinnamon Scones (Dairy-Free)  – Printable Version
Ingredients:
3 C all-purpose flour
1/2 C white sugar
4 tsp baking powder
1/2 tsp salt
2 tsp cinnamon
1 egg, beaten
Less than 1 C Silk Almond Milk Unsweetened
1 tsp vanilla
3/4 C non-dairy butter (cold and cubed)
Optional:  toppings such as jam, butter, clotted cream
Preheat your oven to 400 degrees.


Start with flour and sugar in a medium bowl.


Add in the baking soda, salt and cinnamon.


Beat the egg and add to a 2 C measuring cup.  Pour the Silk Almond Milk on top of the egg and fill to the 1 C measurement line.


Then add vanilla.


If your non-dairy butter comes in sticks, cube and add to the dry mixture.  If it comes in a tub, measure 3/4 Cup and cut it as well as possible and add to mix.


With a pastry cutter, cut in the butter until mixed.  Lumps are ok.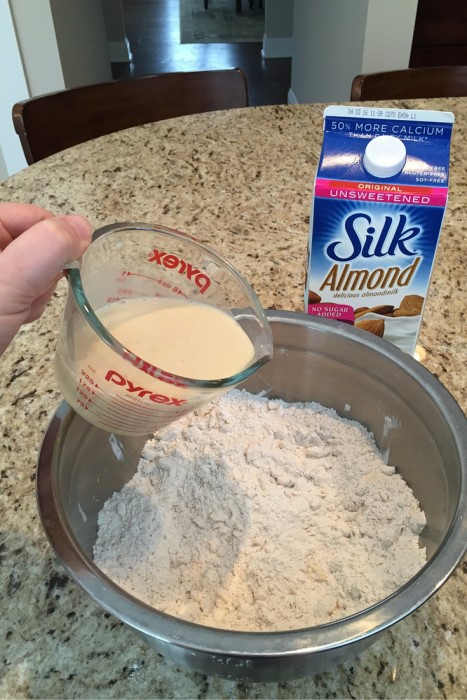 Next, pour in the wet ingredients and mix until moist.


Knead the dough briefly.


On a lightly floured surface, pat your dough into a rectangle about 3/4″ thick.


With a pizza cutter, cut once lengthwise, and then into several squares.


Follow by cutting the squares into triangles.
Put the triangles onto a lightly greased baking sheet and bake for 15 minutes until edges are golden brown.


Then remove and cool on a rack.


Now, it is time to pull out the Nutchello!  At Walmart, I purchased two kinds:  Dark Chocolate & Walnuts and Toasted Coconut & Cashews.  
The Nutchello nut-based beverages have no cholesterol or saturated fat.   They are free of dairy, soy, lactose, gluten, casein and carrageenan and have been verified by the Non-GMO Project's product verification program.  Oh and did I mention no artificial colors, flavors or other funny business?


Just like the productivity experts tell you to dress well for a successful day (even if at home), pulling out a pedestal cake plate and a pretty dish does wonders for a little me-time break in the middle of your afternoon.
Grab a fancy glass, fill it with ice (* Nutchello is best served over ice*) and pour in your afternoon indulgence.  I paired my cinnamon scones with the Dark Chocolate & Walnuts, proving to be a perfect pause button to my day.  Yum!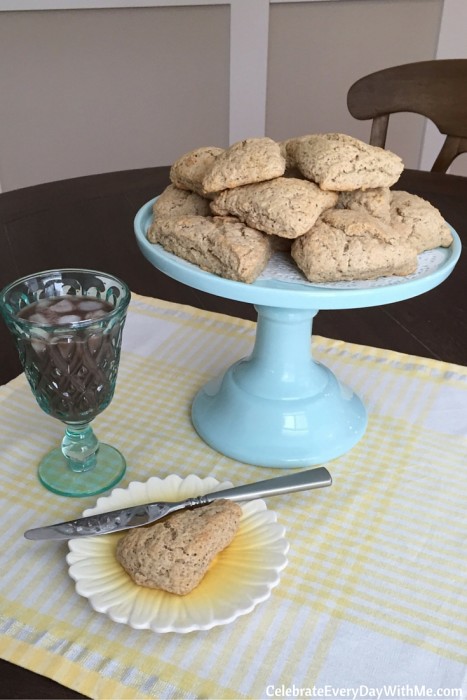 Enjoy the scones plain, or add butter or jam.  If you can have dairy, you could add some clotted cream (or whipping cream if time is short).


When I have a moment to myself, here is what I like to do:  read a magazine (which doesn't happen often . . . I am over a year behind with some of my subscriptions), get inspired on Pinterest, dream about my next party or read.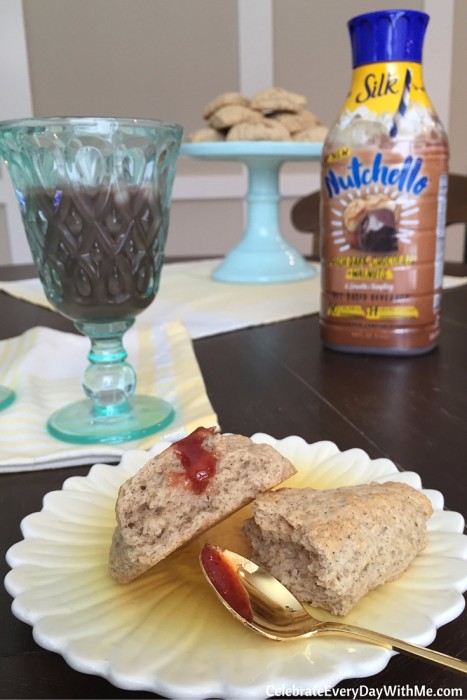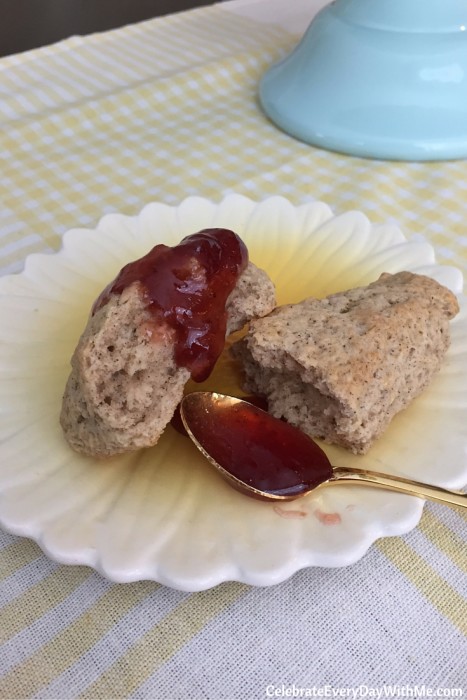 AND as most moms will understand, those me-times are often short lived.  My sweet girl soon joined me and worked on her journal.


But then again, how could I say no?  She will only be little for a short time.


This is where I found the Nutchello in the store:

Which flavor of Nutchello would you like best?  Visit this site to find more Silk inspiration!