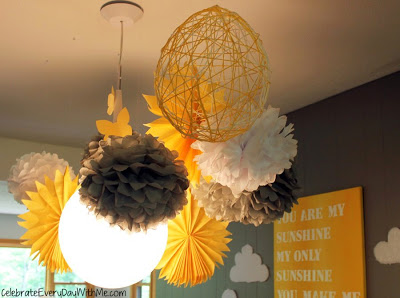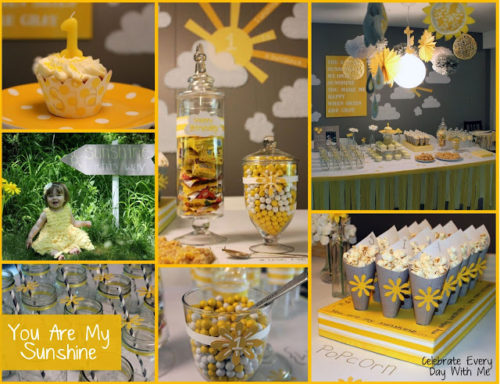 You may want to grab your sunglasses because the forecast for this party is bright and sunny. Today's party feature comes from Sarah of Taylor Design Studio.  She is an interior decorator, but as I'm sure you will agree, she could add Party Planning to her list of services.  Check out this "You Are My Sunshine" party for her daughter's first birthday.
Isn't this table display beautiful?  We'll take a closer look at the food next week and I'll share a cool technique Sarah used on the table.  But don't miss what Sarah has done above and below her table with varying lengths of streamers and the assorted ceiling hangings.  Creating visual interest at varying heights makes a greater impact than a plain flat table.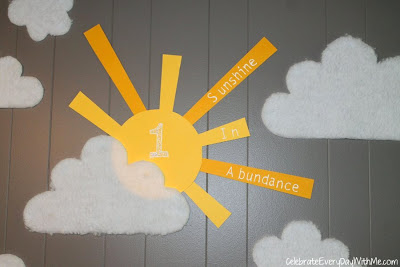 The clouds are hand cut from soft, fuzzy fabric.  Can you read the sunbeams?  Sarah's daughter's name is Sia and the beams say, "Sunshine In Abundance."  What a precious thought to convey!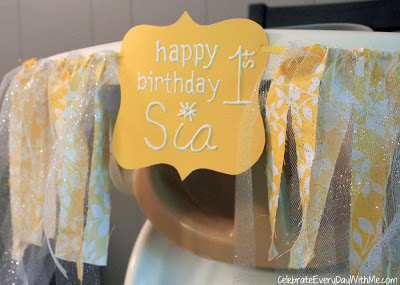 Sia's booster seat decorations.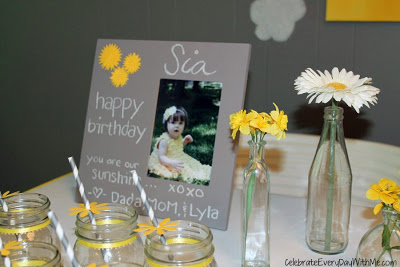 Chalkboard frame with personalized message for Sia from her family.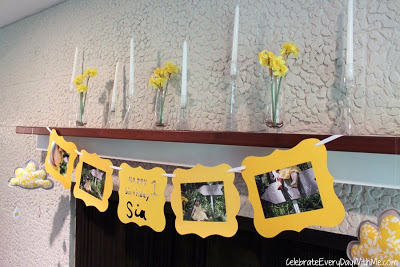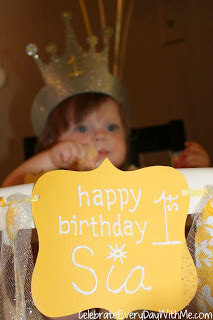 What a beautiful party!  But this is only the beginning.  I'll be sharing more next week.  In the meantime, be sure to stop over at Taylor Design Studio's Facebook Page and tell her what you think of her party.  You may want to "like" her page so that you don't miss any of the great design photos, ideas and tips she shares for decorating.