Summer is done.  DEEP SIGH.
Do you ever start school and feel like you blinked and summer whisked by?  It is almost as if you can't account for the warm breezy days of the best season of the year.  (Summer has now taken Fall out of the running as my favorite season.  I love the cooler temps and beautiful colors of Autumn, but I'd rather have the no-school schedule of summer.)
Here I am, reflecting back over the summer.  What did we do?  Who did we spend time with?  What projects were accomplished?  This is one of the main reasons I do a Summer Sand Pail list.  I want to be reminded of all the fun and summery things we did.
So here is my list and the final updates.  I've omitted pictures from the last update.  So if you'd like to see those,
stop over here
.  Final updates are in purple.
My Final Summer Sand Pail List Update:  

1.  Eat Tomatoes from my Garden.  (And if you knew my garden, you would know what an accomplishment this would be.  Last time I grew vegetables, the cucumbers came out orange and the green peppers smelled like cat urine -according to Dan.) Still waiting, but I see little green tomatoes coming.  But I'm so thankful the woodchuck living under our deck didn't eat my tomato plants like he ate everything else.   I can't believe it, but I have tomoatoes!  Small, but edible.
2.  Watch the Sun Rise from my Front Porch  Very relaxing and I had some company.
3.  Swim until We're Pruny – – over and over again  In process.  August was slow but June and July were awesome.
4.  Visit the Nearby Petting Farm  This was so much fun.  We went as a family and saw all kinds of animals up close.  And thanks to Larry the Cucumber, the water buffalo was my son's favorite.  🙂
5.  Host a Great Summer Dinner Party  Still to come, but really hoping the deck is finished.  We had a wonderful time.  The deck was done just in time and the weather was beautiful.  We had a great time with a special group of friends and we even played the adult version of Table of Prizes.  Super fun!
6.  Go to the Beach one Early Morning  Went for breakfast on my birthday.  What a fun way to start the day.
7.  Bring Flowers in from my Garden Lovely!
8.  Have a Garage Sale Success!  I made about $300.
9.  Pick Strawberries and Blueberries with the Kids  Might have missed this one due to a short season.  Nope, never did this.  But that's ok!
10.  Have a Picnic  Check out our 20 Minute Teddy Bear Picnic.
11.  Have a Date Night Picnic  Didn't get out for a picnic, but at least got out for a date night . . . and I think it is time for another.
12.  Entertain with Candles and Twinkle Lights on my Deck  Waiting on deck to be done.  Didn't put out the twinkle lights because the railing wasn't completely done until recently.  But loved the candles, white umbrella lights and also mini colored paper lanterns.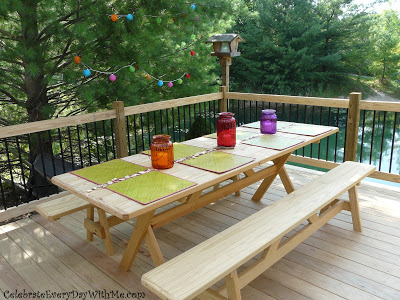 13.  Make Snow Cones for the Neighborhood Kids  Yep, this was a blast!  See it here.
14.  Make a Sandcastle Cake  Hmm, wonder if I can still sneak this one in.
15.  Visit the Zoo Each Month Getting close.
16.  Take the Kids Hiking Did this in June.  So fun and would like to do it again.
17.  Find a Great Recipe & Make Yummy Yogurt Popsicles Found this great recipe on Angela's Adventures.
18.  Go to the Drive-In  Think I have decided to scratch this one off the list.  I don't think Dan & I could stay awake for two late movies.  (We are early risers.)
19.  Have Sweet Boy fish with "Uncle Aaron" Again This Summer  Definitely need to get this in!
20.  Go to Old Glory Day Celebrations Probably one of my favorite things about living in a small town!
All in all, it was a great summer.  And Fall?  Well, Fall is great for apple picking, football games, collecting leaves and . . . staining the deck.  Anyone want to help?