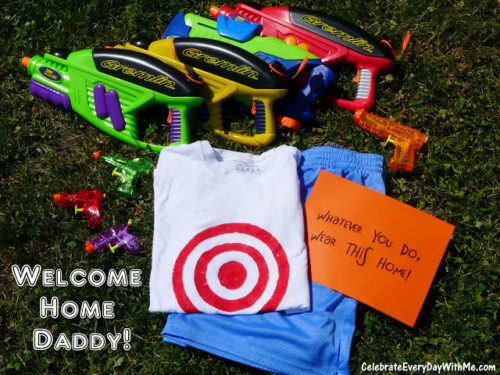 What would your husband do if one early morning in his car, he discovered a bulls-eye shirt, a pair of shorts and a sign that read, "Whatever you do, wear this home?"  Would he do it?  Dan was game even though he had no idea what he would be the target of.
If you are in need of some family fun, this idea is for you!  
After the
Ultimate Marshmallow Fight
, I've been wanting to do another fun greeting to welcome Dan home from a long day at work.
So I made a bulls-eye shirt for him (used fabric paint and a cardstock template from my Silhouette Cameo), covertly placed the shirt, shorts and note on the front seat of his car . . . and waited.  Sweet Boy and I watched from an upstairs window the next morning when Dan found everything.  He laughed and waved and our excitement was fueled.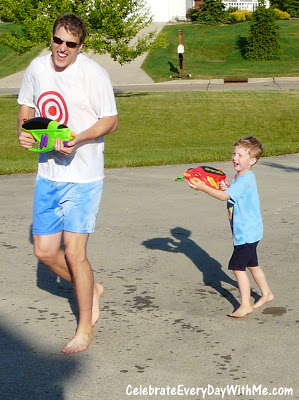 The day seemed to go on forever (especially the afternoon)!  But Dan called us when he was close and we took our positions . . . and when the car door opened, we darted from the side of the house ready to douse Daddy in water.
I didn't give Dan a water gun right away.  It was just more fun that way!  I knew as soon as I did, I would be soaked.  And I was right.  But, we had a blast.  Except for my poor Sweet Girl. Between the warning phone call and the car door opening, she took a bad fall and scraped her knees.  Let's just say I had to carry her everywhere we went for the first half of the next day.  🙁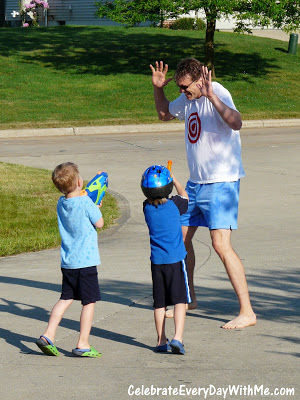 Our next door neighbor got in on the fun too!
Getting a new super soaker.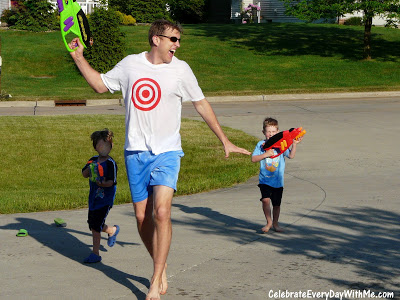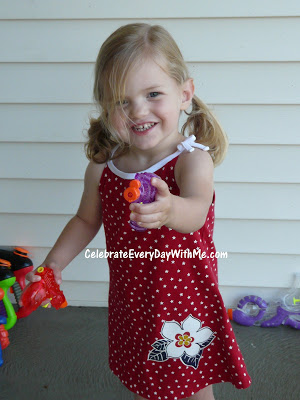 Before the fall.
It was a great time of family play and laughter . . . and new memories of the day we surprised Daddy and got him all wet.  
If you like this idea, be sure to check out the Ultimate Marshmallow Fight.  Yes, there were two bags of mini-marshmallows all over my family room and kitchen, but the memories were well worth it!
Have fun and create your own memorable moments!