Disclosure: I have included affiliate links in this post. Read the fine print about this bundle and read the answers to frequently asked questions about the bundle.
It is Ultimate Bundle time and I am excited to tell you about an AMAZING offer. Every quarter, the team at Ultimate Bundles puts together a collection of eBooks and eCourses on a particular theme, and this time they've focused on DIY and crafting!  
[Start the Happy Dance!]
The Ultimate DIY Bundle is your instant go-to library for a whole range of carefully curated eBooks and eCourses from the web's foremost DIY and crafting experts. Topics include:
Home decor
Furniture painting
Photography
Chalk pastels
Handmade gifts
Homemade skincare products
Cake decorating
Photography and photo-editing
Paint colors and interior design
… and a whole lot more (76 eBooks and eCourses in total) – to help you be inspired or get started with your next DIY or crafting project!
Everything is yours to keep forever, and you can read it all on any device of your choice.
There's no need to worry about information overload: The Ultimate DIY Bundle comes with a complete guide to getting started, so that you can know exactly which resource to use for your specific crafting or DIY project.
The contents of the Ultimate DIY Bundle are worth over $1,200 in total. But all you need to pay is just $34.95! That's a HUGE discount of 97%!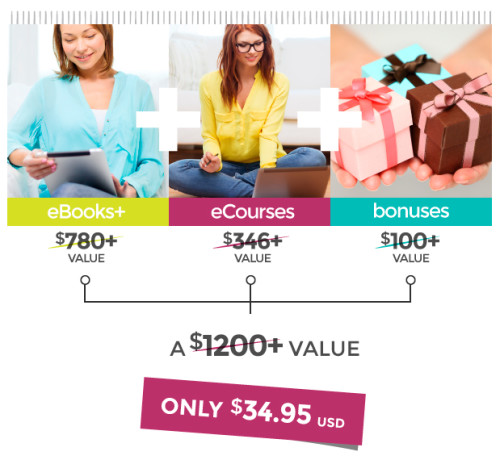 And that's not all! A selection of superb crafting companies have agreed to provide a special bonus to everyone who buys – and the bonuses are worth more than the entire cost of The Ultimate DIY Bundle!
Bonuses include a FREE Craftsy Class from Craftsy.com, a couple of $15 gift certificates to HopeInkShop.com and Fawnsberg.com and more.
Click here to see EVERYTHING that's included in The Ultimate DIY Bundle (there's a lot!):
Hurry though! The Ultimate DIY Bundle will only be on sale for the next 6 days – until 11:59pm EST on Monday, January 26.