This shop has been compensated by Collective Bias, Inc. and its advertiser. All opinions are mine alone. #TeaProudly #CollectiveBias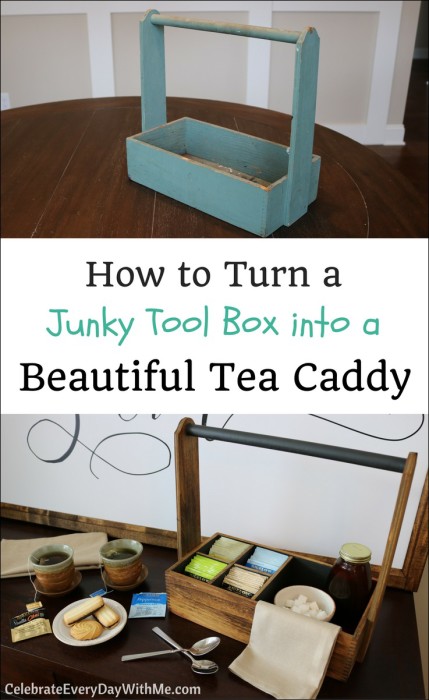 Last summer as I was strolling through a flea market, a green, junky tool box caught my eye.  It was a cute shape but most definitely, worse for the wear.  Yet as ugly as it was on the outside, I saw something.  A quality that could be transformed.  I just couldn't put my finger on it.  Nor could I decide whether I wanted it.
I continued to walk around the flea market in search of treasures.  But I did not stop thinking of that old tool box.  When I could resist no longer, I trekked back to the booth and snagged it.
Now, if you don't already know this about me, I love tea.
I drink a lot of tea.
I like all kinds of flavors but my favorite is Bigelow Green Chai Tea.  I drink it after most meals . . . yes, I go through a lot!
With this love of tea, comes great responsibility for organization.  Yes, I did just say that.  But seriously, when you have as many boxes of tea as I do, you want a cute way to store them.  And that is when the brilliant idea hit me.  I could turn this old, junky tool box into a beautiful tea caddy!  Compartments for the tea, a spot for sugar and maybe even a little honey.  I prefer my tea plain but I like to offer the extras for my friends.
* * Don't miss your chance to enter a relaxing and fun giveaway at the end of this post! * * 
Not the most appealing, is it?  Check out the inside.  Often, I like to imagine the life of my flea market purchases before I brought them into my home.  This one?  Well, not so much.
What You'll Need:
An Old Wooden Tool Box
Sander or Sand Paper
Stain and Supplies
Chalk Paint and Brush
Clear and Dark Wax with Rag or Brush
Wood for Dividers
Circular Saw
Wood Glue
The first thing to do is to prepare your tool box.  Choose which part of your box will be stained and which will be painted.  I love the stain and paint combination because it gives more of a modern farmhouse look.
If you are using chalk paint for the painted sections as I did, you will only need to sand the parts of the tool box that will be stained.  Chalk paint is very forgiving and doesn't require sanding ahead of time . . . one of my favorite reasons to use it!
I sanded the green off of everything except the handle and the inside of the box.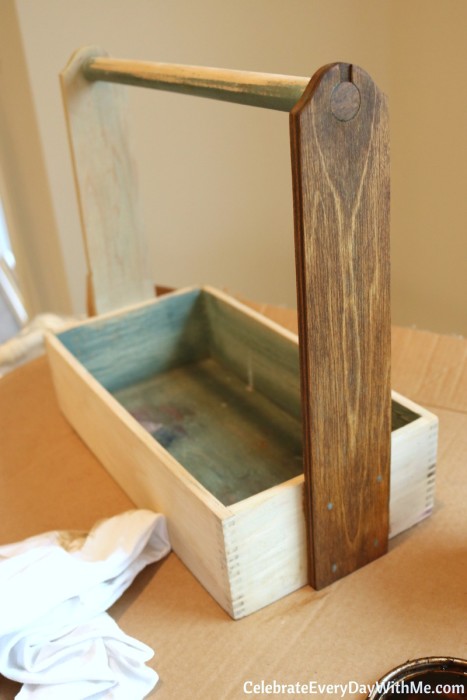 Begin by staining the tool box.  It is important to stain the designated parts of the box first, then apply the paint to the other areas.  If you reverse this order and mess up, you will need to re-sand the areas you accidentally painted.  You cannot stain over a painted surface, but you can paint over stain.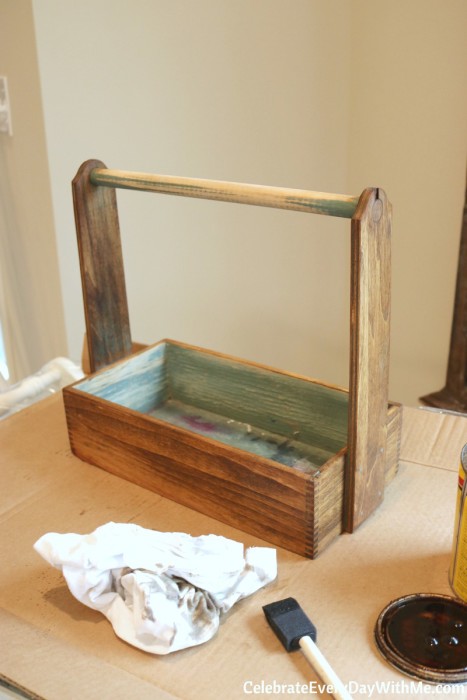 It is already starting to look gorgeous!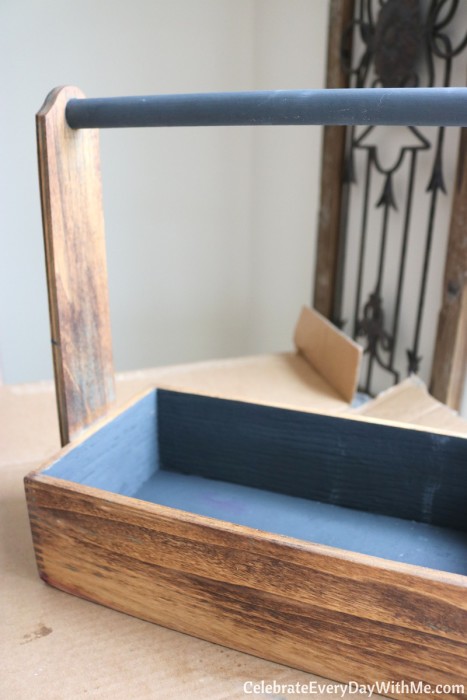 Once your stain is dried, paint the desired areas with chalk paint.  I used a charcoal color to achieve a nice, deep and dark tone.  After the paint is dry, apply a coat of clear wax to the painted area followed by a coat of dark wax per the manufacturer's directions.
Next, measure and cut the dividers.  I picked up a piece of poplar (measuring 1/4″ x 4″ x 4″) at the hardware store and my husband cut it into the two long pieces and two short pieces.  I chose a piece of wood that would match the outer thickness of the box.  The poplar was perfect.  When you are planning out the size of your dividers, allow 2  7/8″ width for each compartment so that your tea bags fit nicely.
Confirm that your dividers will fit.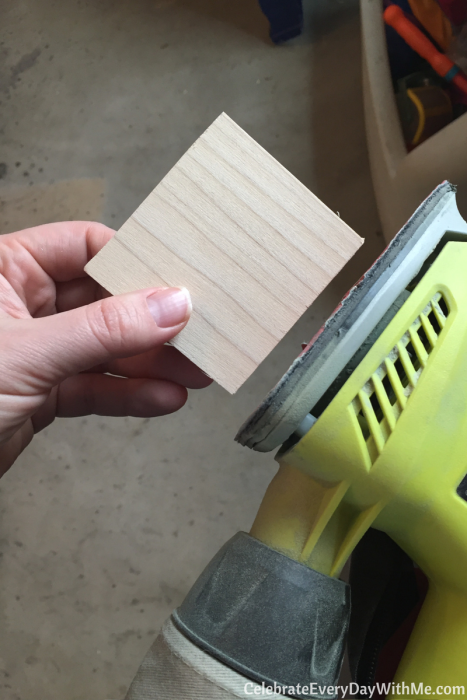 Carefully sand off the rough edges.
Then, just as we did with the box,  stain or paint/wax to the desired look.  I decided to stain the top edge and paint the sides so that it matched the box.
Put your wood in place to know that you are happy with the fit.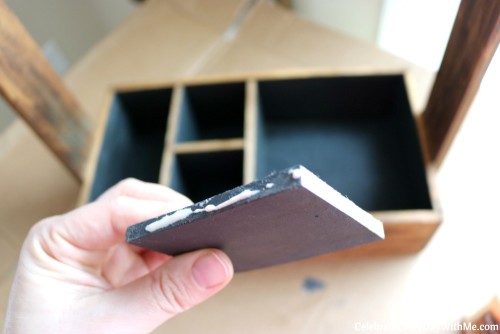 Then, taking one piece at a time, add wood glue and set the wood in place.  My longer dividers were nice and snug, so I only glued the short dividers.
I am loving this!
Now, it is time to fill the caddy with tea.
What is your favorite flavor of tea?  Because we all have different tastes, I love offering an assortment of tea to my guests.  I shopped at Walmart and filled my tea caddy with Bigelow's Peppermint, Cozy Chamomile, Vanilla Chai and Green Tea.  Bigelow has a great variety from which to choose whether you're looking for black tea, green tea, decaf or herbal.  They also believe in US manufacturing, quality tea and ingredients.
Now that the tea caddy is filled, it is time to enjoy a cup of tea!
Tea Fun Fact:  Tea is second only to water as the most widely consumed beverage in the world.  82% of Americans drink tea—that's more than 158 million people who count tea as a top beverage choice.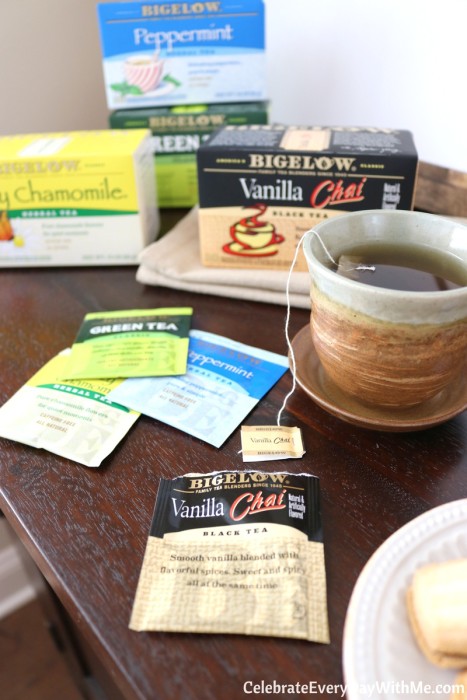 When I sip a cup of tea (whether from lovely china tea cups or just my rustic, everyday mugs), it is a chance to slow down.  On a daily basis as I mentioned earlier, I love a cup of green tea at the end of a meal.
But I also love enjoying a cup of tea with friends.  When we're meeting with our friends for Bible study, we drink tea.  When I have a girlfriend over for lunch, we share a pot of tea.  I have so many wonderful memories of sharing tea with my mom and now, with my daughter as well.  As an avid tea drinker, I most definitely "Tea Proudly" with my Bigelow Tea.
Bigelow is building a Tea Proudly community:  a welcoming place that keeps tea lovers informed about what's brewing.  They want to hear from you about why you #TeaProudly, when you drink tea and why you love it.  Drinking tea soothes souls, connects people, invites conversation and makes memories.
Enter the Giveaway:  
#TeaProudly Bigelow Sweepstakes
Here is where I found the tea at the store:
If you're a tea drinker, won't you join me and Bigelow as we #TeaProudly?  Find more inspiration here.