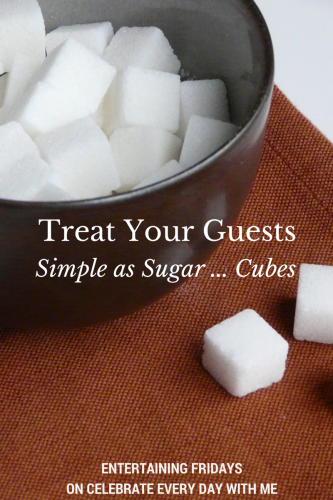 Hi there!  So glad to have you back.  It is time for another Entertaining Friday and today, I have the simplest of little tips that will treat your guests to something sweet and fun.  A little warning, however:  the little people in your house may go crazy over these.  Mine do!
When you have company over and you're serving coffee, you also offer cream and sugar, right?
Next time, instead of a little sugar bowl filled with granules, stop at the store first and pick up a box of sugar cubes.  I can't tell you how often, whether serving coffee or tea,  I have heard a comment on how cute and fun they are.  It is a less commonly used form of sugar nowadays but is sure to be a treat for many of your guests.
And kids, well, they like to eat them straight…and sometimes I do too!
Happy Entertaining!