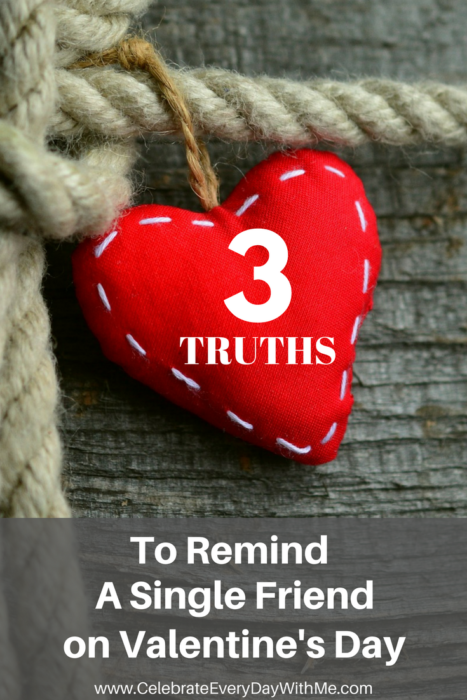 The flowers floating around the office, the notes passed at school, the cards dripping with love and affection . . . Valentine's Day can be a lot to handle for the individual who is wishing they had someone special with whom to share the day.  And whether it is you who are single or you love someone who is single, there a few truths that should be conveyed to make the day a little gentler on the heart.
Here Are Three Truths to Remind a Single Friend on Valentine's Day:  
1. God is Faithful.
The Scriptures are full of verses reminding us of God's faithfulness and unfailing love.  He does not leave us.  He does not forget us.  You can know that God has a plan for you and it is for your good.  He loves His children and will always, always be found faithful.
"Your love, O LORD, reaches to the heavens, your faithfulness to the skies."  Psalm 36:5
2. God is Trustworthy.
The One whom you have trusted for salvation is more than able to take care of the details of your love life.  He is a God of details.  He can be trusted not only with your eternity, but also with this most tender spot of your heart.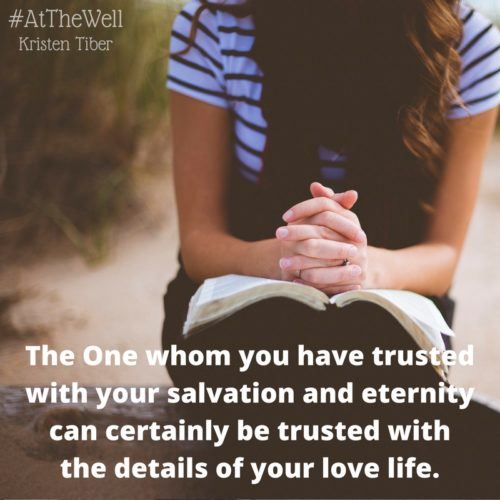 3. God Sees You.
When you're single, it can be easy to feel alone and forgotten.  I think that is why I especially love the story of Hagar in the Genesis 16.  Hagar had been poorly treated and came to a spring in the desert.  It is at this place that the angel of the Lord appears to her and after speaking, Hagar calls God "El Roi."  El Roi means the God who sees.  She felt seen and heard.
"She gave this name to the LORD who spoke to her:  'You are the God who sees me,' for she said, 'I have now seen the One who sees me.'"  Genesis 16:13
Can you imagine the healing that took place in her heart to come to this moment in her life where all she had endured is now seen.  My single friend, God sees you.  Nothing escapes His vision.  He knows your desires, your disappointments and your heartaches.  He knows them just as well as all your joys and delights.
As this Valentine's Day passes and the rush of flower deliveries fade, you can rest in the fact that the Lord Most High sees you right where you are.  He has not forgotten you.  He will be faithful to you.  You can trust Him.
And even if everyone else you know is getting married, in a serious relationship or starting what looks like a promising match, putting this area of your life in the hands of the Savior is the best decision you can make.
Can I tell you about my new book?  It is for Christian singles; I wrote it with the college students and 20-30's in mind (but many moms are telling me they want their teenagers to read it too).
At The Well is a journey through Genesis 24 – the story of Isaac and Rebekah – where God reveals the most beautiful blueprint for finding love and pursuing marriage.  If you are single, in this story you will find hope, encouragement and direction for finding a mate.
Want to know where to meet your future spouse?
You need to head to the well.