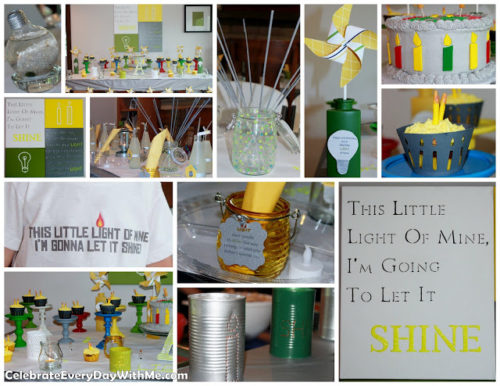 You are in for a treat because this birthday party from Marcy T. shines bright!  Marcy chose the theme "This Little Light of Mine" for her son, Asher's 2nd birthday.  While she says the theme was trickier than others, once the creative juices began to flow . . . well, you can see the results.  Today, we'll be taking a peak at the decorations.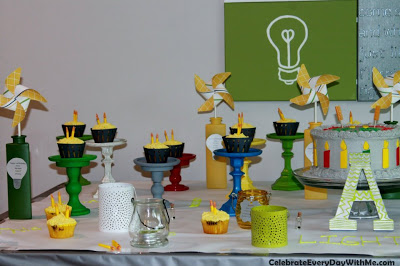 This fun tablescape has so much to interest the eye!  Marcy does a great job incorporating various heights and I love the bursts of color on the neutral base.  She made the canvas hanging above the table.  It separates into four pieces and now hangs in Asher's bedroom.
Cute cupcake stands fill the table with color.  (We'll be talking about how she made the canvas with perfect puffy letters and the cupcake stands next week.)  And don't miss the sweet pinwheels finishing off the hemline of the tablecloth.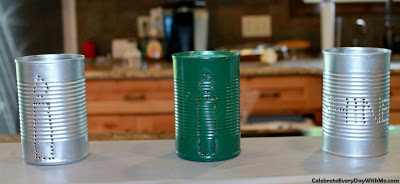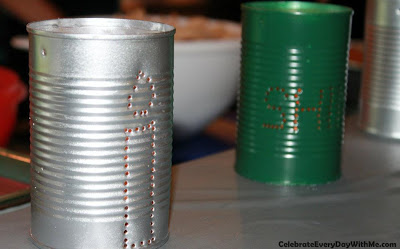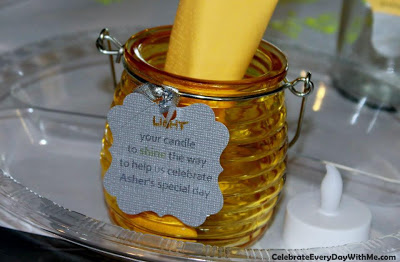 Originally, the party was planned to be outside.  But due to rain, Marcy moved the celebration indoors. Her plan was to "light up" everything once dusk fell.  The tins, pictured above, were intended to be hanging from the trees.  The yellow jars were placed at each place setting and the guest turned on the flameless candle and put it in their lantern.  The sign reads,
"LIGHT
your candle
to shine the way
to help us celebrate
Asher's special day."
These repurposed light bulbs were purchased from
eGarden Studio on Etsy
.  They are filled with a Marimo Moss Ball and stones.  Marcy did try to repurpose a couple bulbs on her own, but shared that it is a lot of work.  And, you have to be ready to lose a couple along the way.  (I can only imagine!)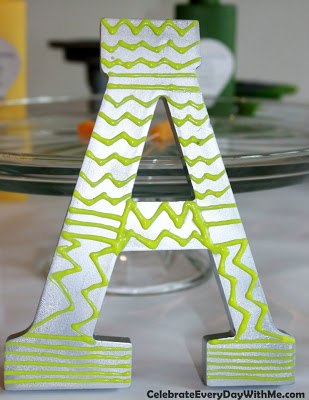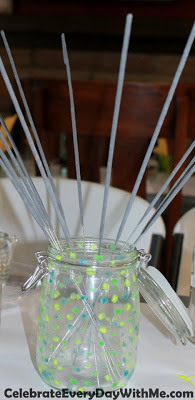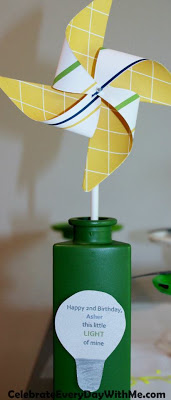 The fun "A" is painted with glow in the dark paint as are the dots on the jar holding sparklers.  Pinwheels and a light bulb tag dressed up these IKEA vases.
What do you think?  I love Marcy's creativity with such a precious theme.  Be sure to stop back next week to find out more about the party and how she made some of these great items.
"This little light of mine, I'm going to let it shine . . . "


Part Two:  This Little Light of Mine
Creating Perfect Raised Letters on a Canvas
Cute Cupcake Pedestals