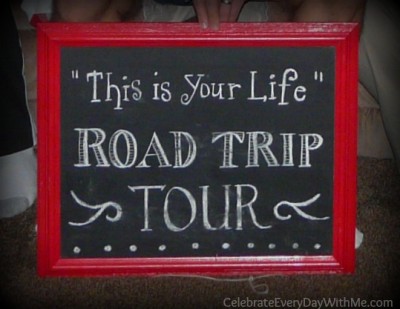 This year, Dan turned 40 and I knew I wanted to do something fun and creative to celebrate.  He wavered on whether he wanted a big party and eventually, he decided against it with work and school being so busy.
So a different kind of planning had to begin.  I had loved his cousin's 40 days of celebration but couldn't repeat it so soon.  When the idea of a big party was in play, I thought about how much fun it would be to play they game, "This is Your Life."
Dan has a lot of people to pull from for a game like this and my wheels starting spinning.  But when the big party idea was tossed, I simply wasn't ready to let go of this game so soon.
That is when the idea of this celebration began.  We wouldn't have a lot of people over to our house for a party.  No, we'd hit the road on an adventure as we looked back over Dan's 40 years and visited with those who touched his life.  It wouldn't be one big party, it would be a bunch of little ones!
And so the "This is Your Life" Road Trip Tour was created.  All Dan knew was that I had planned an all-day, fun day.  And that is all the kids knew too, until that morning when I spilled the beans to them just before we left.
It took a lot of work, but it was all worth it.  Here is how it worked:
We made 8 stops throughout our day, focusing on different stages in Dan's life and spending an hour at each place.  I had made arrangements for locations, focusing on parks and pavilions since we had so many places to go.  I sent out invitations by email with all the details, times and instructions.  Guests were invited to attend the stop that fit their relationship with Dan (or go to whatever was most convenient for them.)  I served light refreshments and families were welcome at all stops.
The Stops:
1.  Dan's Childhood Home
If you ever want to go back to your childhood home, be sure you sell it to someone nice.  That's right!  We went back to the house that Dan grew up in that was sold nearly two years ago.  We drive by often and Dan had mentioned how he would love to see the house again.  Even a couple weeks before the party, he was making me drive by s.u.p.e.r. s.l.o.w.l.y as we passed by.
The couple who bought the house are very friendly and hospitable.  When I first asked about coming, I asked if we could just do a "driveway party" with doughnuts and juice.  I had not wanted to intrude.  (Our first stop was at 8:15am!).  But they were insistent that we come in and since it ended up raining that day, I was so grateful.
Here is the really amazing part about this couple.  They didn't just let our family of 4 come in, they let all 18 of us…yep, Dan's Dad and siblings with their families came too.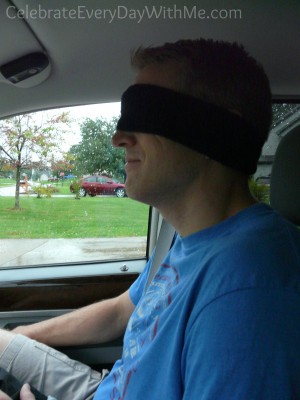 As our day began, I put the kids in the car and gave them very specific instructions.  When we would pull into the old driveway, they would see their cousins.  They were not to say, "There is ___."  They were not to say, "Look, Grandpa's old house!"  No, they were to stay very quiet and they did awesome!!
I blindfolded Dan (yes, with a winter headband) and walked him to the car.  I took a round-about way to the house, but even still, as I drove down the big hill to the house he grew up in, a smile appeared on Dan's face.  He knew where we were, but he was utterly confused.
The kids hopped out and joined all the family in the driveway.  Dan got out and stood in the center.  When he took off his blindfold, we all yelled, "'This is Your Life' Road Trip Tour!'"  He was completely surprised and confused and it was wonderful!
We spent the next hour seeing the old house and all the new updates and changes the owners made.  It looked spectacular and it was so fun seeing this kind couple make it their own home.  We sat telling stories and enjoying the best Amish doughnuts in Ohio.  And then it was on to the next stop.
2.  School Days – A chance to visit with Dan's school friends, his cousins that have been camping every year since they were 12 and even one of his favorite teachers stopped by.
3.  The Single Years – This was our opportunity to hang out with college friends and volleyball teammates.
4.  "First Job" Gang – Dan spent 10 years working at the same job he took right out of college.  He built lifelong friendships there and it was so fun seeing many of them.
5.  A Life of Faith – We headed to our church to celebrate with our church family
6.  Down the Aisle – We went to the church we were married in (the church I grew up in) and visited with friends and some of our bridal party.
7.   "Current Job" – Off to the beach to celebrate with co-workers.  It was incredibly windy but the great company made up for it.
8.  Home Sweet Home – Final stop to hang out with neighbors.
It was a long, but fun day!  The kids were troopers and Dan thoroughly enjoyed the day.  We took pictures at each stop with everyone who came (each group picture had to include the chalkboard sign).
On the road, Dan was able to read a little journal I made for him.  Each stop had its own page with a Scripture verse and a couple of my own memories and thoughts from the different stages of his life.
All the friends we saw (some we haven't seen in years), all the family that came . . . it was so very special to see how many people have touched and blessed Dan's life in one way or another.  And thank you, to all the people who helped me plan and came to celebrate!
"Many, LORD my God, are the wonders you have done, the things you planned for us. None can compare with you; were I to speak and tell of your deeds, they would be too many to declare."  Psalm 40:5