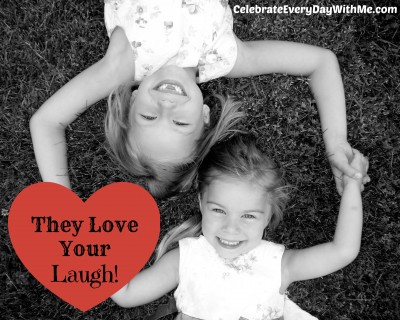 I am going to ask you to stop for a minute and think about something.  I'd like you to think through the course of yesterday.  How many times did your kids hear you laugh?  How often did they see you smile or hear you chuckle?
When I am busy, I realize I laugh less.  When I am preoccupied by the house showing, the writing deadline that I have to meet, the football field length of errands I need to run, it is easy to be "driven" instead of outwardly joyful.  It is often when I am overwhelmed (a bit too often, lately) that I do not laugh as much.
If I have a day like this week when I am rushing off to Bible study, then to the store, home for lunch and cleaning, then off again to help someone on the computer and finally back home for the showing of my house (which after last week's garage sale-neglect required a lot of cleaning) . . . let's just say I'm not entirely bubbly and joyful.  I'm driven and focused and . . . if you get off my schedule, downright grumpy.  Now, what does that say about me?
Sure, there are seasons of life that are busier than others.  I won't always be selling my house and having to keep it near perfect, thankfully.  But a lack of joy and laughter?
That is not how I want my children to live their summer, let alone their childhood.  My attitude affects my kids.  Remember the saying, "If mama ain't happy, ain't no body happy."  Yikes, how true that is.  I think back to the the advice I got when I was pregnant about being joyful and I want to try harder.
In the everyday happenings of life, what it my general demeanor?  My attitude as mom can set the tone for my kids and for my day.  If I am quick to harp, quick to sternness and  quick to get frustrated when little feet don't move as fast as mine, I've forgotten one thing:
My kids love to hear me laugh.  
When I make it a point to be silly, have fun and laugh, my kids thrive on it.  Why would I want to deprive them of a happy mom?  I can be on a mission to conquer the world, but this I know . . . I can still laugh.
"A cheerful heart is good medicine but a crushed spirit dries up the bones."  Proverbs 17:22
How does your attitude affect your kids?