Whew!  The train party is wrapping up.  Oh, how I loved this party!  We started with a look at the train party food and decor.  Then we looked at the obstacle course for the train-engineers-to-be.  Now we're finishing up with an eclectic assortment . . . of what is left.  We'll check out the invitations, favors and other little touches for this special train party.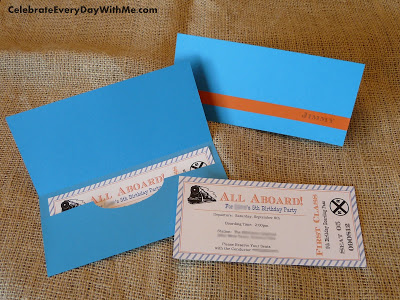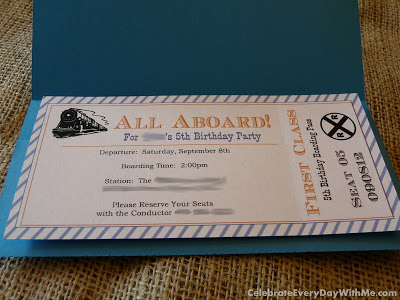 A train party called for ticket invitations.  I made the invitations with my
Silhouette Cameo
.  The Silhouette even perforates so I created a tear off section on the right side of the ticket.  The envelopes were an on-going work in progress, but this is what I finally ended up with.
Just a little touch:  I took a photo of my son with his train hat on.  Then I printed it and put it on the pinata.  It thrilled him.
There is a song that is one of our
favorite train songs
.  It is great for singing in a store when you need to shop more and stretch the limits of your children.  Because not only is it a long song, but each verse builds on the other.  It is called "What Do You Hear?" by James Coffey.  You can hear
a clip here.
Each phrase on the signs is one from the song:  All Aboard, Ding-A-Ling, Clang Clang, Chugga Chugga, Choo Choo, Woo Woo, Clickety Clack, Here Comes the Train Down the Railroad Track.  My husband built the signs from boards and spindles from our old deck (go Dan!) and I painted them.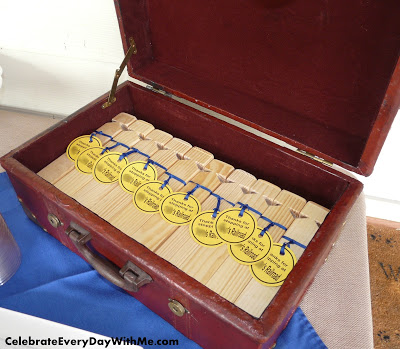 The favors were train whistles but the kids also went home withe their train hat.  (I had enough whistles for the younger siblings to take one as well.)  The tags were part of the party printables I won from Milenna at
Party-Tales
.  They say, "Thanks for stopping at
Name's
 Railroad."  So sweet!
This is a shot of some of the guests riding the train.  I want to send out a huge thank you to our dear friends who allowed us to host the party at the railroad and ride the trains.  We had a blast and it is a day my son will always remember!  Love you guys!
Related Posts:
Chugga Chugga Choo Choo Train Party (Part One)
In TRAINing" Obstacle Course (Part Two)