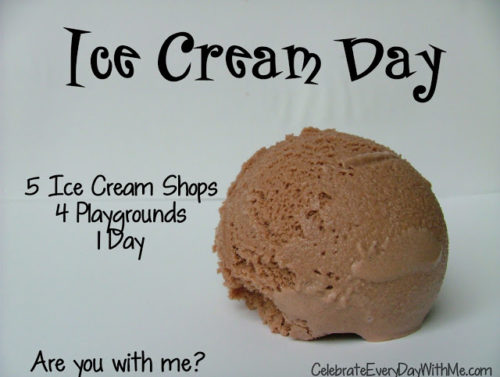 What do you think?  Would you and another mom haul your brood to five ice cream shops in one day?
You may be concerned about the sugar, the sick stomachs or the loading and unloading of your kids from the mini-van more times than you can count.  But I'll tell you this. . . we have just created the sweetest annual event.
First, let me assuage your fears.  Yes, you can eat ice cream from five different places in one day and not get sick . . . well, unless you're lactose intolerant.  The key is ordering the absolute smallest serving sold.  For some places, this means baby cones (I had never seen these adorable cones before!  Picture a large dollup of ice cream on the sweetest little cone.)  For other places, it meant kid-size servings.
The way our trip came about:
 I had written a
guest post for Everyday Truth
where I threw out the idea of searching for the best ice cream in your county as an idea to thrill your kids.  One random day, my cousin and I were talking about our love of ice cream and I shared the idea.  Well, nothing more needed to be said.  We blocked out an entire day on our calendar for the search.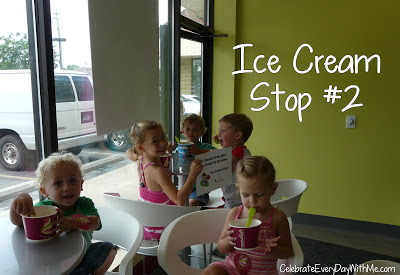 Our Plan:  We routed out our trip ahead of time, starting with who opened the earliest.  We left my house at 10:30 am, ate a packed lunch at one of the parks and returned home at 6:00pm.  Our last ice cream stop closed minutes before we arrived, so our final stop was at Dairy Queen where my cousin and I opted for fruit smoothies – cheating?  You decide.
Between each ice cream shop, we decided to stop at a park or playground and burn off some of that sugar.  And, what could be more fun for a kid than a day filled with ice cream and playgrounds?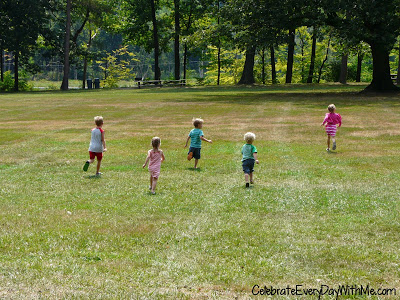 A Key Part of Our Day:
 Between every stop, we listened to Chip Richter's song, 
Ice Cream
.  It is a fun and upbeat song that will have the entire car singing (and screaming) for ice cream.  If you are unfamiliar with Chip, he is a Christian singer-songwriter that will bring smiles to your whole family!
If you're interested, you can buy the
Lost in Lakeside CD from his website
here for $9.99 or you can buy the Ice Cream MP3 for 99 cents from
Amazon
 off of his
Live in Lakeside
CD.   Either way,
the excitement and energy in your car will grow each time you play this song.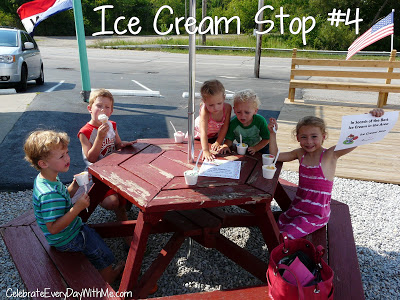 The Memories & Awards:  At each Ice Cream Shop, we took a photo with our Ice Cream Stop # Sign (notice the first picture was our best…).  We also awarded each place with a "You Were Who We Screamed For" award.  Make your own signs or grab these free printables:  Ice Cream Stop # Sign and Ice Cream Award.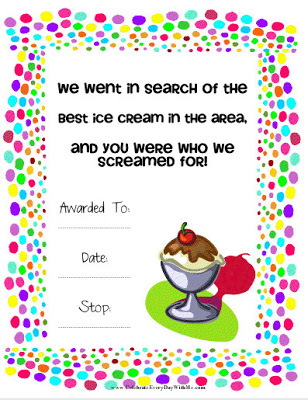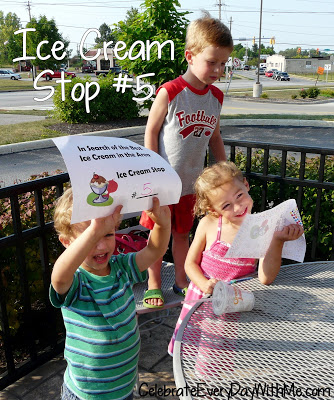 It was a perfect summer day and a perfect new tradition.  We plan on hitting a different area each year in search of the best ice cream . . . and eventually, maybe we'll expand our search to the entire state.
Update:  I was at Dairy Queen last night (yes, again!) and saw this: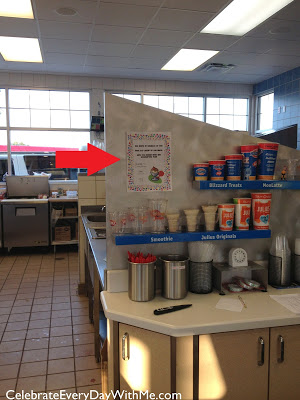 What is your favorite flavor of ice cream?  
Please Note:  This post contains an affiliate link. See the Disclosure Policy on the About Page.