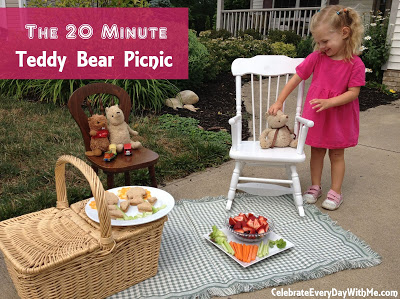 We all want to do fun things with our kids.  But let's face it, some things seem like more effort than we're willing to do at a particular moment.  This is NOT one of those things.
This is the 20 Minute Teddy Bear Picnic.
Yep, it will only take 20 minutes to get ready to treat your kids and their teddy bears to a fun picnic.  And this coming weekend is the perfect time because Sunday is Teddy Bear Picnic Day.  (Yes, it is an actual holiday.  You can read about the history of the Teddy Bear Picnic here.)
Sweet Girl was thrilled with the idea because she loves her Teddy more than her baby dolls.  It was a treat to invite him to lunch.  But even my son got into the idea and invited his Beaver and trains along with his Teddy.
Here is my 20 Minute Breakdown:
3 Minutes:  Grab a blanket and a couple chairs for the teddy bears.  Dig to get the picnic basket out.  (The ground was wet so I set up our picnic on the driveway.)  Grab the dishes you want to serve your picnic lunch on.  *Throw bread in the freezer.
4.5 Minutes:  Wash and cut fruit.  I served grapes, strawberries and blueberries.  Bears like berries, right?
3.5 Minutes:  Wash and chop vegetables.  Cut one long piece of celery for the flower stem.
1 Minute:  Cut a slice of cheese with the cookie cutter for embellishment.  Eat the scraps.
4 Minutes:  Take bread out of the freezer.  Make peanut butter and jelly sandwiches and cut with a flower-shaped cookie cutter.  Cut small triangles from the scraps to use as leaves.
2 Minutes:  Tell kids to find their Teddy Bears and get their shoes on.
2 Minutes:  Grab drinks and camera!
So next time you have 20 minutes, be sure to enjoy a Teddy Bear Picnic and create those memories!