This week is my birthday!  I plan on getting up super early and having breakfast on the beach with my family to celebrate.  But to start the festivities, I am excited to bring you another great Teleflora giveaway.   And what's more, all our blog readers can save 20% off with a special Teleflora Discount Code (see below).
If you are in the market for birthday flowers, be sure to check out these lovely bouquets, including the Teleflora anniversary flowers (my 10th anniversary is this year-hint, hint Dan).  Whether you are celebrating a special occasion or just looking for a little happiness in your home, be sure to hop over and shop.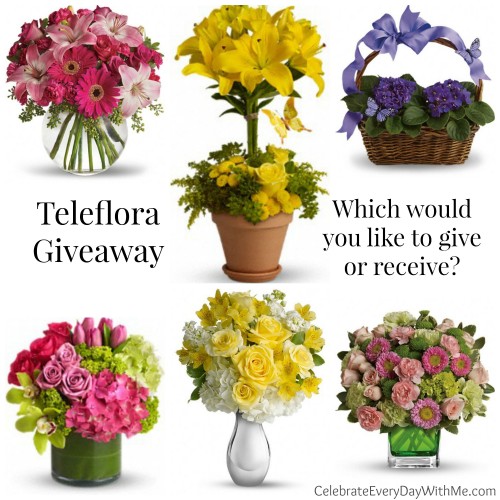 Teleflora Giveaway:
Enter using the rafflecopter form below.  Winner will receive a one-time use code for $75 and the service charge will be waived.  Code expires 10/16/14.  The giveaway ends Monday, July 28th at 11:59pm.  Winner will be chosen randomly, notified by email and have 48 hours to respond or a new winner will be selected.
Teleflora Discount Code for All Readers:  
Click here to get 20% off flowers (and the discount will automatically be deducted).  Or use promo code JULY4S at checkout.  This code is valid until 10/16/14.
Connect with Teleflora:  Facebook, Google+, Twitter, Pinterest, Instagram or YouTube.