This shop has been compensated by Collective Bias, Inc. and its advertiser.
All opinions are mine alone.  #FreshAndGlow #CollectiveBias
Do you know a mom who has been running non-stop?  Maybe she is dealing with circumstances that are beyond the usual busyness of everyday life.  Is there a new baby who won't sleep, extended family challenges or health issues that are wearing on her?  Let's talk today about being a blessing to the exhausted mom.
We've all been there.  The feelings of being pushed to our limits or so overwhelmed with things that we think we may lose it…or if nothing else, simply break down and cry.  Many times there are situations that are beyond our control.  And those are the things that seem to test us the most.  Imagine yourself in this position and then imagine a sweet friend stopping by with a special basket of goodies put together just for you.  Wouldn't that lift your spirit?
Last week, I went to Wal-Mart and picked up some items to give to a precious mom I know who has a lot on her plate and it seems the hits just keep coming.  I wanted things that would provide this mom with some relaxation and a little pampering.  Have you ever hopped in the shower and opened a new bottle of body wash and found it to be such a treat?  I love opening a new bottle, smelling the scent and feeling how luxurious a thick lather is on my skin.
Softsoap has new Fresh & Glow body washes that sound amazing.  I picked up their new hydrating shower cream with Milk Protein Almond & Coconut Extracts, ready to soothe a mom's dry, winter skin.  And the exfoliating fruit polish with Apricot Seeds, Orange & Kiwi Extracts (all 100% real) will exfoliate and give her a healthy-skin glow.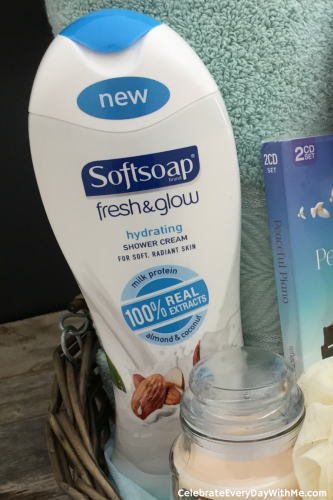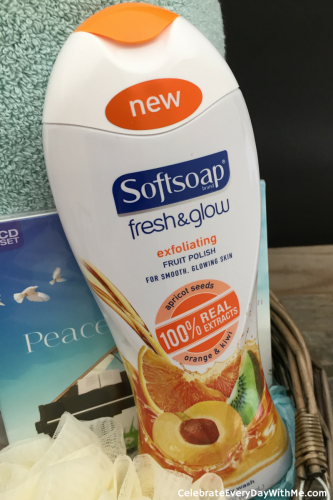 What I included in my Softsoap Gift Basket:  Along with the body washes, I added a thick towel, a big bath sponge, a vanilla candle and Peaceful Piano cd.   I loved the color of this basket as well!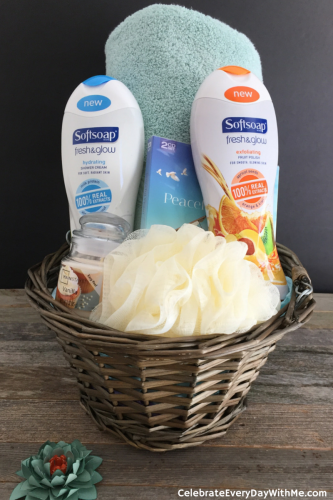 A thoughtful gift basket of pampering doesn't just give a mom a break from everyday busyness, it reminds her that she is cared about and loved.   And incidentally if you are the exhausted mom, let me send you a virtual hug and a reminder that you are loved.  Maybe you need to relax with a special new body wash, too.
 What would you include in a gift basket to pamper a fellow mom?