Disclosure:  This post contains my affiliate links.  I received all product at no cost in exchange for an honest review.  All opinions are my own.
I love party supplies. L.O.V.E.
Today, I am sharing a peek of my daughter's Little Mermaid party with some great supplies from Shindigz.com, plus a $50 Shindigz giveaway.  What party are you planning for that you could use $50 of free product?
When you are shopping at Shindigz, you will be impressed with the number of products and great ideas that accompany their list of themed parties.  Just to forewarn you, grab some coffee or tea and a snack.  You'll be at their site for awhile, checking out all their fun items and dreaming about your party.
One of the items I am most excited about are these mermaid princess personalized dessert plates: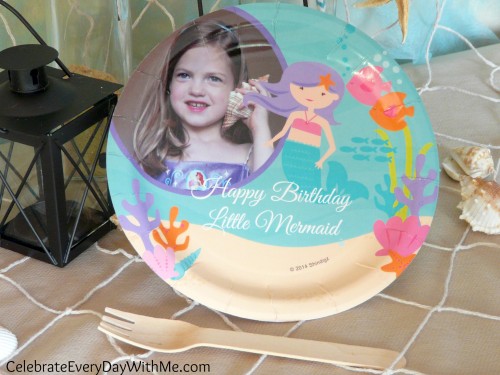 Aren't they adorable?  Shindigz has a great assortment of personalized tableware and everything is so easy to customize.  Simply, select a theme and layout, upload a photo and enter your text.  Then, place your order.  The hardest part was selecting which photo of my daughter to use on the plate.  😉
To create my under the sea feel, I ordered corked bottles and the black lanterns (can't you just picture Prince Eric holding a larger version in search of the woman with that voice?).
In my backdrop and table draping, I used turquoise and  Gossamer 19″x50 Yd Ivory Roll
 gossamer. To me, the ivory had more of a sand color making my sea and sand combination perfect.  (I do have a brown table cloth under the ivory gossamer as well.)
And what would the grotto be without sea shells and starfish.  All products available on Shindigz.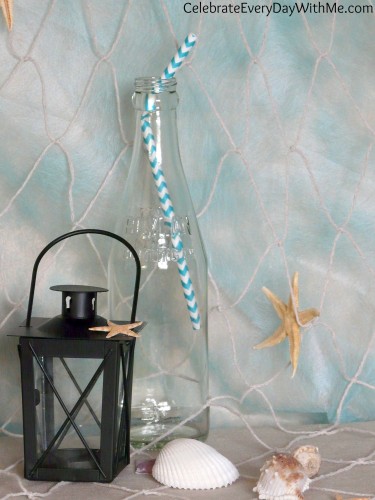 I have used striped straws many times before in parties, but I love these chevron turquoise straws.  I will use my soda bottles and fill with beautiful blue "sea water" and adorn with these straws.
For activities, we will play the traditional childhood game  but modified to 'pin the shell on Ariel.'  I have never been one to go all out on themed/licensed products.  I enjoy creating a mood with other items.  However, at a child's party, it is important for the children to see the character they love in your party decor.  (Notice, I also have Little Mermaid stickers and Ariel/Flounder cupcake toppers
.)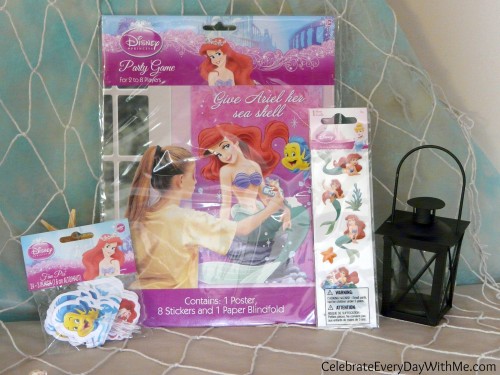 Another activity will be to create sand art.  Shindigz had so many colors to choose from, but I selected this assortment.  I loved their little plastic sand art bottles
 for each child to fill and take home.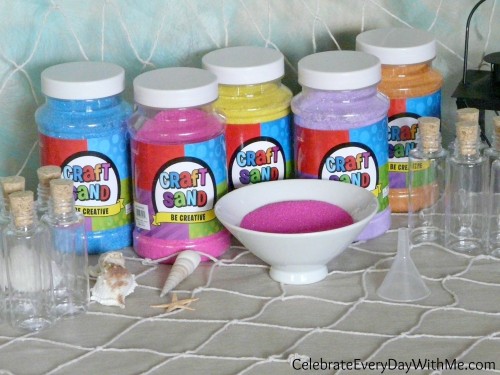 And to close us out at the end of the party, the children will take home a shell key chain
 and a shell necklace.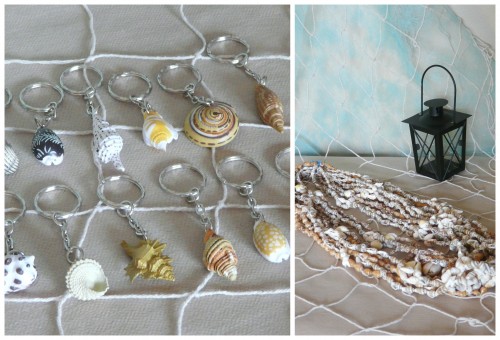 See the full list of products below.  I am thrilled with how much of the party is already taken care of with these items from Shindigz.
And now on to the giveaway for YOUR next celebration!
Products Shown:
Mermaid Princess Pers. Dessert Plates Pkg/8

Assorted Sea Shells Per Lb

Real Starfish Pkg/30
Mini Sea Creatures Pkg/4

Black Lantern

Quadra Corked Bottle
Flame Ret Gossamer 19″x50 Yd Turquoise Roll


Gossamer 19″x50 Yd Ivory Roll

Chevron Paper Straws Turquoise Pkg/25

The Little Mermaid Party Game
Little Mermaid Sticker Sheet

Disney's Little Mermaid Fun Pix Pkg/24

Plastic Sand Art Bottle Dozen

Sand Art Funnel

Art Sand Light Blue
, Orange, Pink, Purple, Yellow

Shell Necklace Pkg/12

Shell Key Chains Dozen
Great Way to Save:  Save $10 on orders of $99+ (Year-long offer)