The guests are coming over and you need a simple (and free) centerpiece.  You could grab flowers from the garden.  But if your garden is lacking, this idea will help you out.
Go grab your white serving platters, plates, bowls and cake stands.  Let's get started!
Why I like these simple centerpieces ~
* White looks great on any table.
* According to Sarah from Taylor Design Studio, white should have a place in every room.  Problem solved.
* You probably already have some white bowls, plates, cake stands and other random white dishes.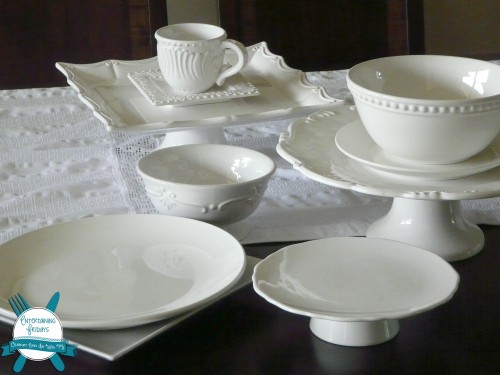 Creating simple centerpieces by stacking your white dishes ~
* Experiment with different shapes or try all the same.
* Remember that odd numbers are pleasing to the eye.  Notice the 4 stacked items below?  Not as pleasing as when it is 3.
* A vertical edge on the top piece looks best (meaning bowls and tea cups look appealing as the top item in your stack).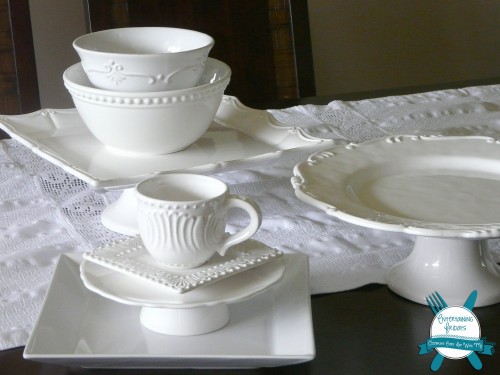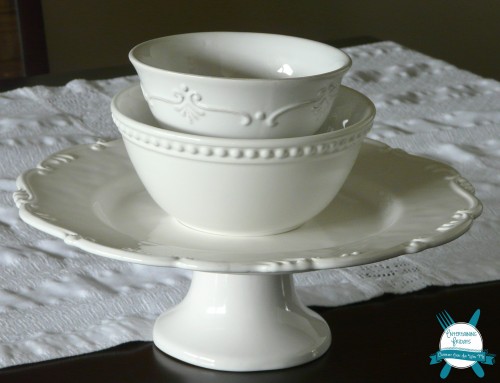 Do you have simple centerpieces that you use in your home?  I would love to hear your ideas.
Next week on Entertaining Fridays, I'll be sharing my secret tip on finding linens at great prices.  I hope you'll stop by.  And if you are enjoying our series, why not consider subscribing by email.  This way, you won't miss a single post!  Click the envelope or RSS button at the top right of the page.
Happy Entertaining!