This shop has been compensated by Collective Bias, Inc. and its advertiser.  All opinions are mine alone. #StockUpWithPost #CerealAnytime #CollectiveBias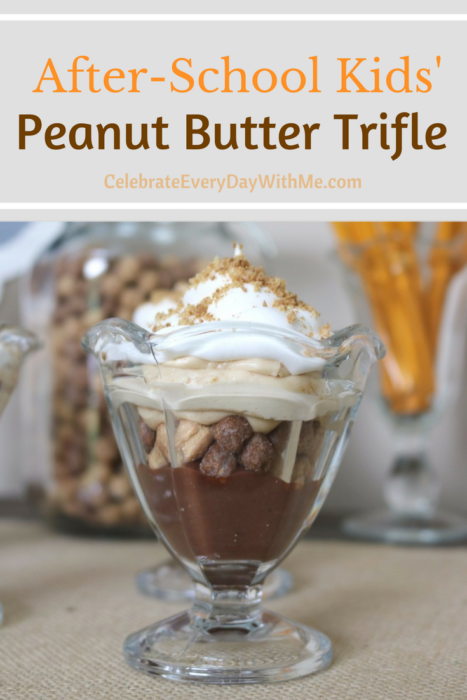 Can you believe it?  It is that time of year.  Summer has flown by as usual and we are officially back to school.  But even if your kids are not quite thrilled with the prospect, we can still find little things to celebrate . . . like a special after-school treat!  Take a look at this yummy Peanut Butter Trifle.
Trifles are a fun dessert usually served in clear glass to show off their layers.  A good trifle has creamy, fluffy and crunchy or chewy.  When I'm making something for the kids, I always think it is more fun to give them their own dish.  Maybe it comes from my disdain for sharing my own dessert, but I also just like the idea of cute, single servings.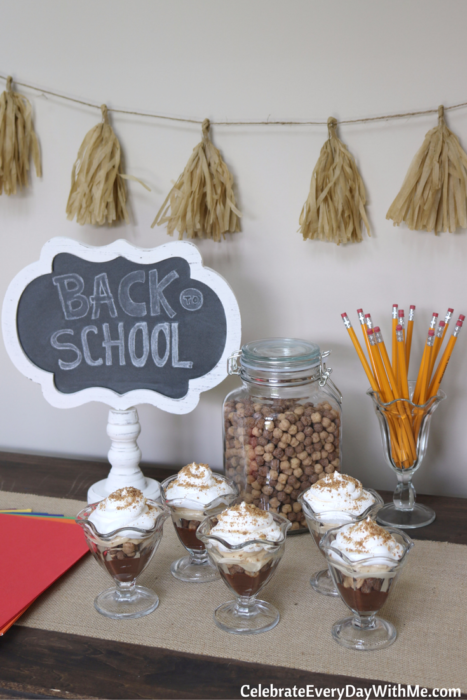 Today, we're using Post Consumer Brand cereals to help us celebrate the start of school and making some yummy trifles for the kids and their friends.  With all the usual back-to-school expenses, Post cereals are a great way to save money.  Plus, they offer such a variety of different cereals that there is certain to be a cereal for everyone in the family.  (I like to serve them at breakfast or as a snack.)
When I was at Walmart doing my shopping, I picked up the ingredients for the trifle.  I love that this recipe has only six different ingredients!  Here is what you'll need.
Peanut Butter Trifle Ingredients:
Malt-O-Meal Peanut Butter Cups
Chocolate Pudding (follow box instructions)
Peanut Butter Pie Filling

1/2 Cup Peanut Butter
1/2 Cup Confectioners Sugar
8 oz Cream Cheese (softened)
2 Containers of Frozen Whipped Topping (thawed, divided and also used to top the trifles)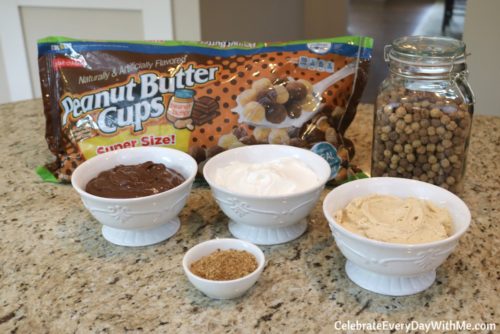 Make Ahead:
While the kids are at school or the night before, you will need to do three quick things.
Make the peanut butter pie filling.
Make the chocolate pudding.
Crush a handful of the Malt-O-Meal Peanut Butter Cups cereal.  
For the peanut butter pie filling, mix the peanut butter, confectioners sugar and cream cheese together.  Then, fold in 1/2 of one container of whipped topping.  Refrigerate for at least two hours.
Just Before the Kids Come Home:  
Now, it is time to assemble your ingredients.  Don't do this too early to keep the cereal from absorbing moisture and losing its crunchiness.
Into the bottom of each trifle dish, scoop chocolate pudding.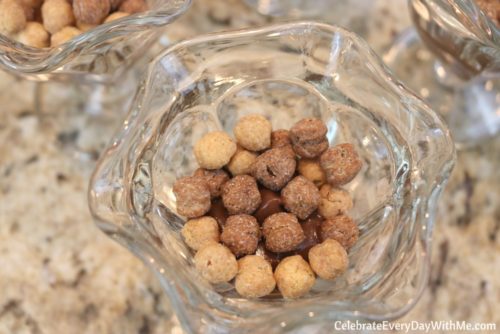 Then, top with the Malt-O-Meal Peanut Butter Cups cereal.  The combination of crunchy corn puffs with cocoa and REAL peanut butter make for an irresistible treat everyone will love!  And moms will be pleased that Malt-O-Meal is made with no high fructose corn syrup and 9 essential vitamins and minerals.
I bought the super-sized bag, but Malt-O-Meal offers a handful of different sizes to best suit your family.  Plus, they offer a taste guarantee.  If you don't love it, it's free!  (See details on packaging.)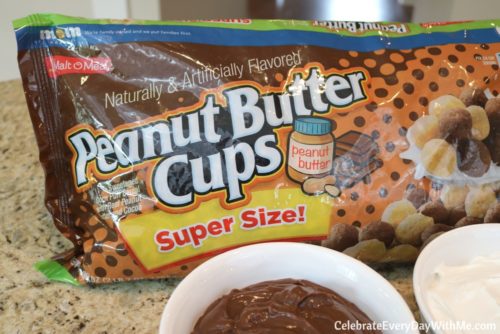 A Tip When Using A Small Serving Dish:  When I am using a smaller sized dish (like these trifle dishes), I will often use decorating bags to pipe in the ingredients.  It keeps your layers pretty and allows you to swirl your whipped topping.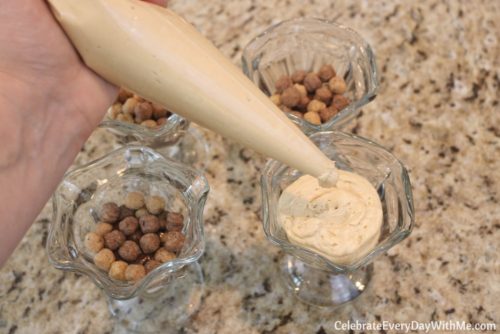 Next, pipe or scoop the peanut butter pie filling on top of the cereal.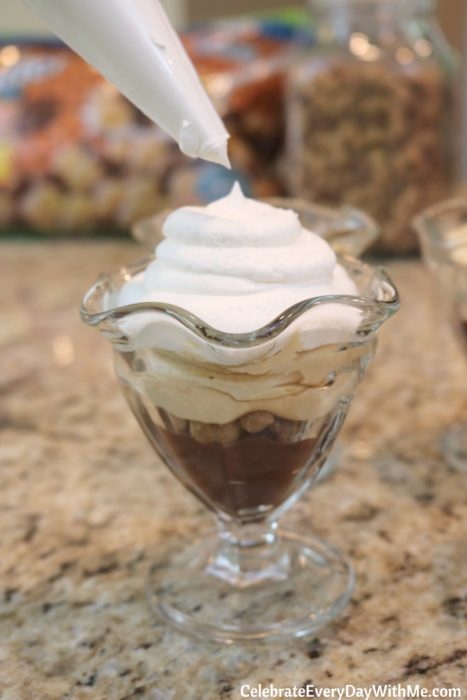 Add your whipped topping.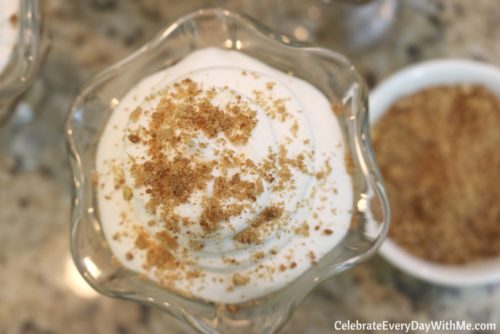 Last, sprinkle a couple pinches of the crushed cereal on top of your treat.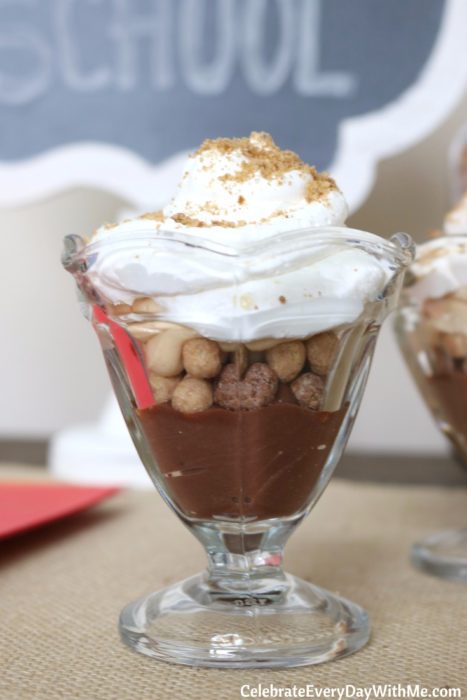 Now, it is time to enjoy!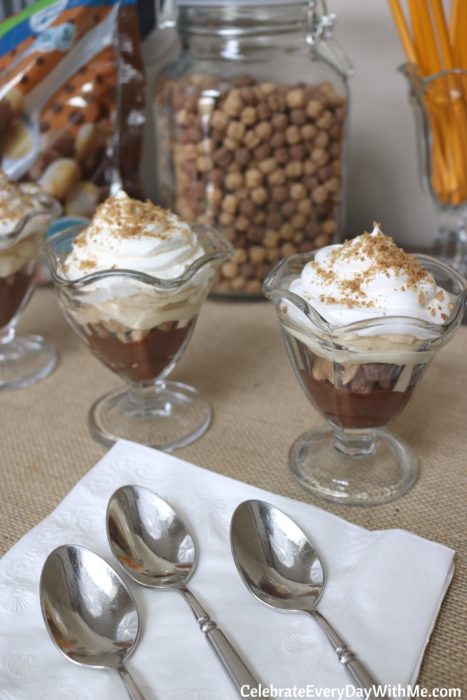 Grab your treats and gather around the table or head outside.  Ask for all the details of the kids' school day and have fun making back to school a celebration.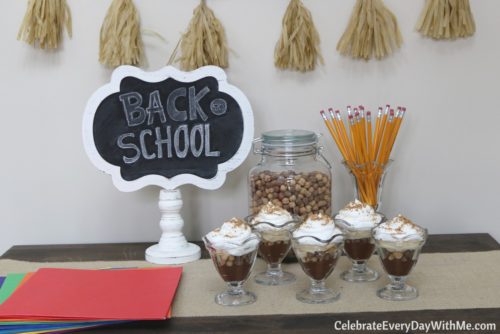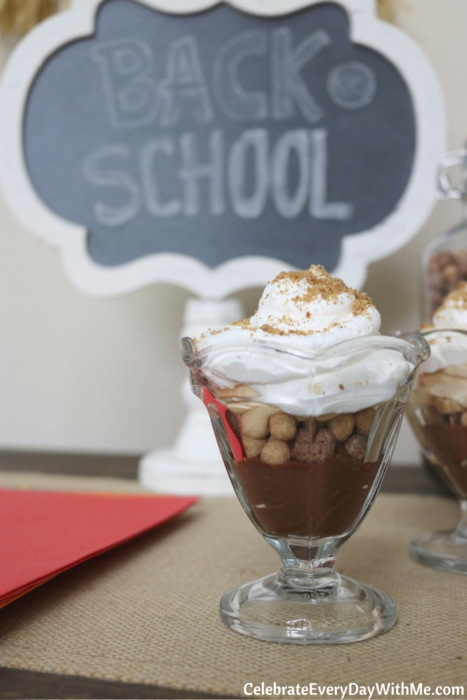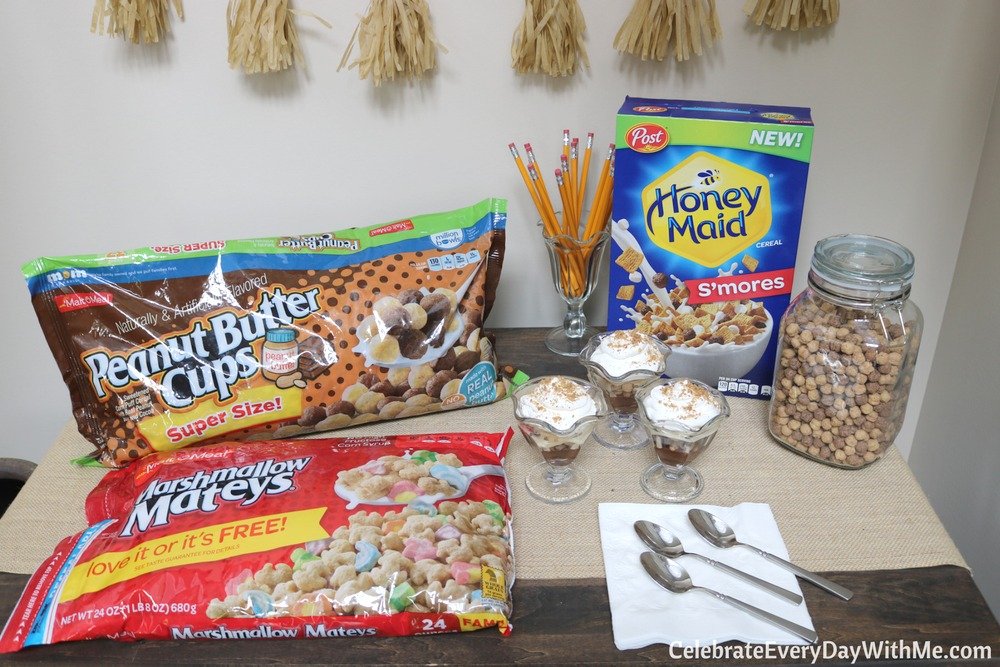 Want to make your own back-to-school recipes? Hover over the photo to shop these versatile cereals!
And here is more about the other two cereals pictured above:
Malt-O-Meal Marshmallow Mateys® – My kids go crazy for a cereal with marshmallows.  This frosted whole grain oat cereal has 12 essential vitamins and minerals and no high fructose corn syrup.  The toasted oat flavor and the hidden marshmallows arrrrrr a delicious treat any time of day.
HONEY MAID® S'mores – Summer is coming to an end, but that doesn't mean you can't still enjoy the delicious taste of s'mores right in your cereal bowl.  Don't miss the chocolatey goodness, sweet marshmallows and yummy taste of HONEY MAID® Graham Crackers.  S'more indoors have never been so delicious!
Here is where you can find these Post cereals at Walmart:
Earn $1 or $.25 cashback when you purchase some of Post's newest additions with these Ibotta offers.

Make sure to check out more exciting offers for other Post cereal varieties like Shredded Wheat!