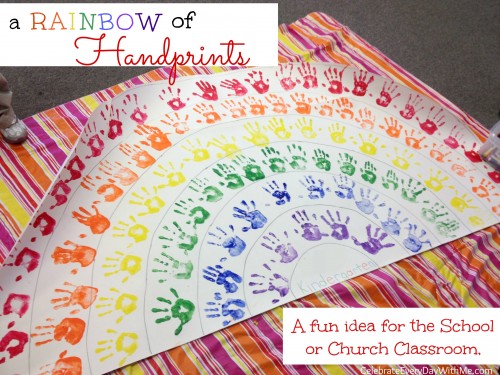 At the beginning of Spring, I had the opportunity to help out at my son's kindergarten class party.  Yes, I realize that I am quite late in sharing this adorable project, but it is only the beginning of May, so we still have plenty of Spring left.
What's more, this project could be done at any time of the year by a Sunday School class learning about Noah and God's promise or a group of grandkids looking for a fun way to show their love for their grandparents (I'm visualizing the biggest birthday or anniversary card ever!).
I am also tempted to do it at home to have my own kids' handprints displayed in such wondrous color, but then again where would I store it?
What you'll need to make a Rainbow of Handprints:
Posterboard, enough to connect and make your rainbow shape.
Stapler
Pencil and Marker
Paint (the class used tempera paints)
Paper Plates
A plastic table cloth or other covering for your work space
A nearby sink!
I was assigned to this station for the Spring Party.  Oh, did we have fun!  I loved interacting with each of the kids and "stamping" their sweet hands on the rainbow.  The kids loved getting "messy" and kept coming back to do more.
The Simple How To:  Staple the posterboard together and cut to the shape of a rainbow.  Sketch your lines in pencil to separate the colors and then go over with marker.
(I didn't see how the teacher got such perfect spaces for colors, but if I were doing it, here is what I would do:  I would measure from top center to bottom center and divide that length by seven, allowing for 6 colors and the bottom arc.  Then I'd make hash marks at the appropriate spots, repeating a couple other times around the rainbow.  And then finally, "connect the dots" for each color space.)
Squeeze one color of paint onto a paper plate at a time.  Have the child smear their hand all over the plate, taking care to get good coverage on their palm.  I often checked the child's hand just to be sure it was well-covered.
Stamp their hand onto the rainbow.  When completely dry, hang the rainbow on the wall with poster puddy, tacks or painter's tape.  Enjoy!
For a large rainbow as in the one above, there are about 97 handprints.  The kids usually did about three handprints in one color and then came back later to do another color.
I loved this Spring project and am thankful for the creative teachers who came up with it.  It was a fun way to celebrate Spring.  
Ooh, just had another thought!  Why not do this on a wall in your basement or play room!  …well, next house… 🙂