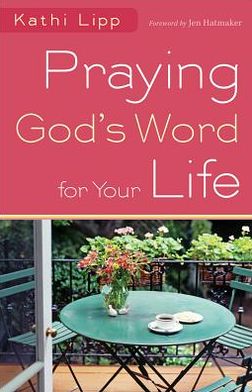 Back in February, I reviewed Kathi Lipp's book, Praying God's Word for Your Husband (you can read the full review here).  I thoroughly enjoyed the book and continue to use it regularly in praying for my husband across a multitude of topics.  That book truly revolutionized the way I prayed for Dan.
So when, I was contacted to review Kathi's new book, I didn't hesitate.  The book is Praying God's Word for Your Life
.  Now, I'm not so sure many of us moms pray for ourselves like we pray for others.  Sure, I'll pray for help, peace and direction.  But I will admit that when it comes to praying for myself, I am not as thorough.  However, that is changing.
In her book, Kathi has a way of moving past the fluff and getting down to real talk.  She openly shares her struggles and experiences.  In fact, I quickly identified with her old way of thinking on having a "good" quiet time.  She felt that if she couldn't have the perfect quiet time of prayer, Bible reading, meditation and devotional reading, why bother.  Perfectionism was keeping her from a meaningful relationship with God.
And that is what we're after, right?  A deeper, more meaningful relationship with the Creator of the universe, the Savior, Redeemer and Sustainer.
I love the simple layout of Kathi's book.  Just as in the previous one, she starts with how to use the book, how to prepare your heart and why we should pray according to Scripture.  When I pray according to Scripture, I find that my prayers are more powerful, concrete and intentional.  After all, I am recounting God's very words back to him in the form of prayer.
The second part of her book is teeming with Scripture verses and prayers covering many categories of life:  when you're overwhelmed, your relationship with God, with others, marriage, parenthood, feeling inadequate, work issues, finances, worry, despair, past mistakes, health, mission in life and hope in Christ.
You can work your way through the book, praying chapter by chapter or go right to the issue you need at the moment.  Even last night as I was writing a card for a friend, I used this book as a resource to find which Bible verses I wanted to include.
I am currently in the chapter on parenthood.  Here is an example the simple,yet powerful format:
"Come, my children, listen to me; I will teach you the feat of the Lord."  Psalm 34:11

"Dear brothers and sisters, pattern your lives after mine, and learn from those who follow our example."  Philippians 3:17 NLT

I want to teach my children to live their lives in awe of you, Lord.  Give me wisdom so that with every word I say and everything I do, my kids learn a little more about you.  Help my actions to lead them to you.  I pray that I will live in a way that demonstrates my love for youe very day, every hour, every minute.  
This book will be a great (and I'm sure well-used) resource for a long time to come.  I'm thinking I'll camp out in the parenting section for awhile.  😉
Find out more about Kathi at www.kathilipp.com
Disclosure:  All thoughts and comments in this review are my own.  This is an unpaid review.  I was provided this book at no cost.  This post does contain my Amazon affiliate link.  Please see my Disclosure Policy on the About Page.