We are jumping head first into another series.  I hoped you enjoyed our look at having hospitable hearts last week.  This week, we will not be talking about the guests you invite into your home.  Rather, we are talking about the person who shares your bank accounts, regularly eats the food you cook and sleeps next to you at night . . . yes, this week our focus is on your husband.
But let's start at the beginning.  I first met and heard Kathi Lipp speak at the Allume conference.  I found her to by an engaging and dynamic speaker with a great sense of humor.  She was extremely friendly and down to earth.
During her message, she briefly shared about her book and invited all of us to pick up a copy from her table and join her in a 5-Day Challenge.  The book is Praying God's Word for Your Husband.  While I am familiar with the concept of praying according to God's Word, this book immensely interested me because I realized that my prayer life for my husband had become rather stale, rote and could often fall into the "as needed" category.  Not very prolific for a woman seeking to be a jewel to her husband.
So I picked up Kathi's book (along with two extra copies she graciously gave me to give away to YOU) and looked forward to reading it.  Let me tell you a couple things I have found after reading this book.  My prayers for Dan are powerful, bold and prayed with expectation.  I wait with confidence to see how the Lord will answer these prayers because after all, I am recounting back God's very own words to Him.
Here is what Kathi says about this:
Because I was praying with a new boldness and passion, I waited expectantly for God's response.  I stopped giving that silent shrug to heaven, feeling helpless about what was going on in Roger's life.  While I didn't know how or when God was going to answer that Psalm 46 prayer, I knew it would be answered.
This book is a tremendous resource every wife should own.  Not only does Kathi lay out for you how to use this book and how to prepare our hearts to pray for our husbands, she gives you chapter after chapter of various topics, filled with Scripture verses and corresponding prayers.
With this book, you will have verses and prayers to pray through for your husband when he feels overwhelmed, is having work issues, when he feels inadequate.  She covers finances, employment, health and safety, relationship with God, you and the kids.  Kathi even dedicates a chapter on how to pray for a husband who doesn't know God.
I have found this book to not only be a resource (Really, you could just cycle through this book over and over in prayer), but I have found that it works to create a mindset of praying according to God's Word when you come across verses on your own.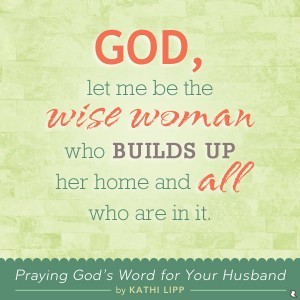 Enter our 5-Day Challenge!  Each day this week, we will take a category that Kathi covers in her book and we'll pray for our husbands.  We will be praying God's Word.  We will be waiting with expectation and hope of what God will do in our men.  And I'm willing to bet that He will also do a work in us.  He is just cool like that!
Day One ~ Today, we are looking at when our husband feels overwhelmed.  (From page 57 of the book).  Dan has a lot going on with work, MBA, church and family commitments.  And I know that in the next couple months, it is going to get busier and tougher.  I am already praying for him about being overwhelmed.
"But the Advocate, the Holy Spirit, whom the Father will send in my name, will teach you all things and will remind you of everything I have said to you.  Peace I leave with you; my peace I give you.  I do not give to us as the world gives.  Do not let your hearts be troubled and do not be afraid."  John 14:26-27
I pray that my husband would know your peace and feel it.  Lord, I pray that he looks not to the world for answers but to you.  I pray that he would not be consumed with fear and anxiety but that he would have an untroubled heart.
"For I am the Lord your God
who takes hold of your right hand
and says to you, Do not fear; I will help you."  (Isaiah 41:13)
Thank you that you are who you say you are, and you are fully in control of all circumstances.  Please let my husband feel your presence and comfort today in a tangible way.  Thank you for the way you promise to lovingly come alongside him when he is overwhelmed.  Please help him trade worry and fear for peace and complete trust in you.  Let him find rest in the fact that you promise to help him with whatever is overwhelming him.
Want more?  Enter the giveaway below for a chance to win a copy of Praying God's Word for Your Husband.
Don't miss a post this week!  Click the envelope button at the top of the page and receive new posts by email.  (Emails are sent once a day and only when there is a new post.)
Giveaway ends Saturday, February 16, 2013 at 12:00am.  Two winners will be chosen, notified by email and have 48 hours to respond.  Open to U.S. Residents, 18+.  My apologies to our international readers.
Disclosure:  All thoughts and comments in this review are my own.  This is an unpaid review.  I was provided this book and the two copies for giveaway at no cost.  This post does contain my Amazon affiliate link.  Please see my Disclosure Policy on the About Page.