If you read about
our Puzzle Party
, you may remember that I made a
Popsicle Stick Photo Puzzle
 favors for all of our cousins.  While this project does take a little extra time because of the various stages, it is so much fun to watch my kids put together these simple puzzles and find themselves as the revealed picture.
(For the party, the favors were not magnetic, but it is only takes one extra step to add this to the front of your refrigerator door.)
What You'll Need:
Photograph Print (4×6)
Craft Sticks (use various sizes for older kids like these and these)
Mod Podge & Brush
X-cto or Crafting Knife
Magnetic Strips (as shown below or a roll like this)
Super Glue
1.  Order a print of a favorite photo.  For younger kids, you may want to try for a face shot, allowing your child to assemble the puzzle based on facial features.  But really, anything goes!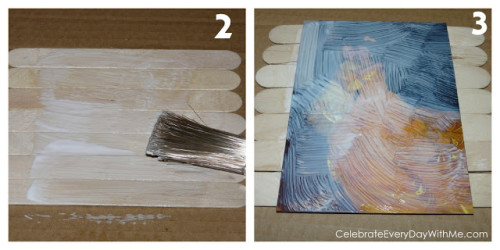 2.  Align the craft sticks and apply a coat of Mod Podge where the photo will go.
3.  Firmly place the photo on the craft sticks and apply a top coat of Mod Podge.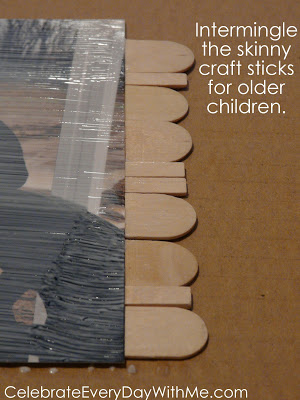 4.  Let dry overnight.  With a sharp blade, slowly cut apart the popsicle sticks.
5.  Grab your Magnetic Strips and cut them in half.
6.  With super glue, secure the magnetic strips to the craft sticks.  Originally, I went with the adhesive backing alone, but I found that a couple of my magnets were sticking only to the refrigerator and not the puzzle.  Given how much pulling and playing will take place as the puzzle is assembled on the fridge, I used my new best friend, super glue.  No more problems.
If you are willing to take the time, these make great party favors!  Our party guests were excited to be taking home a puzzle of themselves.  So get to it. . . and let your children enjoy a fun, homemade puzzle.
What photo would you use for this popsicle stick puzzle?
You May Also Like: