If you have a child who loves dogs and cats, you'll want to check out this dog and cat party for fun ideas and inexpensive decor inspiration!
My daughter turned 7 last year (yes, I know I am so late on sharing this party!).  More than dolls, more than legos, more than most other toys, this girl loves dogs.  Her bedroom isn't filled with baby dolls.  It is filled with dog-stuffed animals.  So for this birthday celebration, it wasn't hard for her to come up with a dog and cat birthday party theme.  And of course, all I need is a theme . . .
Take a look below at the food, decor, games and activities from this playful dog and cat birthday party!  And don't miss my three favorite things about the party planning.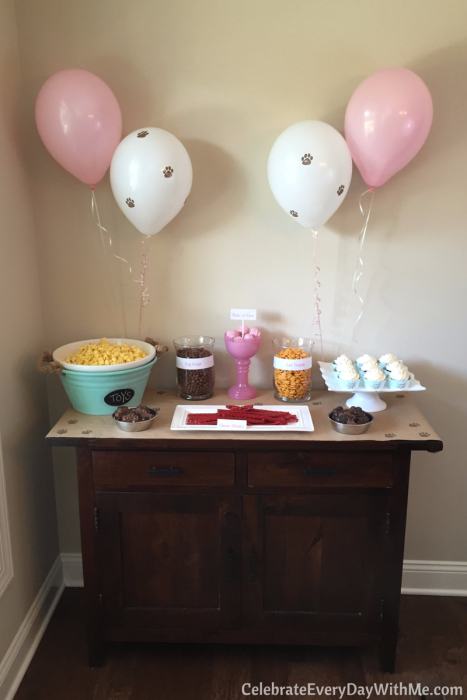 (This post contains affiliate links.)
The Food
At the party, we served an assortment of yummy snacks and treats:  Buttered Popcorn, Dog Treats (Cocoa Puffs), Balls of Yarn (Oreo truffles), Cat Treats (Goldfish crackers), Chocolate Paws (from molds like these), Chew Sticks (Twizzlers) Cupcakes and Ice Cream.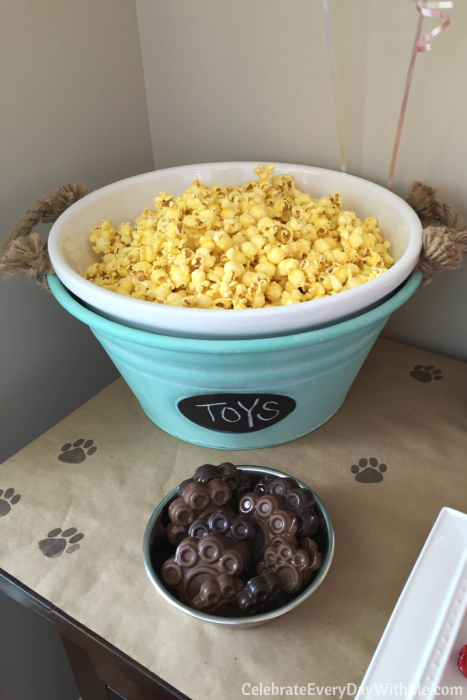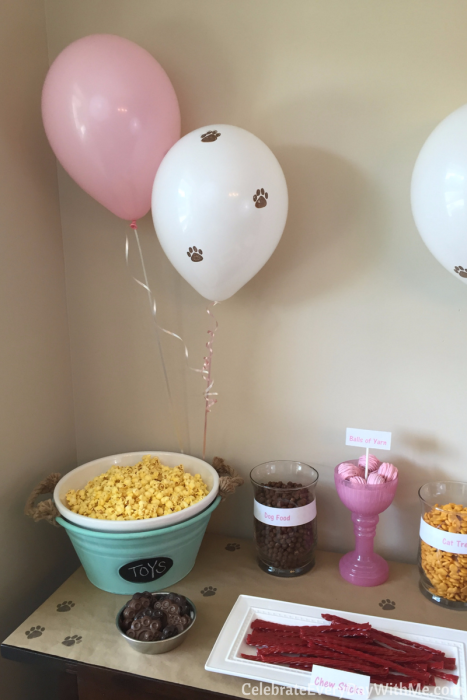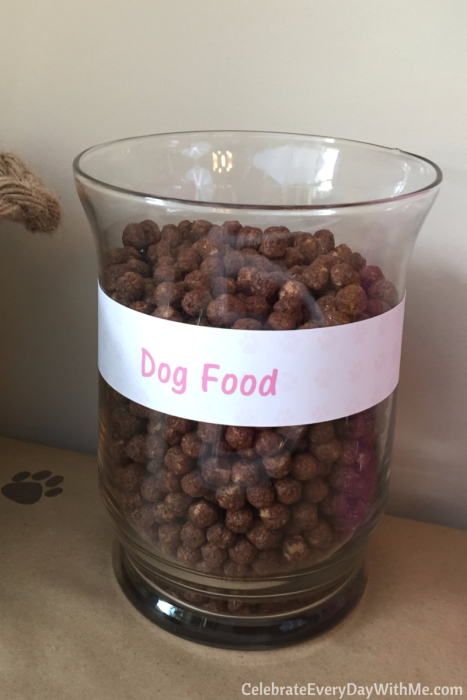 All of my food labels had a background of light pink paw prints.  Unfortunately, they are not showing up in my photos very well.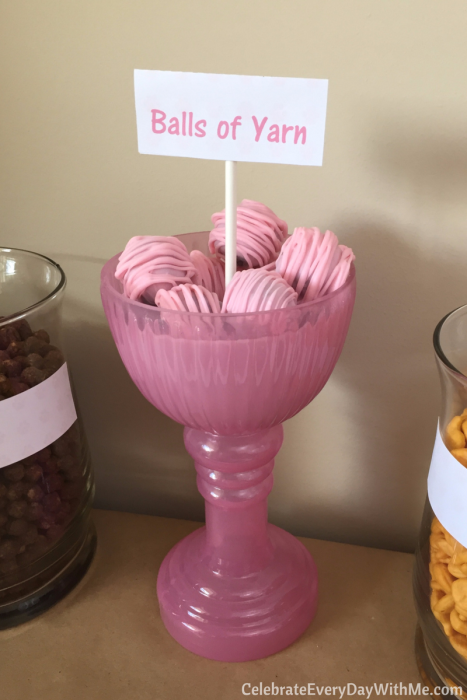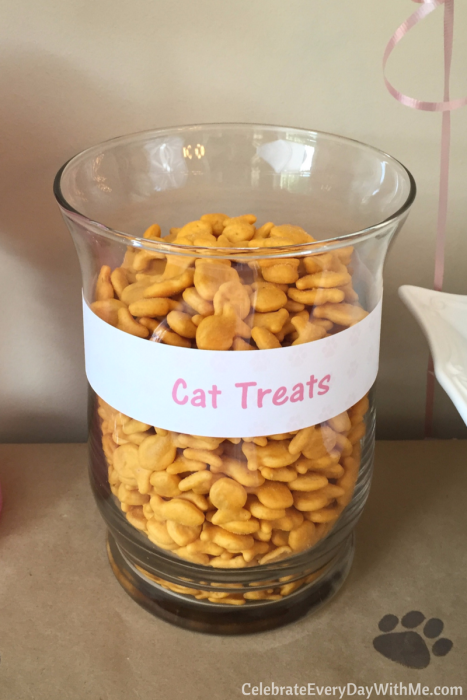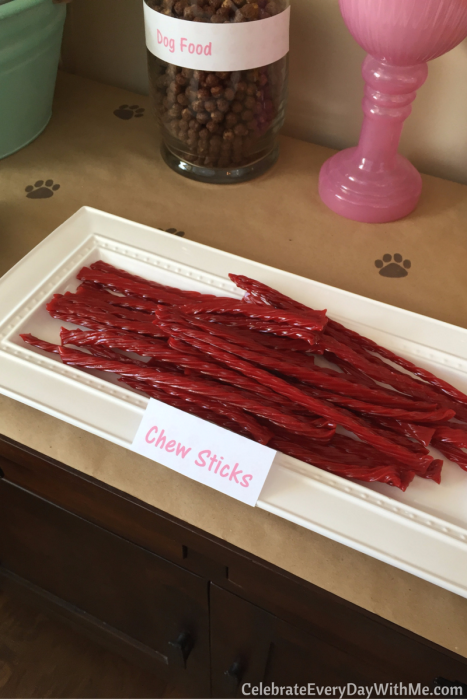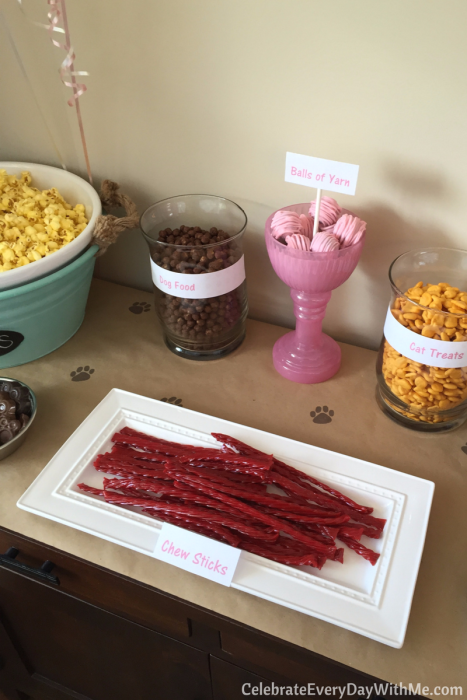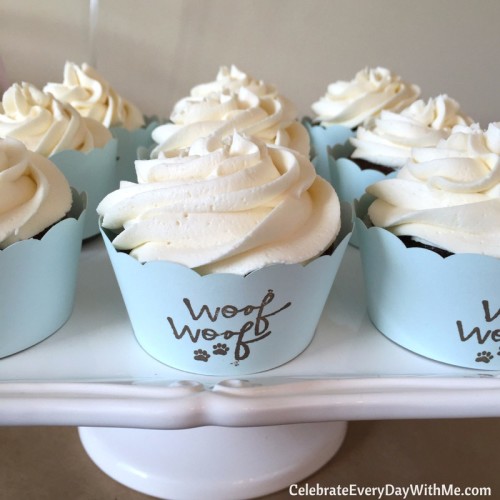 The cupcakes were chocolate with homemade buttercream frosting.  I made the cupcake wrappers with my Cameo and a "Woof Woof" wood block stamp.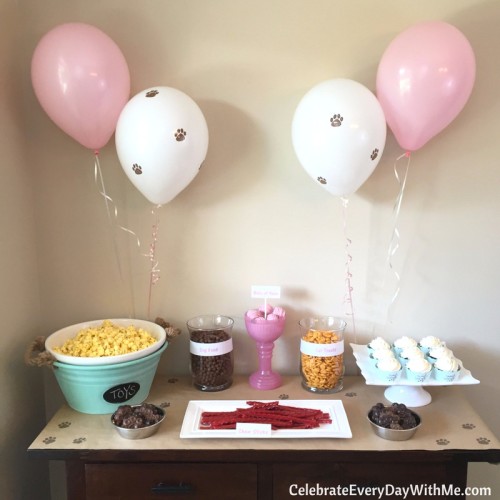 Chocolate milk in glass milk bottles with fun pink striped straws.  Cats love milk, right?  The chocolate milk made it more of a treat.

When the kids were sitting at the table, I told them that we needed to give their dogs (see below) vitamins.  The pink pearly Sixlets were the "vitamins" served in Wilton white nut cups.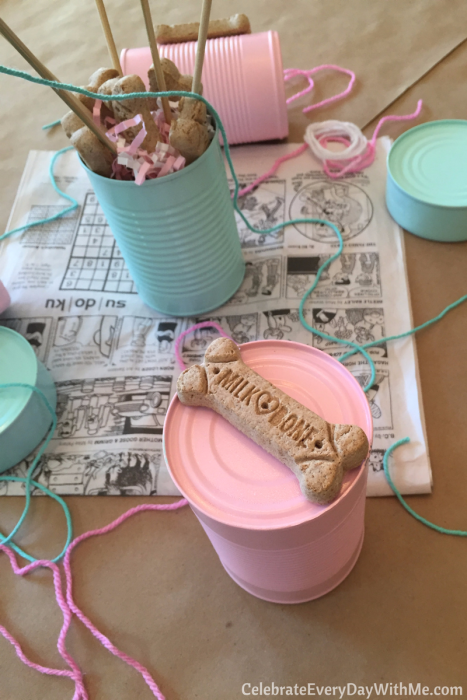 The Decor
For our centerpiece, I wanted to mix dog bones and balls of yarn that looked like the cats had already begun to play.  I wrapped styrofoam balls with aqua and pink stripe yarn and left a trail of yarn on the table.  I hot glued dog bones to the spray painted cans and set everything to rest on newspaper (think paper training).
Party Planning Favorite #1:  I love using spray paint for decor.  It is an inexpensive way to reinforce the color scheme you have selected for the party.  Find something you already have or shop the dollar store.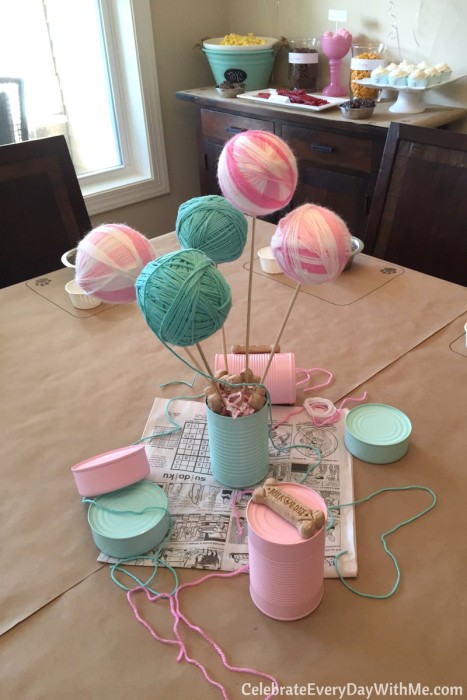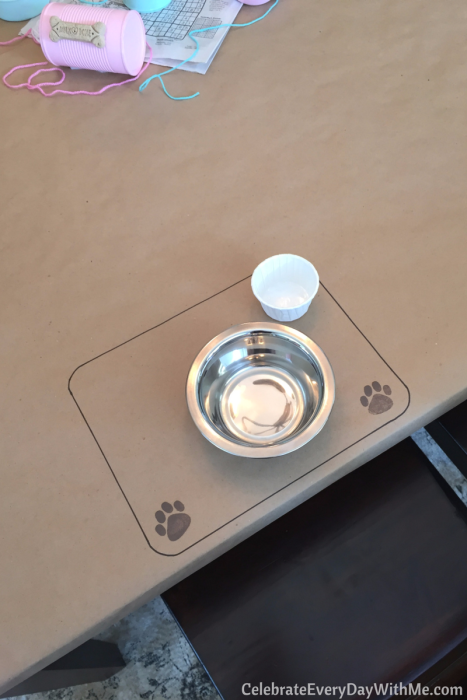 All of my surfaces were covered in brown craft paper (something else I love).  I added the paw print stamps (like this one) to each place setting, as well as on the white balloons.
Party Planning Favorite #2:  Use something out of the ordinary that your guests wouldn't expect.  For this party, I used actual stainless steel dog bowls to serve the cupcakes and ice cream.  It was perfect and quite funny!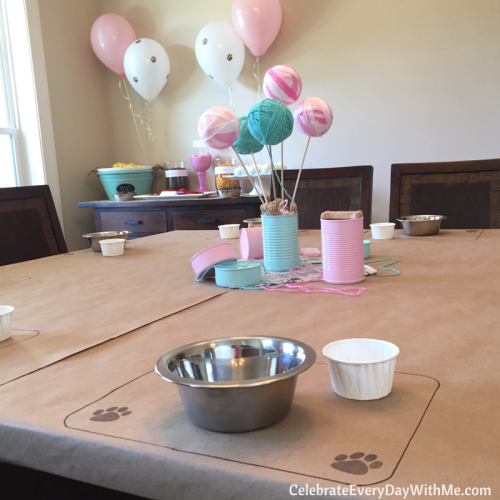 Here is the room at a glance: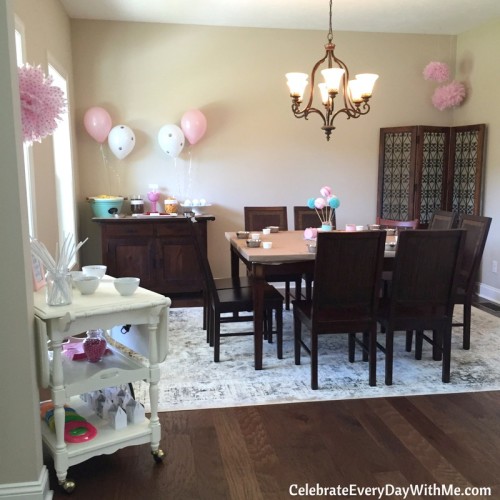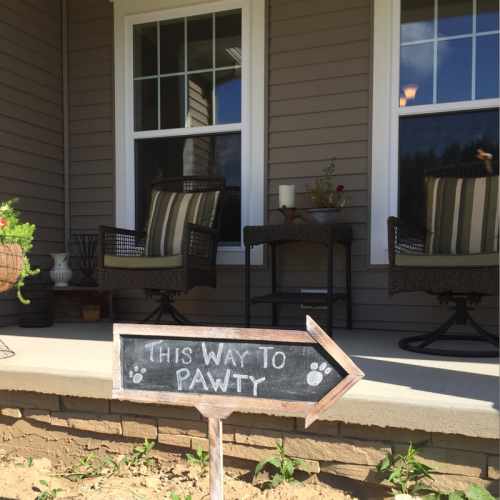 (Please don't mind the dirt and weeds.  This was before we did landscaping at the new house.)
The Games & Activities
Our guests were greeted at the door with paw print floor clings (so inexpensive!) leading to our Adoption Center.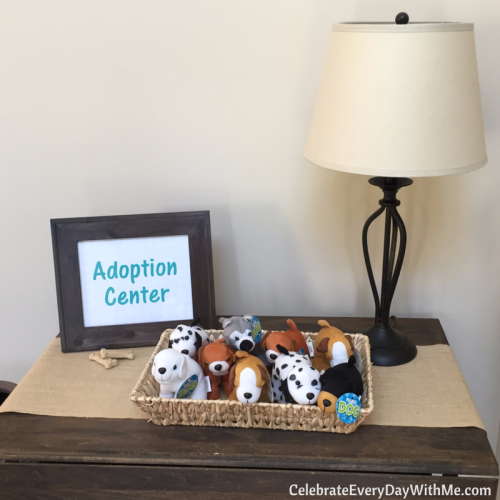 Each child could pick from the assorted dogs to find a new friend to take home.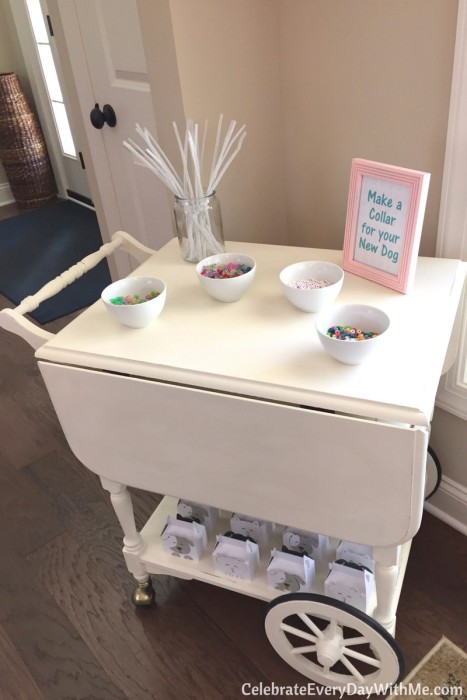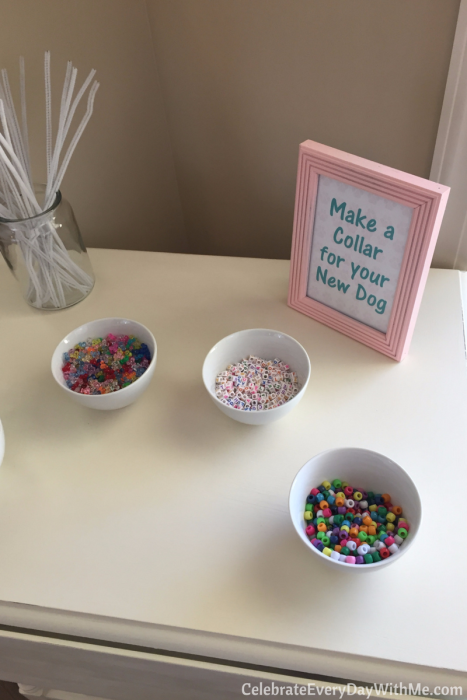 Then, it was time to make collars for their new friends with pipe cleaners and beads, including these Alphabet Beads so that the puppies' names could be spelled out.
Party Planning Favorite #3:  I love playing into kids' imagination.  I acted like their dogs were real.  I told the kids that they had to train them . . . to sit, to obey and not to go the bathroom in the house!  The kids thought it was fun and I enjoyed watching them tell their little dogs how they needed to act.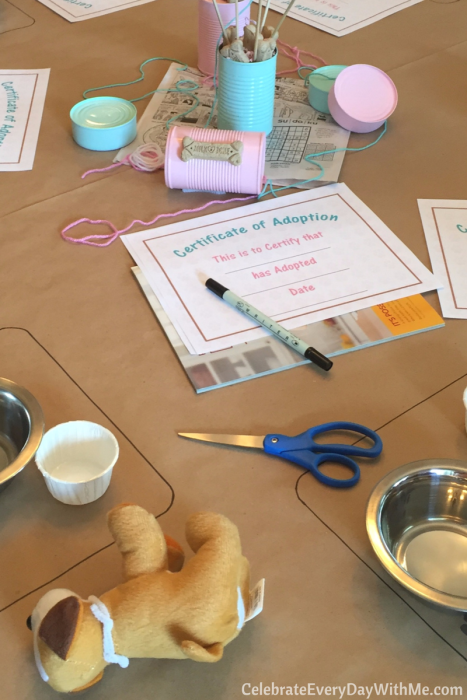 Adoption paperwork was filled out and the adoption finalized!  Then, it was time for games.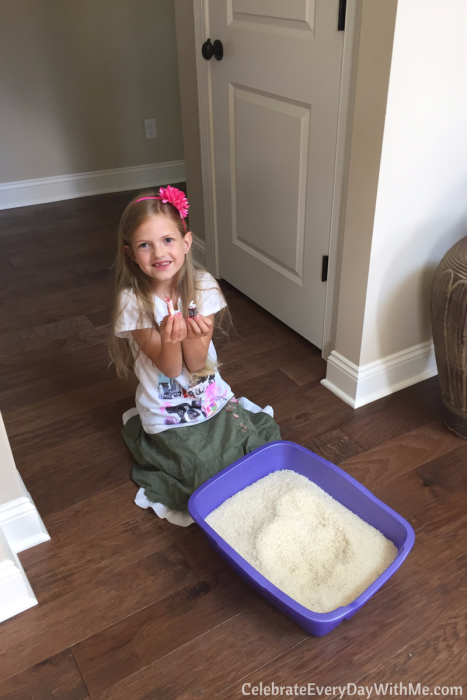 I buried candy in a litter box filled with rice.  The kids took turns digging to find the treats.  * * Rice will get on your floor.  You'll notice remnants in a later picture!
When the kids found their candy, I gave them . . . how do I say this . . . waste bags for their goodies.  You know the kind of bags that you are supposed to take with you when you walk your dog so that you can clean up any mess?  Yeah, that's it.  I picked up a couple rolls at Dollar Tree.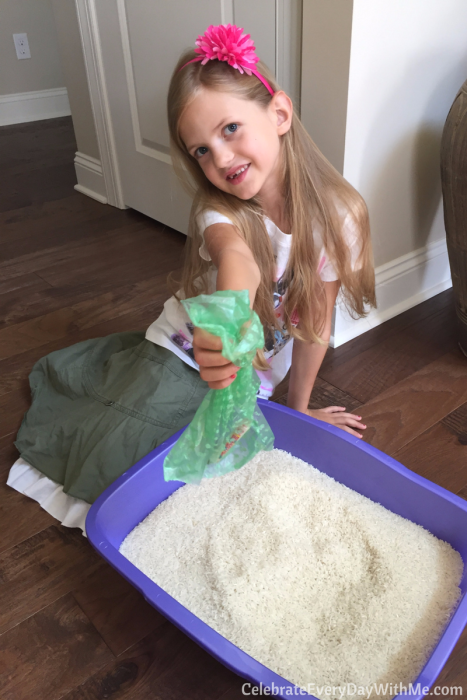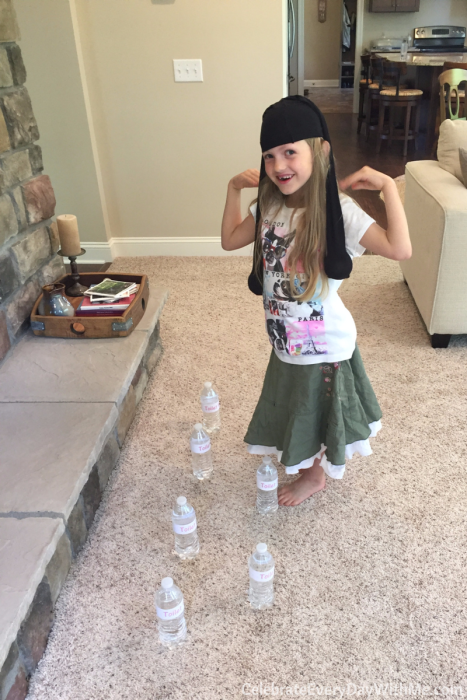 Next came the Doggie Ears Game.  I put balls (tennis balls are best, but baseballs work too) into a new pair of tights.  The kids had to wear the tights on their heads and try to knock down bottles of "toilet water."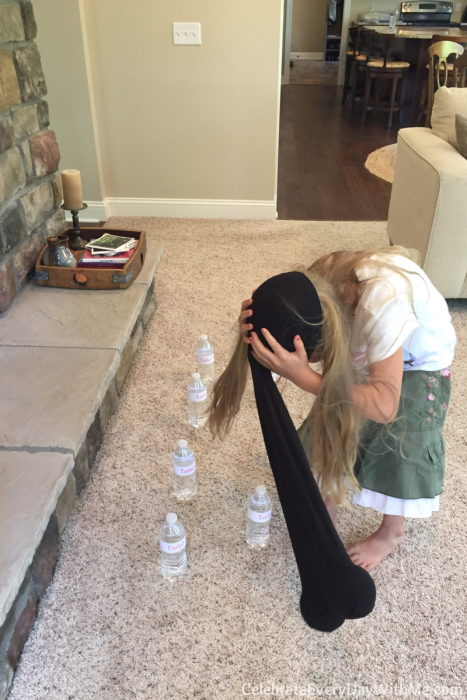 Dog Bone Toss:  The kids had to toss dog bones and try to get them in the collars.  Simple, but fun.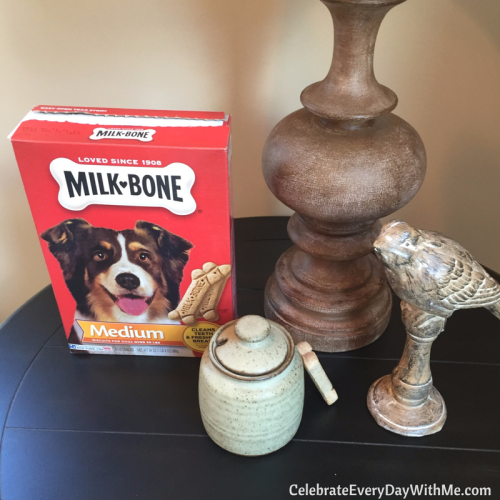 Our last game was a Milk Bone search.  While the kids played in the basement taking care of their new dogs, we hid Milk Bones all over the first floor.  The kids had a blast running around in search of dog bones.  Several of the kids wanted to take them home . . . even though they didn't have a dog!?!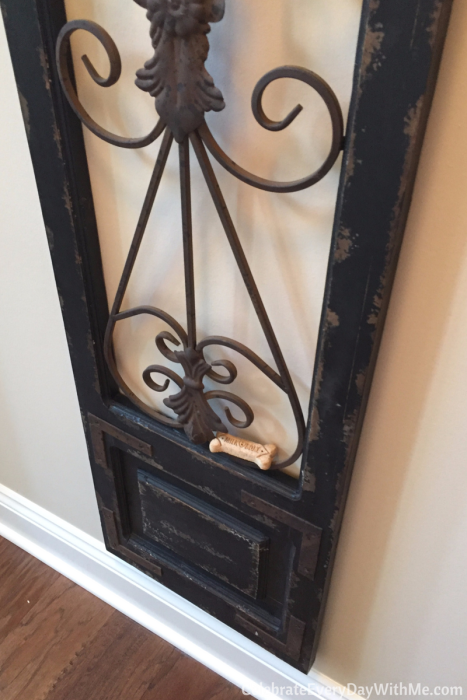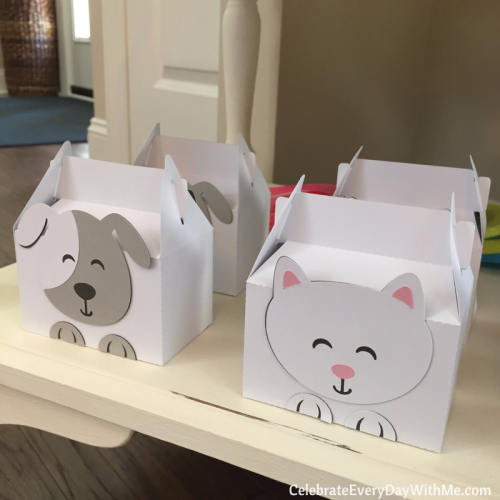 Before my daughter's friends left, we handed out favors.  The kids received little frisbees and these dog and cat boxes (made with my Cameo).  Inside the boxes were:  Puppy Paw Friendship Bracelets, Whistle Bracelets (for training) and a couple pieces of candy.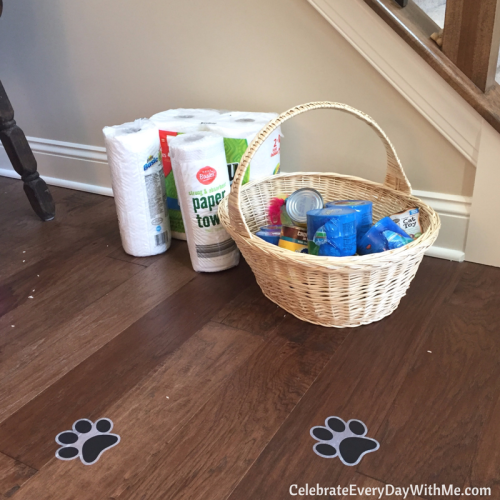 One thing my daughter had requested on her invitation was that guests bring a small donation for the local humane shelter.  We gave suggestions like a roll of paper towels, a can of pet food or a small toy.  Her friends brought quite a bit and my daughter was so excited to take everything to the shelter.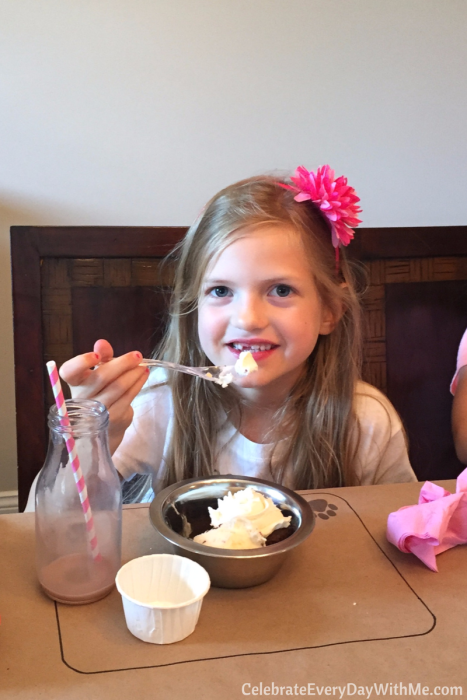 Happy Birthday to my dog-loving, sweet girl!  
Thanks so much for hanging with me.  I hope you enjoyed taking a look at our Dog and Cat Birthday Party!
Find more Party Inspiration on our Themes Page.