As I mentioned the other day, we got back this week from a magical stay at Disney World.  The weather was wonderful (low 80's in January).  But mainly, I love seeing how excited the kids get over things.  And to tell you the truth, I get just as excited.
I know many people say you shouldn't take young kids to Disney World because they won't remember it.  I feel quite the contrary.  Even if my kids don't remember everything, I remember how thrilled they were over meeting Pluto, hugging a Princess or seeing the enchanting Main Street Electrical Parade.  And I have the photos and videos to relive the memories.
Here are just a few of the highlights of our trip.  And when I say "a few," I mean a few compared to the 1800 pictures I apparently took while in Florida for 8 days.  Maybe I should tell you that Dan took about a 100 photos on his phone.  Does that help?  No, I guess not.
One of my favorite times in Disney World is the daily opening of the Magic Kingdom.  Not only do I love the early morning in the parks with the lesser crowds, but only Disney would have such festivities to open one of the theme parks.
At about 10 minutes before opening, the Mayor (or other Main Street citizen) comes out and greets the guests.  Singers and dancers follow singing "Good Morning," "Casey Junior's Coming Down the Track" and "Zip a Dee Do Dah."  Happy music!  And while they are singing, the Magic Kingdom Train pulls into the station with some of the favorite characters.
The crowd counts down from 10, a selected family throws fairy dust and fireworks ascend . . . and with that, the park opens. Every. Morning.  I love it!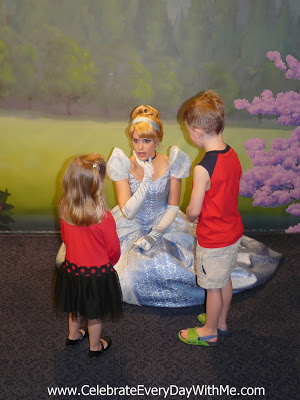 I am not sure if it was the fact that the January crowds were less with kids back in school, but I was amazed at the attention (and length of attention) our kids received from the characters, princesses and often shows (like Turtle Talk with Crush and the Monsters Inc. Laugh Floor).  Cinderella must have spent three minutes talking to the kids.  I didn't catch all of it, but the kids were very animated.
This was our first time meeting Rapunzel, who was quite fun and true to her character in Tangled.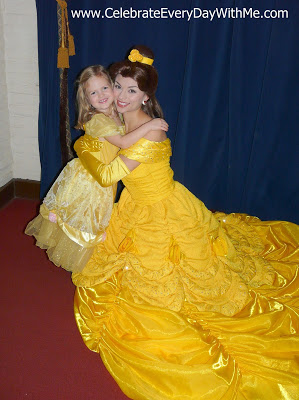 One night, we had dinner at the Akershus Royal Banquet Hall in Norway at Epcot.  The jokes never got old from my husband that we walked to Norway . . . or any other country for that matter in the World Showcase.  We were thrilled that Belle was the greeting princess at the restaurant.  Yes, I'm one of those moms who lets her daughter wear princess dresses in the parks.  I always had a change of clothes with me, but never needed them.  My daughter loved it.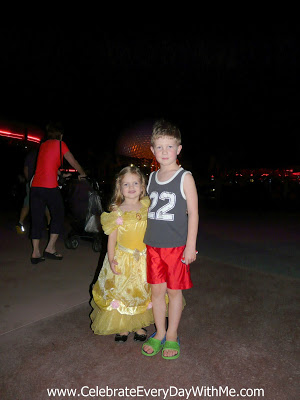 A great evening at Epcot.
One of my favorite things about vacationing with a Disney package is the Dining Plan.  Not only do I not have to cook all week, but I love signing the $150 bill for a sit-down dinner with my dining plan card.  We would not be eating at all the fun restaurants if it weren't for the dining plan.  And I love to go when there is a special like free dining or a deep discount when you buy dining with your package.
Above is a photo from Be Our Guest, one of the restaurants in New Fantasy Land.  It is a quick service restaurant at lunch and a sit-down for dinner.  Lines can be long since it is new.  We got in line about 11am and waited about 25 minutes.  But it was worth it.  The room we sat in was stunning (my picture doesn't even come close).  When you place your quick service order, you are given a rose that identifies where you are sitting and then the food is delivered to you.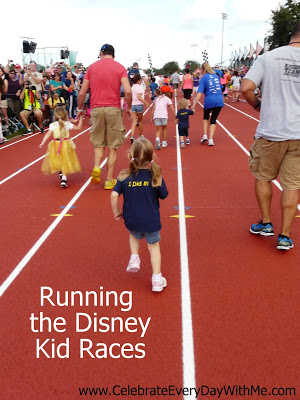 Our travel dates fell during the Disney Marathon and Races, so I thought it would be fun to enter the kids into the Disney Kid Races.  What I didn't realize when I registered them was that the kids' races were at ESPN (still on Disney property but not at one of the parks).
Dan really enjoyed seeing
the ESPN facility
and the kids loved running and getting a medal.  But I don't think I would take away from time at Disney World again unless the kids were older and running with Dan in the family races (because remember
I DON'T RUN!
).  Plus, the traffic was pretty bad during the half and full marathon days.  Unless you were heading up to the Magic Kingdom, you were guaranteed to hit some traffic.
I didn't think the lines for anything were too terrible.  For most rides, we waited no more than 20 minutes and the character greeting lines were shorter than that.  Fast pass is a wonderful thing and I am looking forward to the new Fast Pass+ system getting off the ground.
Here the kids played tag with Pluto.  Really!  In all our trips, I've never seen such interaction with the characters.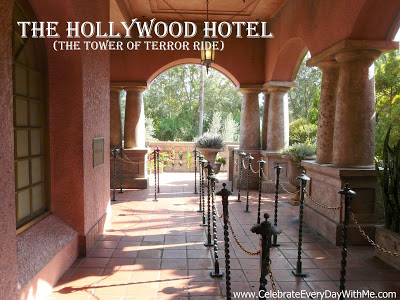 This is my favorite ride at the parks, the Hollywood Hotel Tower of Terror.  It isn't just that it is a fun ride, but it is the gorgeous mansion you walk through.  I love the grounds, the arches, the pillars, the stucco.  Seriously, this could be my dream house.
If you are in need of a laugh:  Days are long at the parks.  You will undoubtedly have to deal with cranky kids at some point.  So if you need a laugh, here is where to head.  Park yourself on a bench near this camel at the Magic Carpets of Aladdin ride.  Now my mother (who came with us) thinks I am completely twisted for thinking this is funny, but you may just end up laughing so hard you cry…at least we did.
This camel is a spitting camel in that it sprays water at unsuspecting guests every 20-45 seconds.  We laughed over the guests jumping when they were sprayed.  The best part was when a cluster of people were walking through the "spray zone."  You just knew it was coming and so many times, we were not disappointed.  A word of advice:  have someone sitting with you while you are watching.  You will look pretty stupid trying to hide all your snickers if you are sitting alone.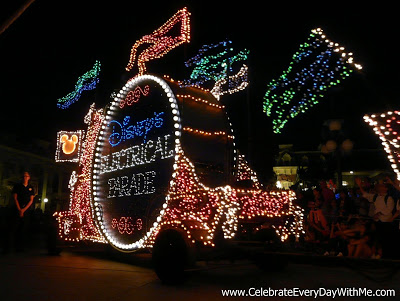 Another of my favorite moments in the parks is the Main Street Electrical Parade.  I love sitting right on the curb of Main Street for a great and magical view.  Sitting here does mean securing a spot nearly two hours before the parade starts.  But if you can take turns shopping on Main Street, it isn't too bad.
It was a great trip and there is so much more to tell.  I didn't share about the giant, solid white chocolate Mickey given to my daughter for scraping her knee at the hotel or the courage my son showed during the trip.  And I can't forget my daughter dancing her way through the parks (literally).  I am so thankful we were able to go.  It was such a fun time and we created great memories!
~ ~ ~ ~ ~
* If you are planning a trip soon, you'll want to check out these posts for planning and making your trip more magical:
And don't forget about our regular sponsor,
Beaches & Dreams Travel
.  They specialize in Disney vacations and all of their services are free!  Call 1-877-R-DREAMS (1-877-737-3267).