This shop has been compensated by Collective Bias, Inc. and its advertiser.  All opinions are mine alone. #TryMembersMark #CollectiveBias
As many of you know, we built a house last fall.  And with building, you have the opportunity to rethink the ways in which you organize.  I knew the laundry room was a particular place I needed think about and strategize how to keep this space neat and tidy. 
After all, who wants to work in a room with rags, towels and other dirty items scattered all over the floor?  I seem to breathe easier when I know everything has a place.  So, laundry organization was high on the list of things to tackle.
My biggest challenge wasn't the everyday clothing.  Each person has a laundry basket in their closet for dirty clothes and when it is full, the laundry gets done.  My challenge was the dirty rags or bath towels that didn't mount up to a full load and the lonely items I didn't want to wash by themselves.  
Where should I store them and how was I going to keep things from being thrown in a pile on the floor?  No one wants to do multiple small loads each time something is dirty.  I want to be efficient, both in my time, energy use and money.
My solution –
. . . and it couldn't be simpler!

I asked my builder to install a counter top but not with the usual cabinet base below.  Instead, there is a single shelf underneath the counter.  The shelf is the length and width of the counter top and is absolutely perfect for storing laundry baskets above and below.  This is the spot I store baskets that hold all the items that generally take time to become larger loads:   rags, towels, delicates, bedding . . .
No longer do I have piles of rags on the floor or random towels to be washed strewn around the room.  I am able to keep things tidy because of this one very simple concept.  The shelf has me loving my organized laundry room.
And beyond the shelf, there are other things I love about the laundry room that make my life simpler –
> The counter top makes it easy for folding clothes or laying out sweaters to dry.
> The bright yellow walls make me happy.  A cheery room can make a big difference.  After all, is there anyone who actually loves doing laundry?

> Two closets that are perfect for hanging clothes to dry.  Confession:  I avoid ironing at all costs.  I set the timer and pull clothes that would normally require ironing out of the dryer after 10 minutes.  Then I hang them to dry, allowing gravity to pull out the rest of the wrinkles.
> The motion detector that turns on the lamp when I walk in the room.  This way in the evening, when I enter the laundry room with my arms full of laundry, a light automatically turns on.  I love this!

> The Member's Mark® Ultimate Clean laundry detergent I have been using for about 10 years.  I buy it at Sam's Club. It is very affordable and lasts me quite a while.
I love the awesome cleaning performance and how much it costs compared to leading brands.  It has patented Ultimate Clean Technology that is tough on stains.  Plus, this is my first HE washing machine and the Member's Mark detergent is HE-compatible and can be used with all washing machine styles.
I have always stored my detergent in a cupboard above my laundry sink (because I like fewer items cluttering my counter).  Member's Mark detergent comes in a convenient, no-mess dispenser with a cup marked for various load sizes.  I buy the Fresh Scent, but there is also a Paradise Splash scent that I would like to try.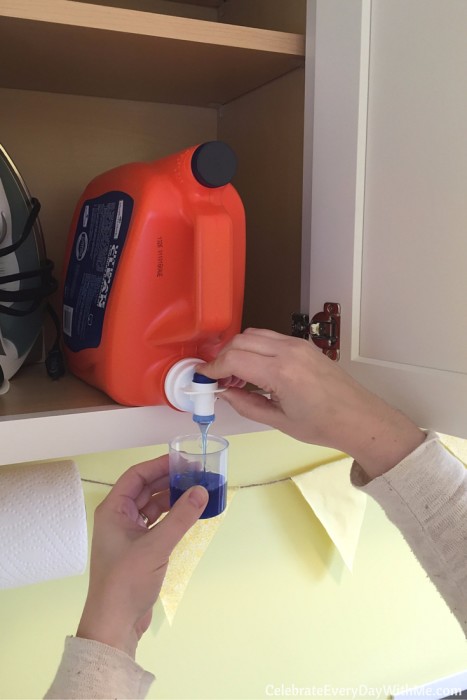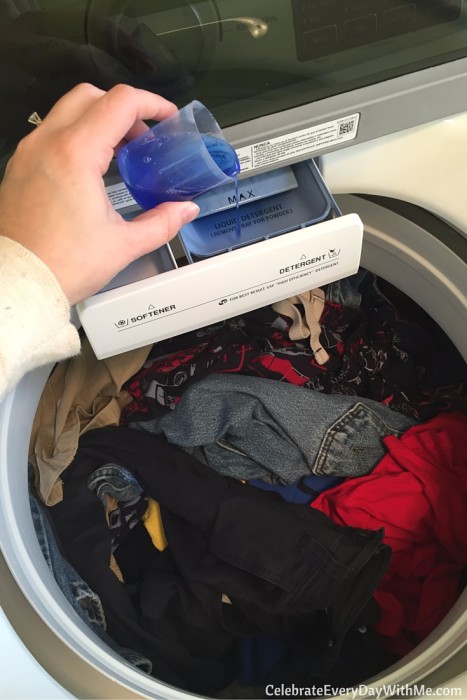 How to Make the Laundry Shelf:
I was fortunate to have my builder make the counter and shelf for me.  But I have taken some photos underneath so that you can recreate the simple design in your laundry room.
One thing you need to do before you head off to the hardware store is determine the size of counter top and shelf you want.  You will also need to decide how far below the counter your shelf will be.  Typical counter height is 36″.  I chose to split the difference, knowing that all of my laundry baskets would easily fit.
Below the counter top:
Below the shelf: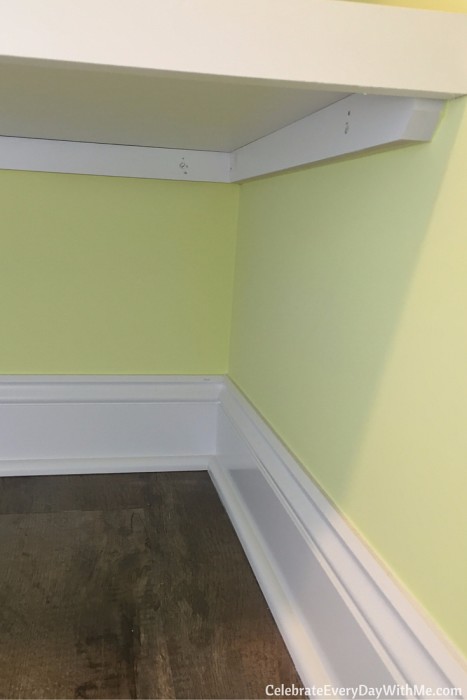 Because my counter was surrounded by walls on three sides, I did not need any support legs.  Be sure to keep this in mind if you are laying your counter and shelf out differently.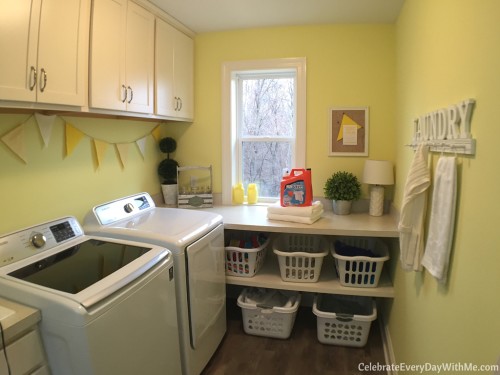 I love that my counter and shelf keep my laundry room tidy and that Member's Mark detergent leaves my clothes fresh and clean.  I'd say that is a laundry win!
Here is where you can find the detergent in the laundry aisle at Sam's Club.  (Also available online.)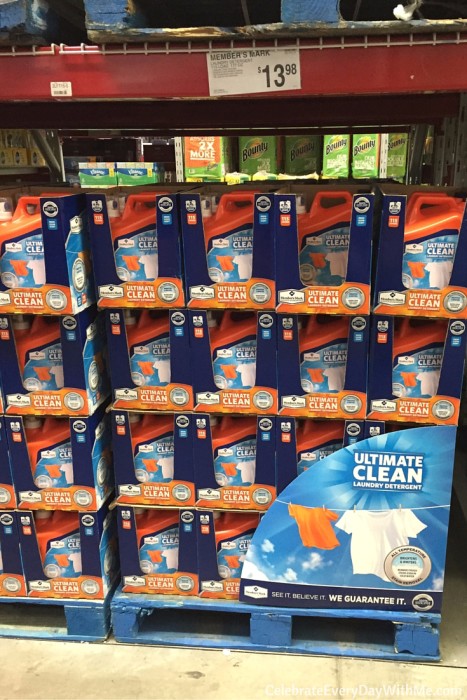 Have you tried Member's Mark Ultimate Clean detergent? What are your laundry organization tips?