I am always on the look out for ways to involve my kids in giving to or blessing another person.  This particular idea not only makes it easy to do just that, but it is fun to make and quite delicious.
For Our Chocolate & Strawberry Trifle, You'll Need:
* Angel Food Cake
* Chocolate Pudding
* Chocolate Chips
* Strawberries, chopped
* Cool Whip
* Plastic Punch Cups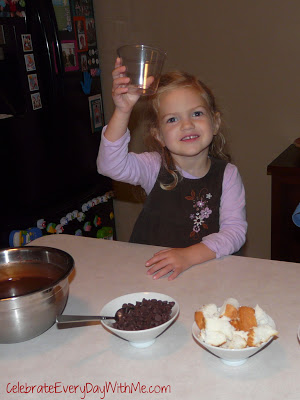 Layer the first round of ingredients:  angel food cake, chocolate pudding, strawberries, chocolate chips and cool whip.  There is no right or wrong which makes it perfect for a kids' activity.  Layer the second round:  angel food cake and chocolate pudding.  If you are using punch cups, your cup is now full.  Top it off with cool whip, strawberries and chocolate chips.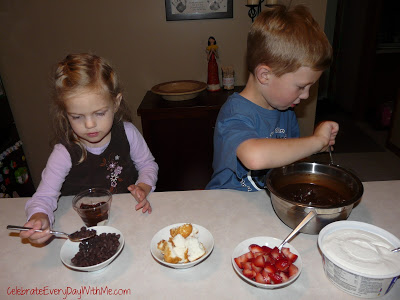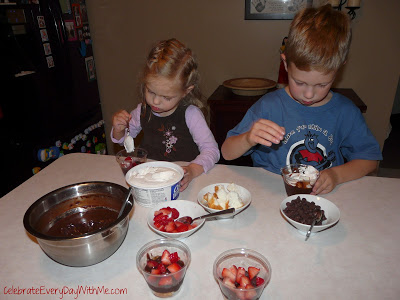 We put a sandwich baggie over the top (nothing fancy that night!) and delivered it to a neighbor.  I love that my kids are learning about sharing and blessing others.  Just the other night, we were making another treat and Sweet Boy mentioned that we should take it over to the neighbor.
Practice Serving . . . Practice Giving . . . Repeat and Repeat . . . Heart to Serve!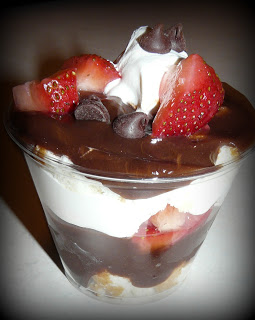 Have you checked out my ebook, Teach Me To Serve:  99 Ways Preschoolers Can Learn to Serve and Bless Others.  It isn't a curriculum, nor a book of crafty ideas.  Just a book filled with practical ideas that will help you develop a heart to serve in your child.  Click here for more information.